New York, USA (Oct 19th 2018) FOR IMMEDIATE RELEASE:
Recently, Balkan Sewer and Water Main was awarded the HomeServe Service Delivery Award by HomeServe USA. Balkan won for the Northeast Region. This award recognized Balkan as one of the top providers of home repair solutions at the HomeServe conference in Chattanooga, Tennessee. The conference welcomed 46 of HomeServe's most highly rated vendors.
The event itself lasted two full and eventful days. This annual event was also a useful opportunity for the prime contractors within the HomeServe network. The HomeServe vendor network consists of over 1,400 vendors across the USA. The keynote speaker was This Old House's Richard Trethewey, who spoke about the current worker shortage, among other topics.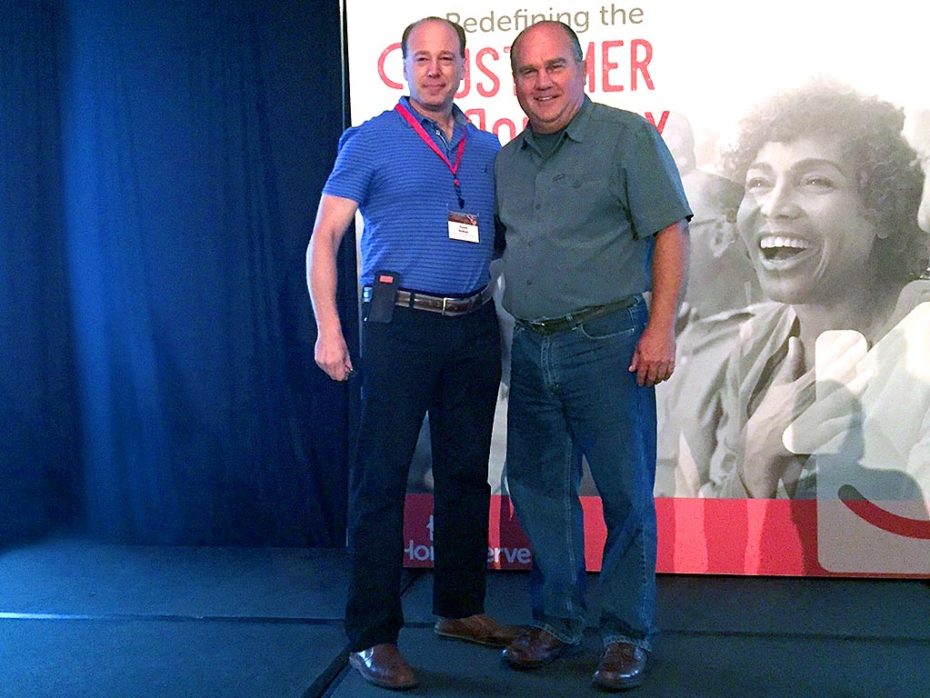 Not only did the group hear from an incredible array of speakers, they likewise participated in multiple focus groups. Additionally, all of the attendees at the conference were also able to tour HomeServe's newly opened Customer Center of Excellence. We saw how HomeServe uses technology to improve their customer service experience. HomeServe is also dedicated to provide better productivity and efficiencies to all their contractors, including the Balkan Team.
Partnering with top vendors is a HomeServe core philosophy
HomeServe thrives by choosing top-notch contractors who can provide for all the needs of their customers. They also provide new tools that allow for constant improvementby all stakeholders. The clients of HomeServe can count upon this core philosophy of a partnership between HomeServe and its vendors to ensure a positive outcome. This translates into providing timely installation, maintenance, and repair of equipment and appliances they depend on every day. And in a way that exceeds their expectations.

The coveted HomeServe Service Delivery Award
One of the highlights of the entire conference was the award presentation by HomeServe. HomeServe presented customer service awards on a regional basis, to the top contractor in each designated region. The Customer Service Delivery Award recognized the contractors who provided assistance and service to their customers in an efficient, professional, and timely manner. The Service Delivery Award went to a contractor in every region that exemplified what it means to deliver outstanding service delivery, while maintaining solid business practices.
Out of all the 1,400 vendors nationwide, there were only six regional winners for the Service Delivery Award. Balkan took home the award for the Northeast region. It was a true honor to bring the award back to the Northeast. This award is a testament to the great work and dedication by the Balkan Team on a consistent basis. Partnering with HomeServe has meaning, and is recognized, as evidenced by this award.
As professionals in the sewer and water main industry, we were more than happy to accept this award. We have over 65 years in this business, so being recognized by our peers has true meaning. Balkan has continued to pride ourselves in helping every homeowner get the quality services they need and deserve. The entire team was filled with great pride for being awarded by HomeServe for our service delivery achievements.
Balkan has a company wide commitment to customer service
Balkan has been providing a variety of services to our customers and communities across New York City. Our team has gained a great amount of experience in multiple aspects of plumbing repair in New York City. We have many approaches we take to achieve success, and then build upon that success. One of those approaches is that our eyes and ears are always open when it comes to our customers and their needs.
By understanding the needs of our customers, we do our very best to provide a productive and efficient solution. The end goal is always to resolve the problems they are having in the timeliest of fashions. At Balkan, we will always deliver on any promise we make to our customers. This is the way that Balkan has operated for over 65 years. It is also the way we will continue to operate in the future.
Sewer, drain, and water line issues can be tricky. That is why we provide a variety of service tips to help our customers keep everything running smoothly. It does not matter if our customers need advice on how to prevent a flooded basement, or how to detect a water leak, we want to make sure our customers receive the expert advice each and every time.
Balkan is proud to partner with HomeServe in more ways than one
All members of the Balkan Team are very honored that we have been recognized by HomeServe in the service industry. We are also enthusiastically partnering with HomeServe in their initiative to provide job opportunities to Veterans. This is being done through working with the Viqtory program. We see this as a noble and high-minded initiative. Naturally, Balkan is pleased to be a part of such a high-minded program moving forward. If you would like to learn more about the HomeServe Service Delivery Award, please contact Balkan Sewer And Water Main today.
About HomeServe
HomeServe USA is an independent provider of home repair service solutions. Since our founding in 1993, we have helped homeowners protect against the expense and inconvenience of water, sewer, electrical, heating, and cooling home emergencies by managing affordable coverage, and offering a quality service.
About Balkan Sewer And Water Main
Joseph L. Balkan founded our family company in 1952. Since its inception the foundation of the company has been based upon integrity and honesty in all of our dealings. That solid foundation has enabled us to thrive in every economic climate. The year 2017 actually marked our 65th consecutive year in business. As we have grown, we have become increasingly dependent upon a Team First approach.

That team first approach has allowed Team Members to advance to various positions of authority and responsibility. This helps ensure a continuation of our high standards, overall integrity, and high company morale. Complete client satisfaction has always been the number one goal at Balkan. That is why we are the most trusted and largest sewer and water main contractor in all of NYC. That is a position we have held for decades.