House sewer connections in New York City are comprised of primarily of five different types. A curb connection is one of those five types of house sewer connections. A curb connection has distinct advantages when one is present. As a reference, the term sewer connection in this article refers to the point where a house sewer line connects to the public or city sewer.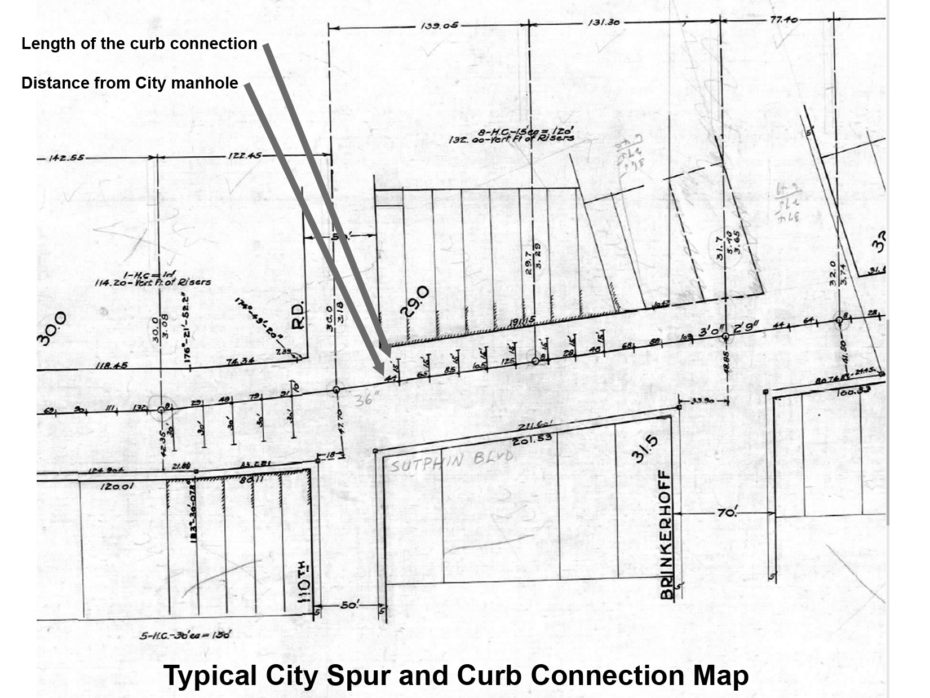 A curb connection explained
As its name implies, a curb connection is located under the curb line. The curb line is where the public sidewalk ends, and the paved roadway begins. A curb connection for a sewer connection falls into 2 primary categories, or types. One is distinctly different than the other.
1. NYC DEP built curb connection
When the City of New York builds a curb connection to be used as a sewer connection, it meets strict standards. It is typically encased in a high strength concrete, and utilizes high grade material. High grade material, and concrete encasement, ensure a long-lasting and root free installation.  Furthermore, because it is carefully inspected, the integrity of the work is very high. It is a rare occurrence when a NYC built curb connection becomes defective.
2. Curb connections being re-used from a previous connection
The 2nd type of curb connection results when a previous structure has been demolished. When any building in NYC is demolished, the existing sewer connection must be plugged at the curb line. Frequently when a new building is erected, the previous connection can be re-used at the curb line. Please note that a previous house sewer connection does not have the same integrity as a NYC built curb connection. For instance, existing house sewer connections are not encased in concrete, and they may be quite old. Older house sewer connections were made from vitrified clay pipe, which is prone to root infiltration.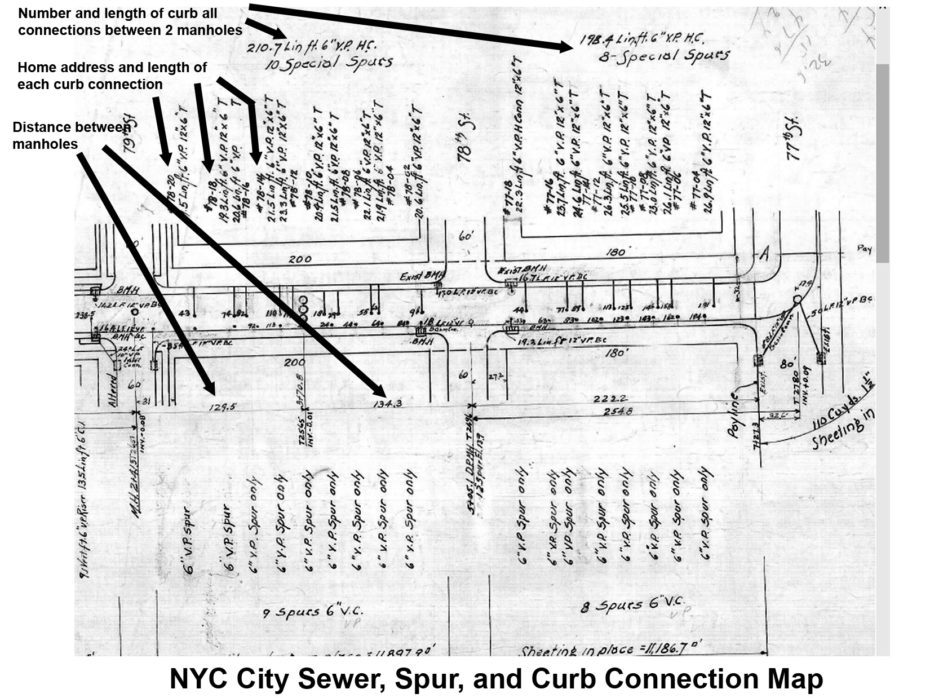 Why a sewer connection at the curb line has advantages
The obvious advantage of a curb connection is that utilizing it avoids the cost of opening the roadway to connect directly to the city sewer. On a typical house sewer installation job this can translate into between $5,000.00 to $10,000.00 in savings. Such a savings makes investigating the feasibility of the availability of a curb connection worth your while. Many times city sewer records are available. These records will clearly show if a curb connection exits. These same records will indicate the location of the connection, and in many cases the depth as well.
The 3 instances when curb connections should not be used
In some cases a connection at the curb should not or cannot be used as a house sewer connection. There are 3 primary instances when a curb connection is not a good idea to connect to:
If the curb connection is not deep enough to provide adequate pitch for your run of pipe
A curb connection must be of adequate size. As an example, if the curb connection is 6″ pipe and your house sewer is 8″ pipe, it cannot be used.
When the condition of the sewer pipe does not meet standards or is in disrepair
A sewer connection at the curb must be carefully inspected
Regardless of the potential cost savings, and what city records indicate, a curb connection must be carefully inspected. Just like any house sewer installation work, of utmost importance is the integrity of the installation. With that said, the condition of the pipe must be checked carefully. There are 3 primary ways to verify the integrity of a sewer connection at the curb line.
A visual inspection must be performed. This entails looking inside the pipe going towards the city sewer connection. The inside of the sewer pipe must be free of root growth and cracks.
Water should be introduced into the pipe before connecting to ensure it has proper pitch, and can handle the flow.
Bang on the closest city manhole in the street. The result should be a clear ringing sound emanating from out the exposed pipe under the curb line. If you do not hear a clear ringing sound that is cause for pause. It could potentially mean that the pipe you are connecting to is not even connected to the public sewer.
Performing the above steps will ensure you of properly functioning curb connection, and a long-lasting installation. The cost of re-doing any subsurface plumbing work always far outstrips the savings of cutting corners, or not properly testing the installation prior to backfilling. Feel free to contact Team Balkan for additional expert advice, information, or water main and house sewer services. Balkan Sewer And Water Main Service is New York City's largest and most trusted  contractor.