It is stressful enough when a property owner has to replace their house sewer, but to do a sewer replacement twice is pretty ridiculous. That is exactly what happened to a property owner in Brooklyn. The property had previously had serious back-up issues that a drain cleaner could not remedy. They hired a sewer contractor to replace their house sewer, and their drain troubles should have been over.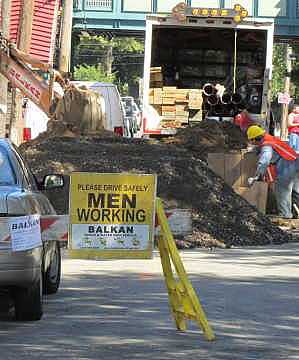 For a period of time after the original sewer contractor completed work there were no more house sewer problems or backups. Then the sewer started to backup all over again. The owners thought "How could this be possible"?
This unfortunately became a case-in-point of why only a highly experienced and reputable sewer contractor should be considered for replacing a house sewer. Property owners should always do proper research before making a hiring decision, and check for sign-offs after the plumbing work is done. It turns out that the house sewer in question was not hooked up to the City sewer, but to a private drain that was installed long before there was a City sewer in the roadway. The original sewer contractor replaced the house sewer and hooked it back up to the private drain – hard to believe but true!
When Balkan Sewer and Water Main Service was called to the scene they replaced the house sewer to the point of the previous sewer replacement and realized it was connected to the private drain. Then Balkan corrected the sewer problem by making a new connection to the City sewer. Plugging the existing connection to the private drain prevented any future problems such as waste water washing out the soil under the new line. Connecting the new house sewer to the City sewer should have been done the first time – Balkan charged no additional money for the corrective work and making a new  connection to the correct line.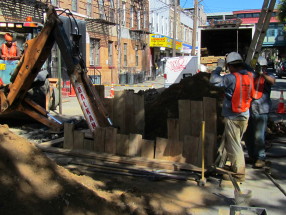 Doing the right sewer or water main job sometimes entails correcting someone else's work. Whatever it takes, the most important thing for a reputable sewer contractor is customer satisfaction. Not just after a hole is filled up and the crew leaves the site, but for years to come. That is why Balkan Sewer and Water Main Service gives an unconditional 10 year guarantee on every sewer and water main replacement . Balkan offers their superior water main and sewer service throughout Brooklyn, Queens, Manhattan, and the Bronx.