Believe it or not a house sewer trap on your home sewer line is vitally important. Probably in many ways that you would probably never think of. That "thing" you see in the bottom of a pit in your basement can cause an awful lot of aggravation or damage. That is specially true if it is not functioning properly, is in poor condition, or is not operated properly. In some cases, it can allow noxious sewer gases to escape into your home.
The Importance Of Properly Fitting Sewer Plugs and Caps
Trap plugs or caps cost around $10.00 or less each. They are made in at least three varieties, and are readily available from any plumbing supply or local hardware store. They are easily installed on a house sewer using basic household tools or can be installed by your plumber. Whoever takes the time to install a new plug or cap will be paying a small price for preventing damage, inconvenience, and rodent or pest infestation. In addition this minor maintenance can prevent an unhealthy condition and noxious gases from entering in your property from your drain line. This is another case where performing minor plumbing maintenance is well worth the effort.
Will allow noxious gases to escape into the premises from your sewer line.
Allow for rodents and insects (but not alligators) to enter into a premises.
Can allow raw sewage to enter into a premise if a back up occurs.
A plug or cap for a house trap is around a $10.00 item that if worn or not installed properly can allow sewer gases and foul water to escape into a house.
What is the preferred type of cap or plug for a trap?
A cap is used when meant to fit over the outer edge of the sewer trap. In this case the preferred cap is called a jim cap. It has an adjustable metal band around it that makes it extremely water tight. When a plug is needed the recommended plug is called a wing nut test plug. It is also likewise adjustable and extremely water tight. Both of these items are ideal when needed for an existing trap which may be slightly worn or have some corrosion present on the contact points.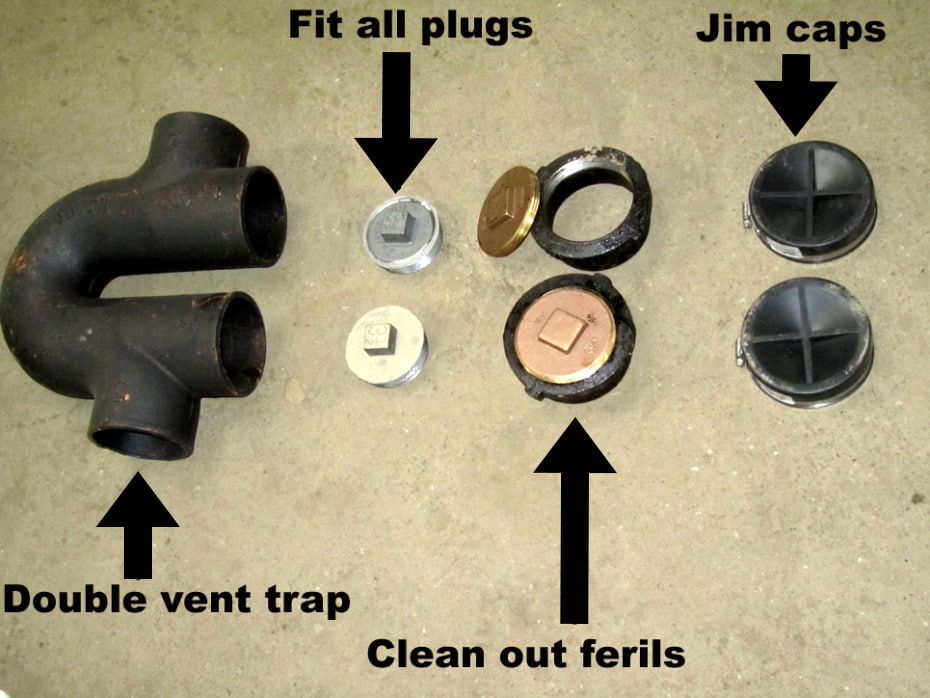 A wing nut test plug will provide a water-tight fit even on a trap that is old and worn.  
Why A Double Vent Sewer Trap Is So Important
A double vent trap allows for cleaning of the pipe in two directions. A house drain can be easily cleaned either out towards the public sewer or towards the inside house drain. A single vent style unit is not legal for a sanitary NYC house sewer primarily because it is much harder to perform cleaning when required.
Another important factor is that water is held in the bottom of a house trap. This water creates a barrier which prevents any harmful or unpleasant sewer gases from entering into your property.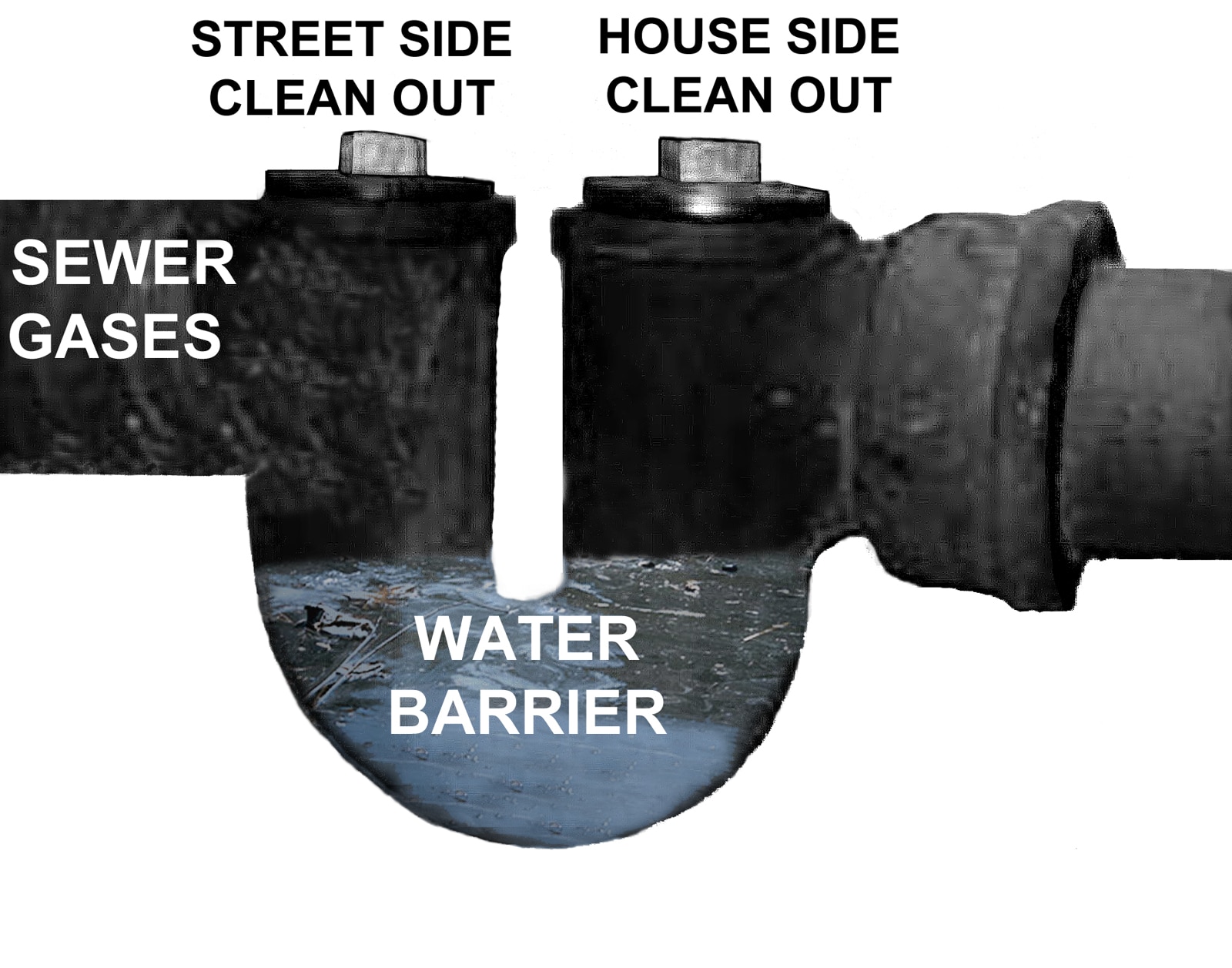 Sometimes when a sewer is unused for some time there will be a foul sewer smell in a property because the water in the bottom of the house trap has dried up and evaporated. Simply running some water inside the property will fill the bottom of the house trap back up again and solve the problem.
A double vent house trap allows for easily cleaning the drain line in two directions – out to the street and inside the house.
What Plumbing Material Is Best?
Various materials are used in the manufacture of house drain pipe and fittings. In the case of a trap PVC, service weight cast iron, and extra heavy cast iron can be used legally in NYC in most cases. One exception is that PVC is not legal for commercial properties. Because a trap is prone to be opened and closed repeatedly and have electric snakes placed in them for cleaning it is strongly suggested that extra heavy cast iron be used.
PVC is prone to crack or wear out from cleaning, and service weight cast iron rusts and corrodes much sooner than extra heavy. Pipe and fittings made from extra heavy cast iron pipe can withstand decades of wear and tear without any fear of damage or the need for future repairs – in addition the cost difference is not substantial.
Extra Heavy Cast Iron Is A Superior Material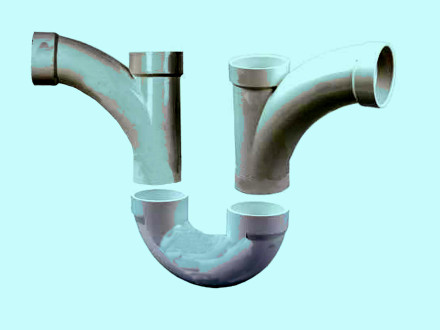 An extra heavy cast iron sewer trap will last longer and be much more durable than pvc , no hub, or service weight cast iron. It is well worth the cost difference in the long run.
It should be noted that double vent PVC traps are not manufactured. They have to be made by putting together different fittings such as a return bend and two tee-wyes. Another point to note is that sewer cleaning machines use sharp and abrasive blades. When inserted into a trap these blades come into direct contact with the walls of the trap. This is another reason PVC is not recommended. PVC can be damaged when contacted directly by sewer cleaning blades in this way.
[button link="/contact-balkan-plumbing/" bg_color="#EA6E24″ window="yes" size="xl"]Get a FREE no-obligation site visit today![/button]
How To Open A House Sewer Trap Properly And Safely
Whenever possible make sure the public sewer is not backed up prior to opening a house trap. If a public or NYC sewer is backed up and a house trap is opened is could be disastrous. The public or NYC sewer will then drain out of your house drain and fill your premises with raw sewage. This can potentially cause extensive damage with severe health ramifications.
Always open the "street side" plug first. That way if there is a trap stoppage the back up will flow over the opened plug and out to the street when the "house side" plug is opened. If the "house side" plug is opened first and there is a stoppage the backed up waste water will have no means to escape and will fill up your sewer pit or dump on your floor.
What seems like a simple plumbing repair frequently is not. Even a simple repair if done improperly has the potential to cause extensive damage to your property. Many times an experienced and licensed professional should be trusted for even what seems like a simple plumbing task.
About Balkan Sewer And Water Main
The Balkan Team provides expert sewer and water main repairs and replacements. We are experts in all types of NYC underground plumbing. Balkan Sewer And Water Main Service was founded in 1952. Since its inception, the foundation of the company has been based upon integrity and honesty in all of our dealings. That solid foundation has enabled us to thrive in every economic climate. The year 2020 actually marks our 68th consecutive year in business. As we have grown, we have become increasingly dependent upon a "Team First" approach. What helps ensure a continuation of our high standards, overall integrity, and high company morale, is that same team approach. Complete client satisfaction has always been the number one goal at Balkan Sewer And Water Main. That is why we are NYC's largest and most trusted sewer and water main service in New York City. Simply put, if it's plumbing, and it's underground, we do it. For almost 70 years, and for over 70,000 New Yorkers to date, Balkan is "The Team You Trust".