When it comes to how dig a hole with a shovel, most people assume it is "grunt work". They also assume that it doesn't require any particular skill. However, knowing how to dig a hole with a shovel is indeed a learned skill. Perhaps even more importantly, doing it correctly prevents both injury and in some cases a fatality. There are 4 basic tips to learn and keep in mind regarding digging a hole by hand with a shovel.
The 4 Big Tips On How To Dig A Hole With A Shovel
1. Pace yourself, as a steady pace is always best
Similar to that person that works out at a fast pace at the gym, digging a hole too quickly leads to fatigue and burn out. You must choose a pace that meets your abilities. For instance, digging a hole about 4′ deep, by 3′ wide, by 4′ long takes anywhere from 1 hour to 4 hours. It depends on the ground conditions, and the ability of who's digging the hole. Yes, digging a hole requires skill, ability, and stamina; but interestingly strength is not a key attribute.
2. Let your legs to the work, not your back when digging with a shovel
The one major mistake people make when learning how to dig a hole with a shovel is using their arms and their back to do the work. What many folks do not realize is that the largest and most powerful muscle group in anyone's body is their legs. With that said:
Use your legs and your foot to push the shovel down into the ground for each shovelful of dirt. Do not use your arms or your back.
Your legs, not your back or arms, should be used to raise each shovelful of dirt out of the hole.
Using your leg muscles, via doing a knee bend to lift a shovelful of dirt, is the safe method instead of using your back as a pivot point lifting the weight of a shovelful of dirt. Keep in mind that digging a hole with a shovel requires that a few hundred shovelfuls of dirt must be removed.
3. Have the correct strategy, digging requires a strategy
While the tools required to dig a hole by hand are simple (a round point shovel and a digging bar) you should utilize a proven strategy. Leverage is a key to lessening the exertion needed to dig hole. Any hole deeper than about 2′ feet would require it to be about 2 1/2′ wide and about 3 1/2′ long at a minimum. Working in a smaller hole would actually be more work, and can lead to injury due to it being too cramped for proper movement.
A key strategy is digging on 1/2 of the length of the hole down about 18′ deep, then to turn around and use the leverage to more easily dig down the other 1/2 of the hole. Likewise, the 2nd half of the hole should be dug about 18″ deeper than the first 1/2 of the hole. You would then repeat the above process, and use leverage to continue digging down the other 1/2 of the hole. You would repeat this process until your hole is complete. Not the safety protocols below, especially if your hole is going to be over 4′ deep.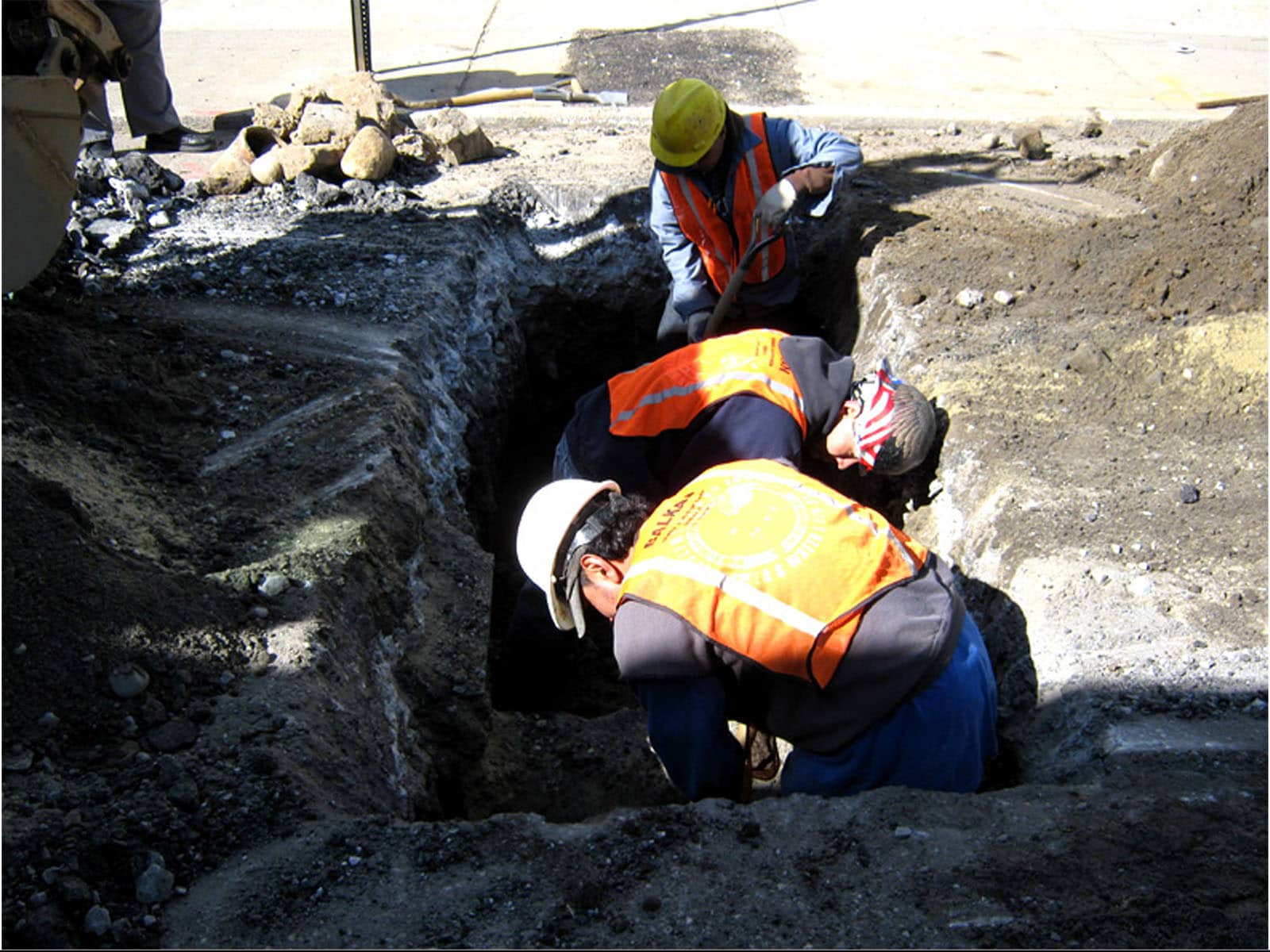 4. There are 9 Vital Safety Tips to prevents injuries and fatalities
Every year people get seriously injured or killed when digging a hole by hand that seemingly presents no danger. Any physical task has its risks, and needless to say working below the surface presents special safety challenges. Here are 9 very basic and industry standard safety measures:
Any hole deeper than 4′ deep requires an OSHA approved ladder that extends 3′ above the top of the hole. This provides a safe and easy means of egress.
An excavation deeper than 5′, or with unstable soil conditions, should have sheeting to prevent a cave in. Learning how to dig a hole by hand means never leaving yourself open to being caught in a cave in.
Any object too large to move by hand or possible of causing injury should be left in place until proper assistance can be obtained. There are common stories of a person trying to bury a rock in a hole, and they get lost in task. Out of frustration they climb in the hole and use leverage to pry the rock into the hole. In many cases the individual crushed themselves to death.
Always leave the spoils (the excavated material) a minimum of 2′ away from the outer edge of the hole. Excavated material can slide into your hole and cause injury. This is especially true if a surprise flash rainstorm occurs.
No matter the location of your proposed hole, always call 811 to have an underground utility mark out done. Buried gas, electrical, or other utilities can be present virtually anywhere. Call 811 to prevent damage, injury, and death. Knowing how to dig a hole with a shovel, means being 100% sure you're not going to break any underground utility lines.
Keep heavy equipment away from trench edges.
Identify any equipment or activities (such as vehicular movement) that could affect trench stability.
Do not work under suspended or raised loads and materials.
Ensure that personnel wear high-visibility or other suitable clothing when exposed to vehicular traffic.
Another In A Series About "The Balkan Way"
A key component of striving to be best in class, is to be best in safety. With that said, "how to dig a hole with a shovel" is part of a series of tutorial videos and posts from Team Balkan. This series not only helps to train our in-house Team Members on efficient and safe practices, but are shared with the general public to help regular folks as well. For further information, expert, or service visit us at BalkanPlumbing.com. Our family has been digging holes for almost 70 years,and we have over 70,000 satisfied customers to prove it!