Water can leak into a basement for a wide variety of reasons. In most cases a professional will be needed to rectify the condition. That could mean a water-proofing contractor, plumber, or roofer. But in many cases a homeowner can stop water leaking into their basement, and in some cases even when water is actively running.
Ground water or rain water entering a basement
If ground water or rain water is entering your basement from various points a professional will be needed to first analyze, then rectify the condition. However if the water is entering from one of two specific points you may be able to address it yourself.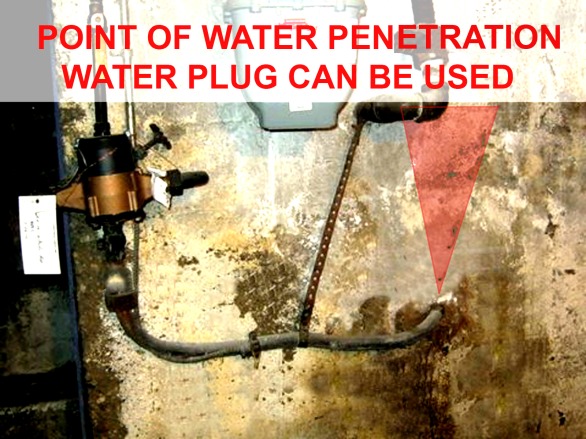 The  easiest condition to address when there is water seeping through the point of entry for a utility line, such as a water service line. If water is seeping through the point of entry for a gas or electric service it is usually the responsibility of the public utility provider to rectify.
When water is leaking into a basement wall or out of a basement floor through a round shaped hole hydraulic cement can be used. If applied properly hydraulic cement will even work when water is actively running.
[button link="/contact-balkan-plumbing/" bg_color="#EA6E24″ window="yes" size="xl"]Get expert advice today![/button]
How to use hydraulic cement
There are various brands of hydraulic cement, one the most commonly used brands is Waterplug. Hydraulic cement is a fast-drying and water proof product that is specifically designed for this purpose. Because it contains chemicals and is fast-drying it must be used carefully – directions must be read and explicitly followed.
Proper preparation and tools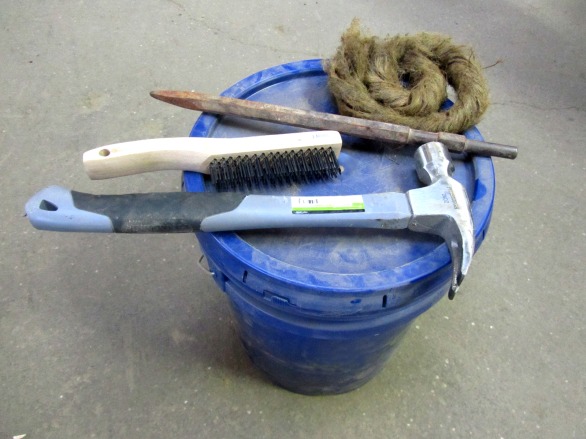 Before any cement is placed the area must be properly prepared. This simply means making sure the area is clean of any loose cement or debris. A wire brush can be used to clean the affected area so the hydraulic cement bonds properly to the surrounding masonry.
Secondly the depth of where the hydraulic cement is top be placed should be at least 1 1/2″ to 2″ deep. This allows for enough material to be properly installed. If the affected area is too deep to place the cement, then oakum can be used to fill in the area. Oakum is an oil treated horse hair that also acts as a deterrent to water penetration.
The tools needed to water plug an area are simple:
Claw hammer
Chisel
Safety glasses
Gloves
Use proper gloves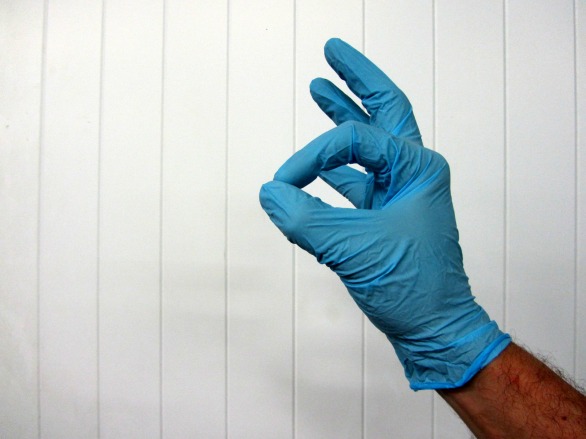 Normal cotton work gloves should not be used, unless proper gloves are worn underneath them. It is important to use rubber or plastic gloves that are completely water-proof and without and holes or defect. Once activated with water, hydraulic cement will suck all moisture out of skin and can cause your skin to crack.
Mix cement in small batches
Hydraulic cement should be mixed in extremely small batches, the equivalent of about a 2″ ball. Because it sets up and hardens in about 1 minute, larger batches will become unusable for this particular purpose.If running water is not evident larger batches of hydraulic cement can be used. But mixing directions must be carefully followed. For instance adding too much water can ruin the water-proofing properties of the product, and then not stop water from leaking as desired.
When to apply to the affected area
While forming the batch into a ball in your hands the mixture will begin to actually get warm. This is the start of the chemical reaction of the cement starting to harden. Put the batch in place once it is the consistency of play-dough, but before it completely hardens. Once in place it will completely harden in seconds, and turn white (completely set) a short while thereafter.
Where to apply to the affected area
When working on a vertical hole, such as on a wall, always work from the top of the hole down. This is because the top of the hole is dry and will allow any running water to continue to flow from the bottom of the hole. In other words, always apply hydraulic cement from the top of a hole to the bottom.
A final crucial step to stop water running from a hole
Once a hole desired to be water plugged has been cemented almost completely from the top down, the last step is the most important. The final batch of hydraulic cement must be put in place at the exact right moment. That is when it is very warm and about to set. It must also be formed into a cone shape.
The cone shaped hydraulic cement must be firmly placed into the hole. It will form a water-tight seal that will actually stop running water in most cases.
Tips to prevent or stop water leaking into your basement
There are just so many ways the water can  leak into your basement. But there are some things to check on an annual basis or even more frequently to prevent this issue. Here is a quick checklist:
Make sure all leaders and gutters are clear and connected.
Make sure all area and tench drains are clean and flowing.
If you suspect the leaking water is waste water do a sewer dye test.
If you suspect the water is fresh water call 311.
If the water appearing from the floor is rainwater or waste water, call a drain cleaner.
If rain water is coming through from outside the foundation wall, try to relocate the rain leader(s) further away from the outside foundation wall.
The main point is, to stop water leaking into a basement you must first eliminate the possible sources. Once the source and type of the water is known proper steps can be taken. In many cases corrective work is undertaken before the problem is properly diagnosed. This only wastes time, money, and exasperates the situation.
[button link="/contact-balkan-plumbing/" bg_color="#EA6E24″ window="yes" size="xl"]Get a free on-site visit[/button]