Like many Queens residents I had my doubts about the severity of Hurricane Sandy. The 'perfect storm' warnings seemed like a way to raise television and radio ratings or to sell newspapers. I am a lifelong Howard Beach resident yet I had never witnessed anything approaching Jamaica Bay rising above the street level in front of my house. So when waves of Jamaica Bay salt water starting rolling down the Avenues of Howard Beach around 6PM on October 29th it was quite a shock. When the water made a 90 degree turn and met in front of my house I went into 'Hurricane denial'. I could not believe what I was seeing – somehow thinking it would not dare rise above my driveway, basement windows, top of my basement door, then 3′ above ground level into the 1st floor of my house. When it blew the basement door out of the frame and rolled across the 1st floor from under my entrance of back door I went upstairs and laid down – there was nothing left to do.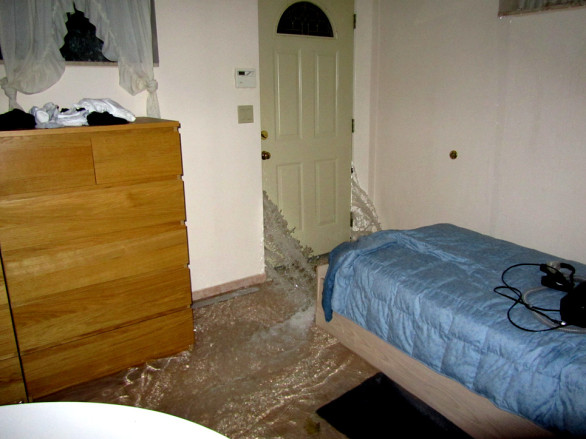 Another gift of the storm was the City sewer rising above street level, pouring raw sewage out of every plumbing orifice in my basement. If there was a doubt about the ruinous conditions created by salt water, raw sewage pouring into my home removed any remnants of that doubt. The electric blew out and pumps stopped pumping (they had nowhere to pump anyway). All one could do was wait for the tide to go down and be thankful if no one was hurt or killed. Unfortunately many people suffered much greater losses than myself. Many people lost their lives under cruel and horrendous circumstances. People that watched salt water envelope their cars and possessions were made to feel fortunate.
Part of the aftermath of Hurricane Sandy was taking stock and trying to understand the scope of what had occurred. Residents did uneducated damage assessments and started the heart wrenching task of throwing out and gutting their possessions, furnishing, and sheet rock walls. The good, the bad, and the ugly of human behavior followed. The majority of residents acted in a compassionate and understanding manner, sharing electric from generators, food, gas, and warm clothes. There were the fine people from outside the neighborhood that delivered items such as clothes, hot coffee, and gas. Some people even provided labor and services, such as pumping out basements, at no charge. People's lives were literally saved by acts of selflessness and courage under dire circumstances. These stories will someday drown out the stories of predators preying on and taking advantage of their fellow New Yorkers. Fortunately the people overcharging by doubling or tripling the price of gallons of gas, or charging thousands of dollars to simply pump a basement or remove some sheet rock were in the minority.
Becoming expert in things you never wanted to know
Part of the aftermath of Hurricane Sandy was getting to be expert in all sorts of things that I never really wanted to be expert in. For instance salt water makes a car valueless, if not stopped mold infestation can ruin a house, and all affected areas contacted by water have to be disinfected (if possible) or thrown out. We also found out how to find which gas station would have gas at a particular point in time, flood insurance coverage on autos means 'comprehensive', just to name a few. But more than that, my fellow New Yorkers and myself became knowledgeable about FEMA and the SBA. Government agencies we would have preferred to never have had to deal with, or know what those letters stood for. 
FEMA is the Federal Emergency Management Agency, designed to respond and provide assistance during national emergencies. Being a federal agency one would not expect a prompt response, an easy to use application system, or to be dealt with in a sympathetic and courteous manner. My personal experience was the exact opposite – FEMA was responsive, understanding, fast-acting, and professional. I learned that their role is not to restore a house to it's original condition, but to make it habitable – to keep the homes residents in their home  or provide funds for a temporary place. FEMA give a maximum of $31,900.00 to a homeowner and has a carefully crafted formula for determining the amount of the grant. A site visit from a FEMA representative takes about one hour and greatly determines eligibility and the amount of the grant.
SBA is the Small Business Administration and unlike it's name indicates also provides low cost loans to Homeowners. Like FEMA a short application must be filled out also granting access to one's tax return information, and is followed by a site visit from an SBA representative.
Both agencies act independently from each other and have their own procedures and policies. My personal opinion and experience if that even those individuals that loath 'big government' will be greatly relieved after a disaster when a FEMA or SBA representative contacts them.
As I believe these recent storms and hurricanes are not '100 year storms' or 'once-in-a-lifetime' events stay tuned for part II of this series – How To Prevent Damage The Next Time.