Storms that produce hurricane-force winds are a scary situation. Even scarier are the damages you may discover after the storm. That is what homeowners discovered after a storm-driven wind knocked over a large tree near their home. In turn the fallen tree caused both their sewer and water closed.  To add insult to injury, the uprooted tree also cut their gas line as well.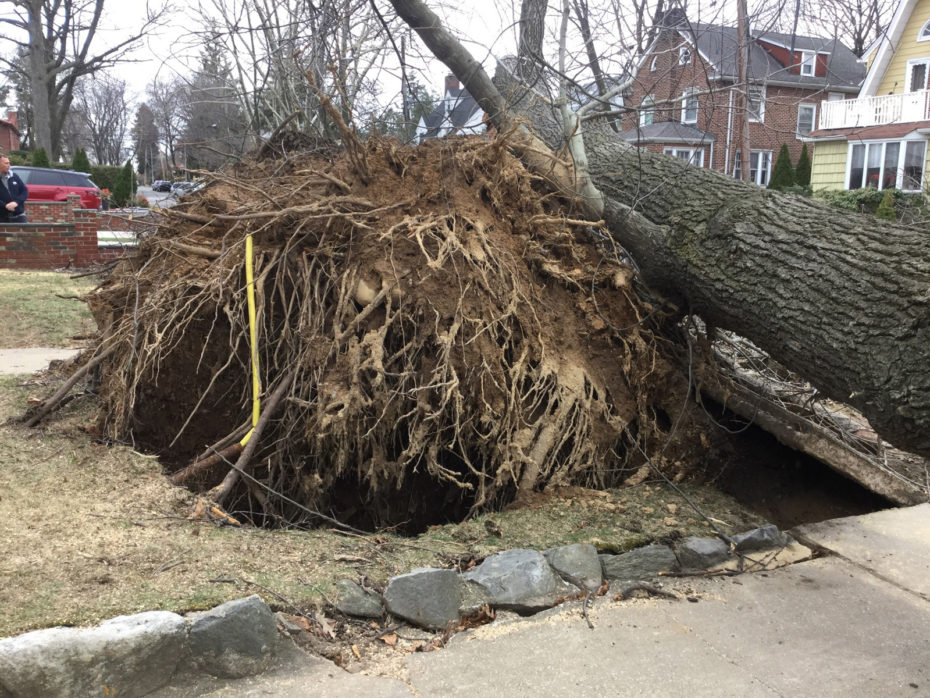 Our intrepid crew responded immediately upon notification of this emergency situation. The tree's demise had done too much damage for a simple repair. The homeowners' water line needed replacing, and quickly due to the water closed 100% for service. Fortunately, our dedicated and experienced crew have faced such hurdles before. Working swiftly but diligently, they replaced the damaged water line and restored the service to the location. Team Balkan is adept at working under unique circumstances, and in virtually any weather condition as well.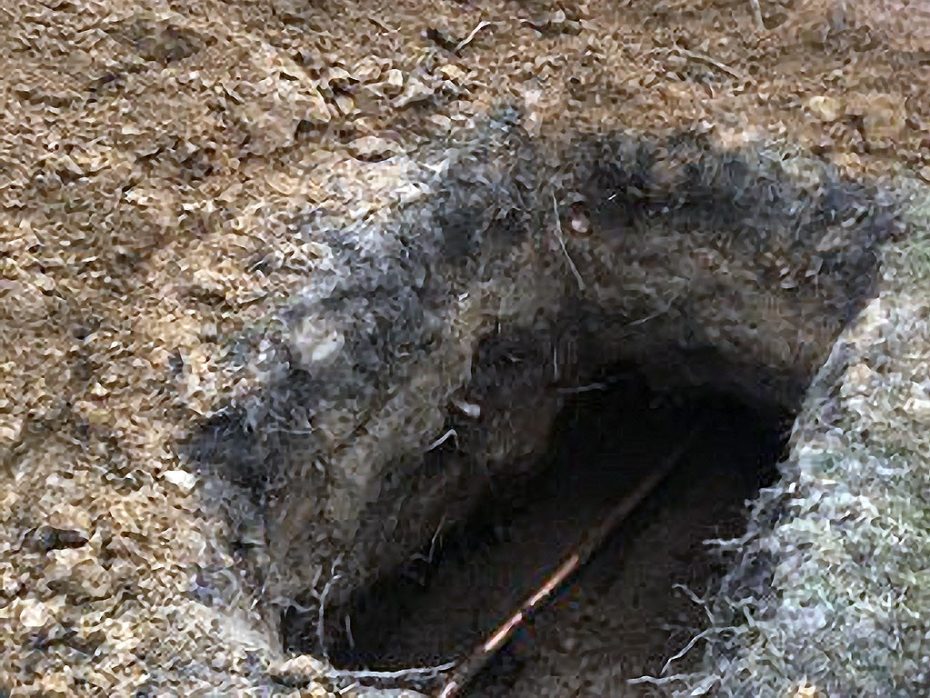 Our restoration efforts include removing all excavated materials, adding proper backfill, compacting that backfill to prevent potholes. We then perform paving the damaged areas to meet strict DOT codes. We pride ourselves on our sidewalk and roadway restorations! Of course, construction site safety is also a prime concern throughout the repair and restoration process.
Restoring a closed sewer service as well
Little did we know that we would soon be returning to this site. It turns out that that upturned tree had done even more damage than previously suspected. It had also destroyed the homeowners' sewer pipe. We repaired their sewer system, ensured that everything was working correctly, and restored the work site again. Fortunately, as the largest sewer and water main company in New York City, we have the crews and equipment available to handle any plumbing emergency promptly and properly. That is the Balkan advantage.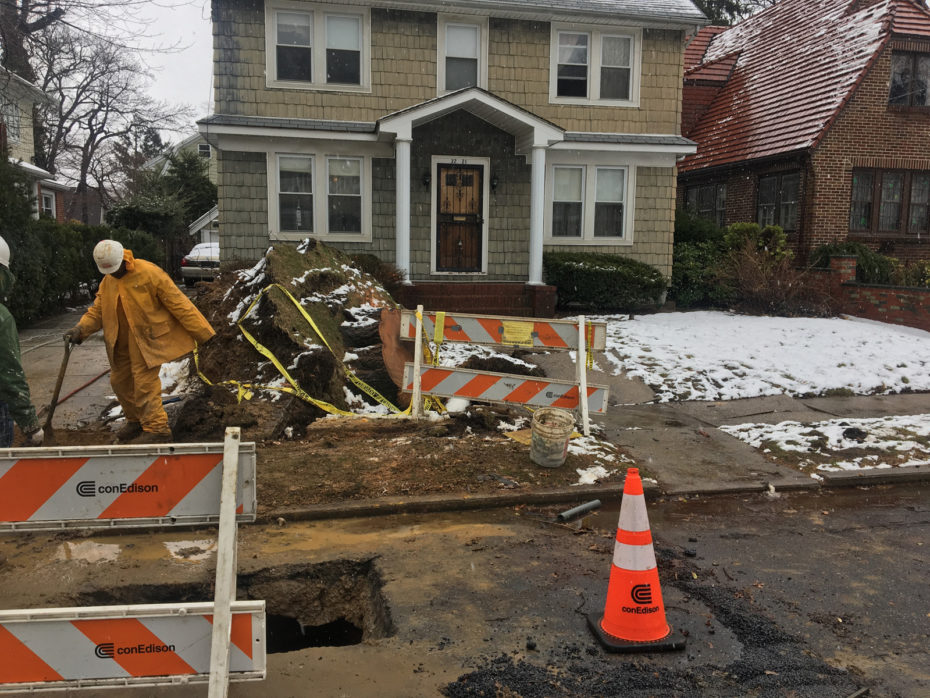 What causes trees to topple in a storm?
So, why do trees topple in the face of hurricane force winds? According to this article on the Scientific American blog, it is mainly because of a phenomenon know as 'windthrow.' The wind acts on the tree trunk like someone using a crowbar to pry up a nail. The longer the crowbar, the easier it is to pry up that nail. The same holds true for a tree in a storm – the taller the tree, the more force the wind exerts on the trunk (the lever). Exert enough force, and the roots pop out of the ground, and the tree falls. Unfortunately, the taller the tree, the more damage it can cause!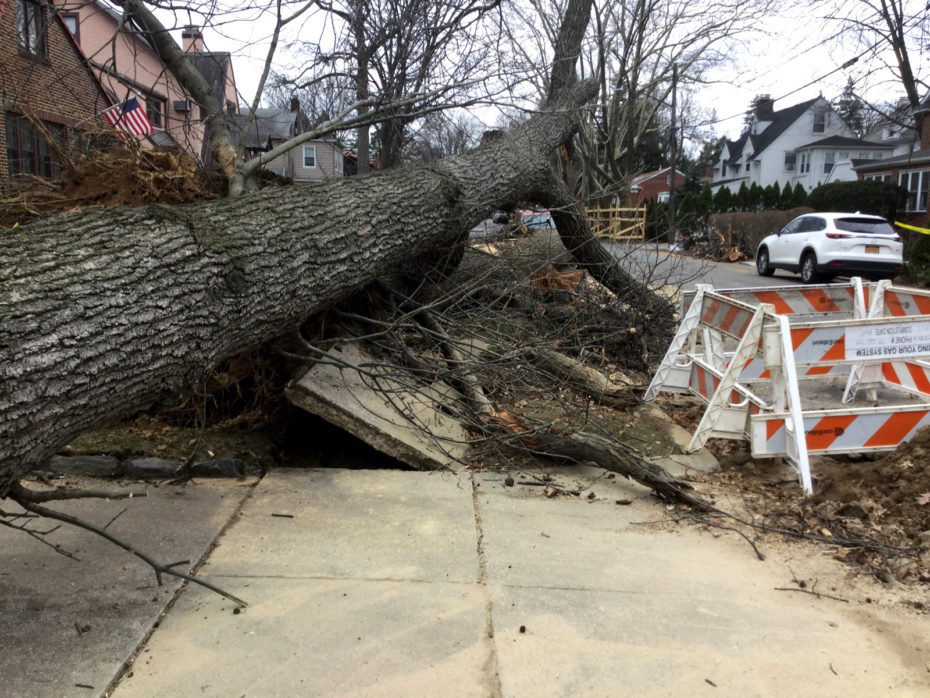 Determining which trees are at risk of falling during high wind events is not simple. Some trees that appear healthy may topple because of internal flaws that are difficult to identify. An arborist may be able to help determine which individual trees are healthy enough to weather high winds. Some clues to a tree's ability to withstand high winds are how freely it sheds its leaves when the wind blows, how flexible it is, how far it can bend before it breaks, and whether it is growing alone or as part of a clump of at least five trees.
Call Team Balkan for closed water from fallen trees or from any cause
Despite the occasional damage they may cause, as in this case, the advantages of trees far outweigh the disadvantages. They clean our air, help manage storm water, keep our cities cooler, increase property values, and even help us feel better. Of course, when a tree does cause damage, it is essential to know where to turn to for help. Whether you live in Brooklyn, the Bronx, Queens, or Manhattan, Balkan has you covered.
Contact Balkan Sewer and Water Main Service for details about our unconditional ten-year guarantee on water and sewer line replacements. High winds can cause damage at any time and in any place. Moreover, since hurricane winds cut the water to several homes in the same neighborhood, so take advantage of our referral program. Each successful referral earns you a $50 gift certificate to either The Olive Garden or The Outback Steakhouse restaurant.