New York, USA (MARCH 19th 2010) FOR IMMEDIATE RELEASE:

Tahir C. who lives in Jamaica Queens received a "Three Day Notice" from the NYC DEP and needed water main repair. Seeking to repair his water service right away Tahir listened to a contractor explain that he actually had men with him and could start work the water main repair immediately. The price was great, so how could he lose??
What happened next? Three men did in fact start the water main repair work right away. That was the good part, the only good part. If Something Sounds Too Good To Be True, Frequently It Is.
What didn't this company have?
Required NYC DEP or DOT Permits
Required Insurance
Proper equipment
Any experience repairing water services
A NYC Master Plumbers License
After throwing this company off the job………
What happened next? Tahir called Joseph L. Balkan, Inc. at around 8AM the following morning. Joseph L. Balkan, Inc is licensed, insured, and experienced. Balkan has a 48,000 square foot facility full of the proper vehicles, tools and equipment. At 9AM, one hour after his call, a full crew from Balkan Sewer and Water Main Service was already at work replacing the water service. By the end of the day all work was completed, including all required permits. Another Balkan job well-done: Results, not excuses.
About Jamaica, Queens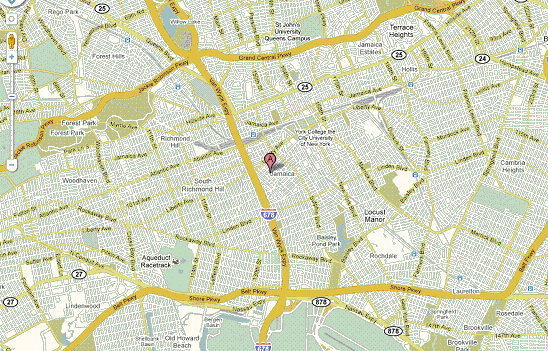 Jamaica is large and has a diverse population. It is mostly African American, with sizeable Hispanic, Asian and White populations. While the corresponding figures represent a certain portion of Jamaica, official statistics differ by the area's numerous zip codes such as 11432, 11433, 11434, 11435, and 11436. The total population of Jamaica is estimated to be a bit over 200,000 with all neighborhoods taken into consideration. This makes Jamaica the largest neighborhood in Queens, exceeding Flushing, Queens by around 40,000 in population.
Jamaica was not always as diverse as it is today. Throughout the 19th to early 20th centuries, Jamaica was mainly populated with whites as new Irish immigrants settled around the places known today as Downtown and Baisley Pond Park. After the 1970s, as housing prices began to tumble, many Hispanic and west Indian immigrants moved in. These ethnic groups tended to stay more towards the Jamaica Avenue and South Jamaica areas. Yet it wasn't until the late 1990s and early 2000s that immigration from other countries became widespread. Gentrification and decrease in crime attracted many families toward Jamaica's safe havens. Hillside Avenue is a complete reflection of this trend. Along 150th to 161st streets, much of the stores and restaurants are of South American and Caribbean culture. Heading further east is the rapidly growing East Indian community. Mainly spurred on by Jamaica Muslim Center, Bangladeshis have flocked to this area due to easy transit access and the numerous Bangladeshi stores and restaurants lining 167th and 168th streets. Neighborhood analysts have concluded that Bangladeshis are becoming the most rapidly growing group. Other areas where they are known to reside include Merrick Blvd. and Sutphin Blvd. in South Jamaica. Yet heading down this same direction, you will find numerous churches, stores, salons, and hair-braiding shops thriving in the hip-hop and African-American cultures.
About the Greater Jamaica Development Corporation
Greater Jamaica Development Corporation is one of New York's oldest not-for-profit local development corporations. Since its founding in 1967 by the Regional Plan Association and local business, civic and community leaders, GJDC has stressed economic development as it pursues its community-building mission.
GJDC envisions Downtown Jamaica as a modern and efficient mixed-use regional center offering a pleasant and productive experience for those who work, live, and visit here. We see Downtown Jamaica as a major employment center for enterprises directly connected to JFK International Airport, via the new AirTrain light rail service. We also envision a quality residential and retail community built around Jamaica's regional transportation hub, which provides easy access to a large skilled and educated multicultural work force.
GJDC is supported by corporate and foundation grants, by government contracts and by income earned from its project operations. It has an overall annual operating budget of $12 million and a staff of 30 professionals. It owns and operates several commercial projects including small office facilities, a food market, and a public parking system of facilities serving the downtown. Its activities include planning and predevelopment work, development projects with private developers through a special entity, a real property holding company, a small business loan fund, administration of government programs in industrial retention and commercial revitalization, and the marketing of the Downtown Jamaica area.
Greater Jamaica Development Corporation is a New York State membership organization with some 85 Members; it is governed by a Board of Directors of 25 business and community leaders.