Main home sewer line replacement cost within the boroughs of NYC can vary greatly. For instance, Manhattan and the Bronx pose unique issues. While most work in Queens and Brooklyn can be rather routine. The particular issues prone to Manhattan and the Bronx include rock conditions, and underground utility obstructions. With that said, the actual individual factors that comprise the cost are the same in each borough. What follows is an easy to guide to help property owners understand main sewer line replacement cost.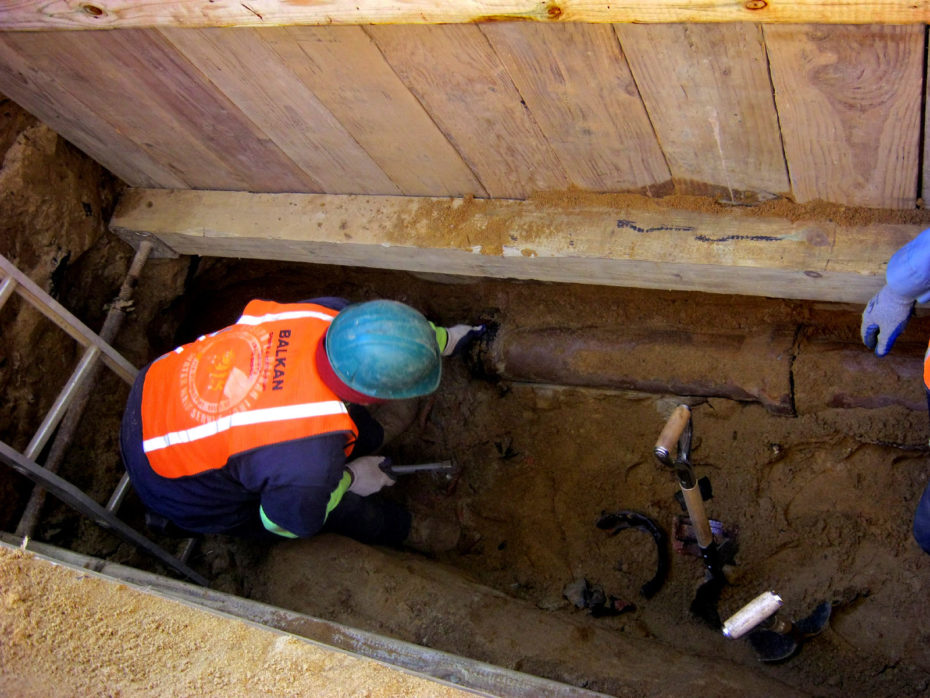 The pricing stated in this article has been updated for 2019. The original article was written in 2013. The pricing guideline for a sewer replacement cost in NYC noted below is now current for 2019, and should be an accurate and helpful tool.
5 Factors that comprise main sewer line replacement cost
There are various factors that can sway the cost of a sewer replacement. As an example, if a public sewer is located under a sidewalk fronting the property. This can greatly reduce the labor cost. But regardless, labor will always be the major component of a main sewer line replacement cost. Besides the length of the run, depth of the run is also always a major cost factor. In terms of items, there are 5 primary items that comprise the cost:
1. Labor cost for a sewer replacement
The labor cost for a main sewer line replacement will comprise a minimum of 50% of the total cost. The more typical labor component is 60% of the total cost. Manhattan is an exception, where labor is a much higher component of the total cost. Most sewer replacement work in the outer boroughs will take two or three days. On the other hand, Manhattan sewer work will typically take much longer. As an example, crossing Broadway in Manhattan for sewer work is much more difficult than crossing Broadway in Queens, Brooklyn, or the Bronx.
2. The Material cost for a main sewer line replacement
The sewer pipe itself, and other associated materials, to replace a house sewer line will comprise around 20% of the total cost. This depends on the size of the house sewer, and length of the sewer run. Therefore the percent can vary, but not by much. Even in a lengthily sewer run, the % of the total cost should not vary by much. Material cost is $2,000.00 to $2,400.00 on a typical sewer line replacement.

As a side note, Balkan utilizes domestic extra heavy cast iron sewer pipe exclusively. Not only is this a far superior material, but it adds little to the overall cost. A sewer contractor looking to save a few dollars on a job that costs thousands of dollars should be "your cause for pause" as a potential Client.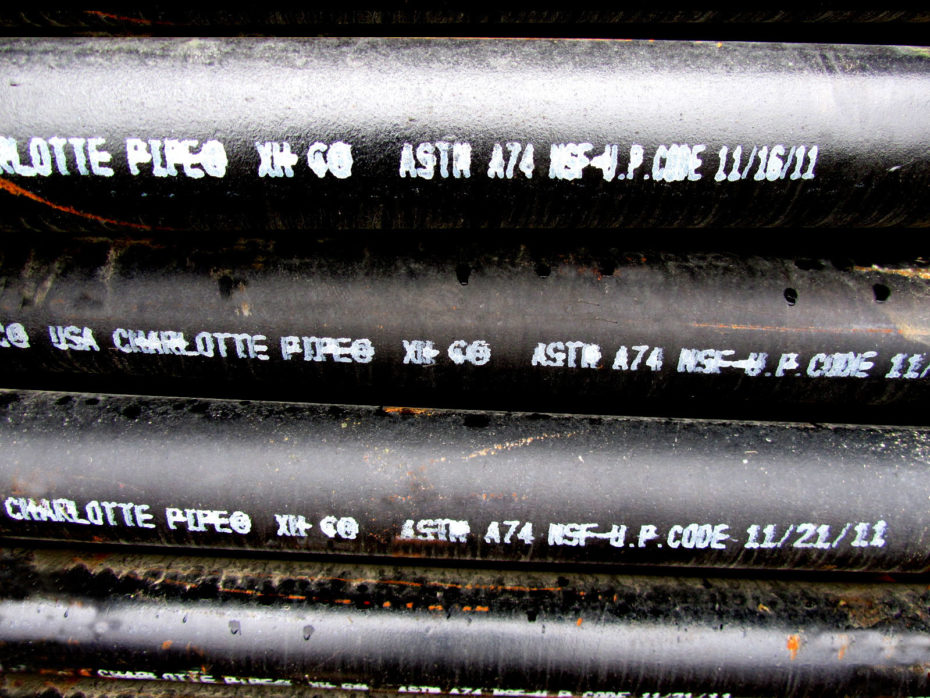 3. DEP and DOT Permit fees
Permit fees always comprise a very small percent of the total cost, and are really not a factor. Sewer repair or replacement permits from the DEP are free of charge. Highway permits from the DOT vary from around $250.00 to $500.00, including expediter fees. There is a variation in the cost because on newly paved roadways the DOT charges an additional $250.00 inspection fee.
4. Restoring disturbed Asphalt and Sidewalk Cement areas
Restoration of disturbed areas can vary depending on the type of surface, and the square footage. The cost factor also depends on the extent of damage to the affected area. Typically a city sewer is about 15′ from the sidewalk curb line. In terms of sidewalk cement, around three flags of sidewalk cement will be broken. In cases like this restoring the disturbed sidewalk and roadway will comprise about 20% of the total cost of a sewer replacement.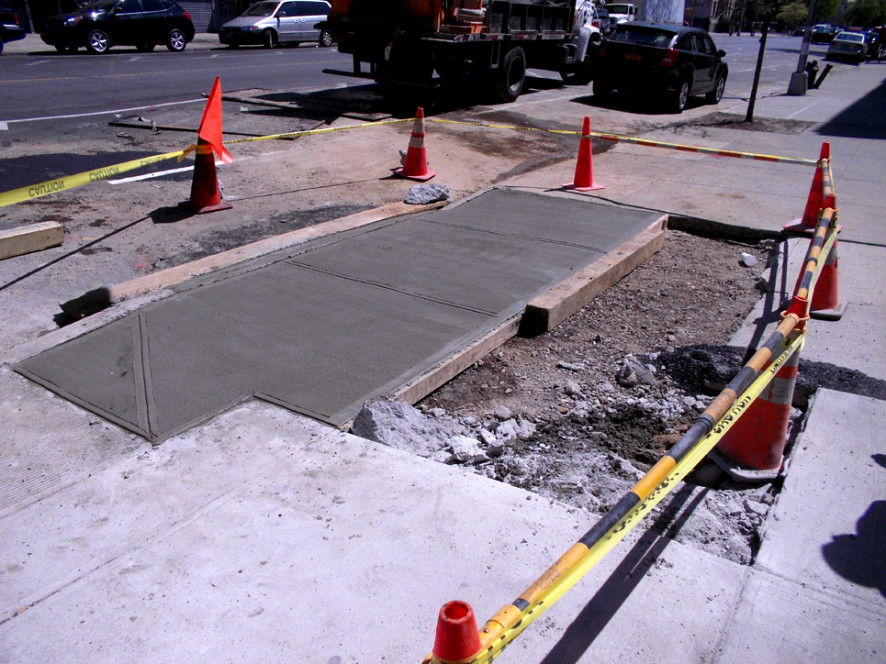 [button link="/contact-balkan-plumbing/" bg_color="#EA6E24″ window="yes" size="xl"]Get a FREE no-obligation site visit today![/button]
In some cases, specialty pavers, cobblestones, or cement exist. An example would such as a dyed concrete finish. In other cases the public sewer may be farther out into the roadway, or the roadway may have been recently paved. Recently paved roadways have more stringent restoration requirements imposed by the NYC DOT. While not usually a major factor, they can increase this item as a percent of the total job. The actual cost of restoring disturbed areas usually ranges from $2,000.00 to $2,500.00.
5. Removal of excavated material and providing backfill material
All sewer replacement work will require removal of debris and excess excavated material. However, frequently the material excavated will not suitable as backfill material. This is because it may not compact properly. Using improper backfill material will result in excavations sinking and collapsing.
In Manhattan, and other busy areas in the outer boroughs, excavated material cannot remain on site when the job site is left unattended. Jobs where all excavated material must be removed require additional equipment, labor, and coordination. In these cases, trucking costs adds to the total cost of the job. Any material removed from a job site must be dumped at an approved transfer station.
Dump fees and the cost of providing clean backfill material usually comprises over 10% of the total cost of the job. In terms of total dollar value total trucking costs can range from around $1,800.00 to up to $2,800.00. This varies depending on the quality of the existing material that is excavated, and the job location.
The average total main sewer line replacement cost
Since 2013, the original date of this article, to 2019 many factors have resulted in price increases for subsurface plumbing work. The generally accepted price range of a typical sewer replacement in the outer Boroughs of NYC in 2019 is now $12,000.00 to $18,000.00.
Main sewer line replacement costs have increased dramatically over the last few years in NYC. Insurance costs have skyrocketed, dump fees have doubled, and labor costs have risen dramatically as well. These are all factors that cannot be controlled, and are a fact of life in a big city like New York. In addition, main sewer line replacement cost can vary based on other factors. Here are 4 additional factors that can affect sewer line replacement cost:
1. If a tree is present in the sidewalk area
In the case where trees front a property, a Parks Department Permit will be required. In addition, a licensed Arborist will also be required. An Arborist will have to oversee any excavation, or tunneling, under the drip line of a tree. In addition to the cost of the Arborist, the process of the sewer installation is slowed down by a tree being present. This obviously adds to the cost of a sewer replacement on your property.
2. In some areas bed rock or ground water may be present
These are two factors that are not included in a typical sewer estimate. The additional cost will depend on the extent of the particular condition. In both cases specialty tools or equipment may be required.
3. In NYC many utility lines can be buried underground
Large banks of underground utility lines will slow down a sewer installation greatly. In many cases excavations will have to be made by hand until all utility lines are exposed. This can literally add days on the scheduled work.
4. In sensitive areas of NYC work hours may be limited by the DOT
Restricted work hours can increase the number of days required on the job. This adds to the main sewer line replacement cost. Manhattan sewer line replacements vary greatly on a case-by-case basis. The location and underground conditions have a great bearing. In addition the length of a sewer run in Manhattan can vary greatly. Some roadways can be very wide, and in other cases a basement may be vaulted all the way to the curb line. Simply put Manhattan sewer replacement work, and almost all sewer work, requires a careful site visit to obtain an accurate estimate.
Sewer repair Vs. sewer replacement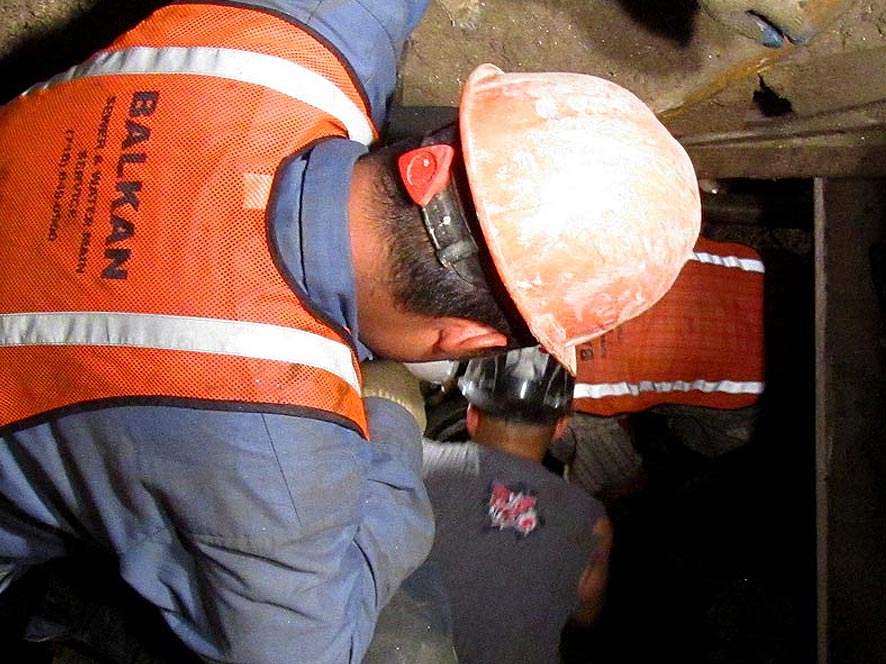 The sewer repair cost will typically be around 50% of the full replacement cost. As always sewer work can vary greatly and so can the price. Balkan provides free and no-obligation site visits. A site visit is strongly recommended before any hiring decision is made. In many cases a repair can be done and be a long-lasting solution. However sewer problems such as sewer line root infiltration, or a back-pitched sewer, cannot typically be cured by a spot repair.
Never act in haste when faced with a sewer problem. If a sewer contractor quotes a price they should be able to back it up with a sensible explanation of the cost. Always remember that a sewer contractor must be licensed by the Department of Buildings, insured, and bonded with the NYC DOT.
[button link="/contact-balkan-plumbing/" bg_color="#EA6E24″ window="yes" size="xl"]Get a FREE no-obligation site visit today![/button]
[credit]