The Georgetown Shopping Center recently suffered an underground main water line leak. A main water line leak at a shopping center needs special consideration. Not only can service be interrupted for valued tenants with special needs, but shopper safety and convenience can also be affected. Underground main water line leak repair for a busy commercial strip needs a high degree of job-site safety and job coordination as well. In addition, there is typically a greater need for specialty equipment such as heavy dump trucks to move dirt.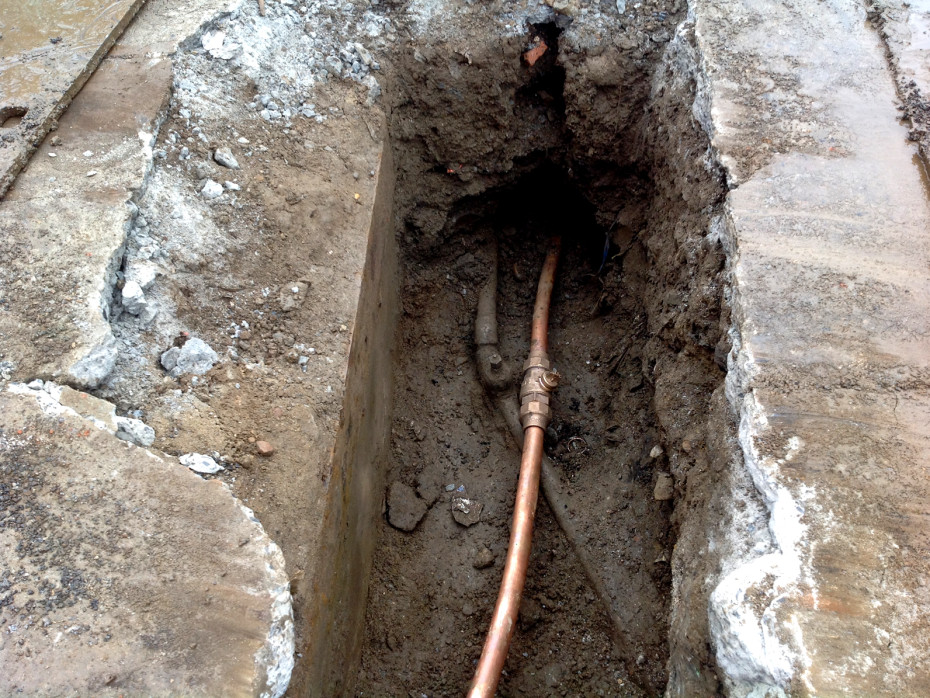 How does filled-in ground affect a main water line leak?
The Georgetown Shopping Center in Brooklyn, along with many of the surrounding communities, is built on filled-in ground. That mean that much of the area was previously swamp of low-lying ground before it was developed. At the time that much of the area was filled-in the material used was not greatly regulated. That means that certain material was contained in the fill that is prone to continually settle over time.
It is typical for all buildings and homes built over filled-in ground to be built on piles. Piles are driven into the ground until a solid subsurface is found to avoid settlement of any structure. Unfortunately underground lines such as house sewers and main water lines are prone to settle and break. In some cases a main water line leak can occur from jagged or improper material lying on top of a service line.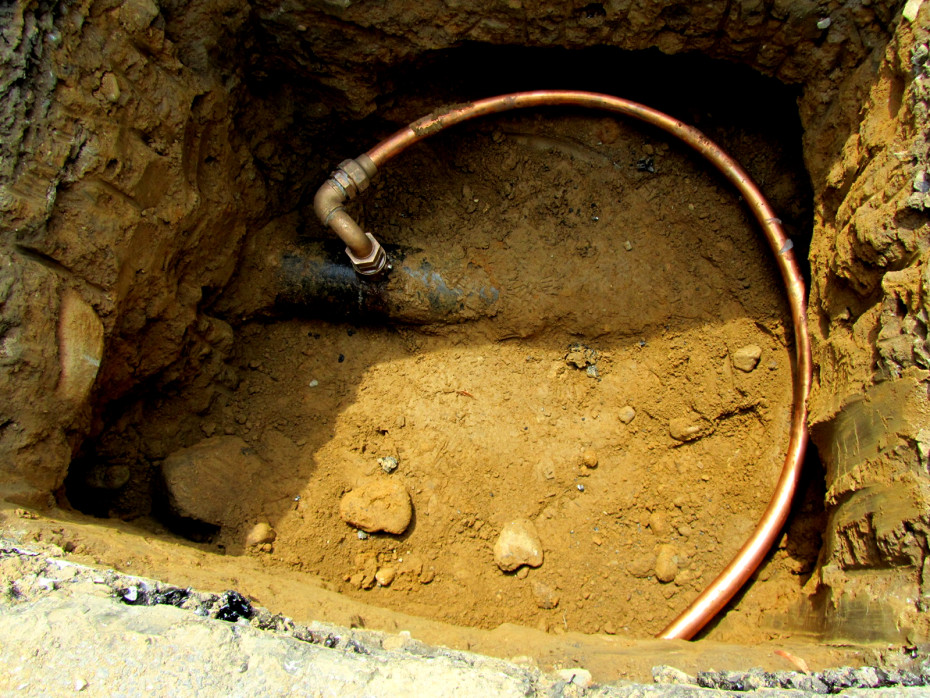 Filled-in ground affects a main water line leak in that the new line must be carefully supported. In addition a loop should be installed at either connecting end of the water line to allow for slack if future settlement occurs. Naturally all excavated material should be removed and clean material used to avoid any future water line or settlement issues.K copper water service lines are installed so that ground settlement will not typically cause them to leak. This is accomplished by either one or two swings in the copper at the point of the connections. This slack in the line allows for settlement without a leak occurring.
Attending to a main water line leak properly
Balkan Sewer And Water Main Service has been serving some of its clients for well over 50 years. The Georgetown Shopping Center as an example has been a valued client for around 40 years. Over that time Balkan has become well acquainted with all the site conditions particular to this client. Likewise the owners have come to trust the Balkan Team to be prompt, professional, and fairly priced.
Because of the poor ground conditions, and the age of the existing water line, it was decided to perform a complete replacement. Hunting around for the point of a main water line leak in filled-in ground would have exhausted a lot of labor. In some cases a water service line repair can entail as much labor and equipment as a full replacement.
Attending to this main water line leak properly entailed trucking away all excavated material. This prevented future ground settlement of poor back-fill material from damaging the new line. A swing was installed at both the connecting point to the city water main, and just outside the foundation wall. In addition clean back-fill material was delivered to the site.
Careful back-fill and compaction was performed. This was followed by an even more restoration of the affected cement areas. There were tow major factors to deal with concerning the concrete restoration. Firstly because of the ground conditions reinforcing wire mesh was laid carefully in place to fortify the strength of the concrete.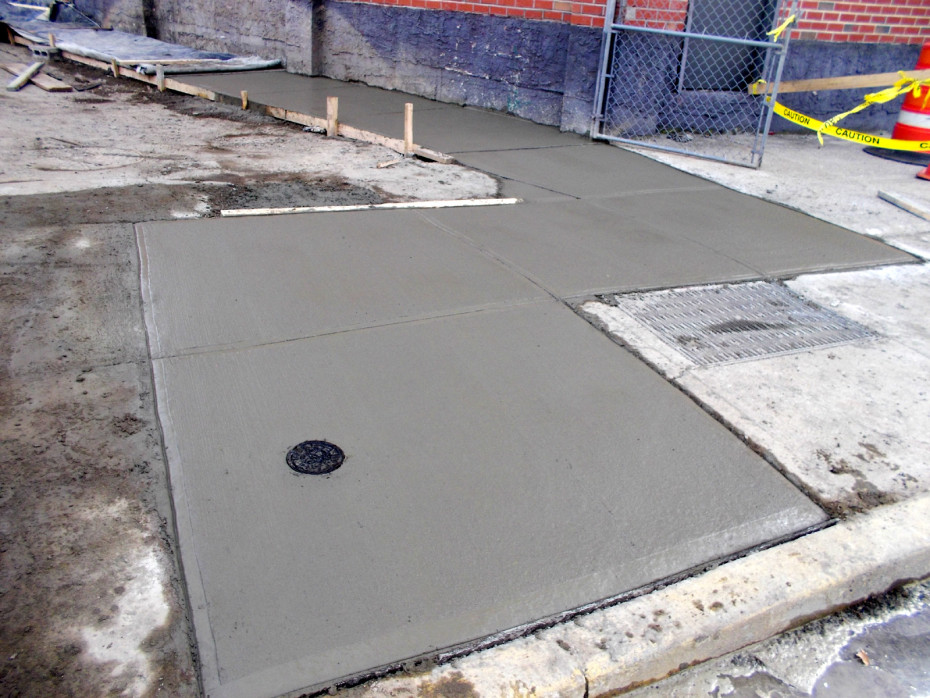 Secondly this work was done in sub-freezing weather conditions. Balkan worked with a trusted ready-mix concrete company to add an approved chemical add mix to speed up the concrete curing process, and prevent the cement from freezing. In addition the entire cemented area was covered with concrete curing blankets that hold in the heat from the curing process. These efforts resulted in a professional grade and long-lasting concrete restoration.
Of course during the entire five day duration of the project the site was protected and safe while the workmen were on site, and after-hours as well. Such a busy and hectic work area needs to be kept safe at all times. Such attention to detail and a standard ten year unconditional guarantee are reasons why Balkan is the trusted sewer and water main contractor in Brooklyn and throughout New York City.
Where is the Georgetown Shopping Center located?
The Georgetown Shopping Center fronts Ralph Avenue, which is a busy thoroughfare in Brooklyn. On the north side is Avenue K, and Avenue L is on the south. It is centrally located between the neighborhoods of Flatlands, Canarsie, Bergen Beach, and Mill Basin. Even Gerritsen Beach and East New York are only a few minutes away by car.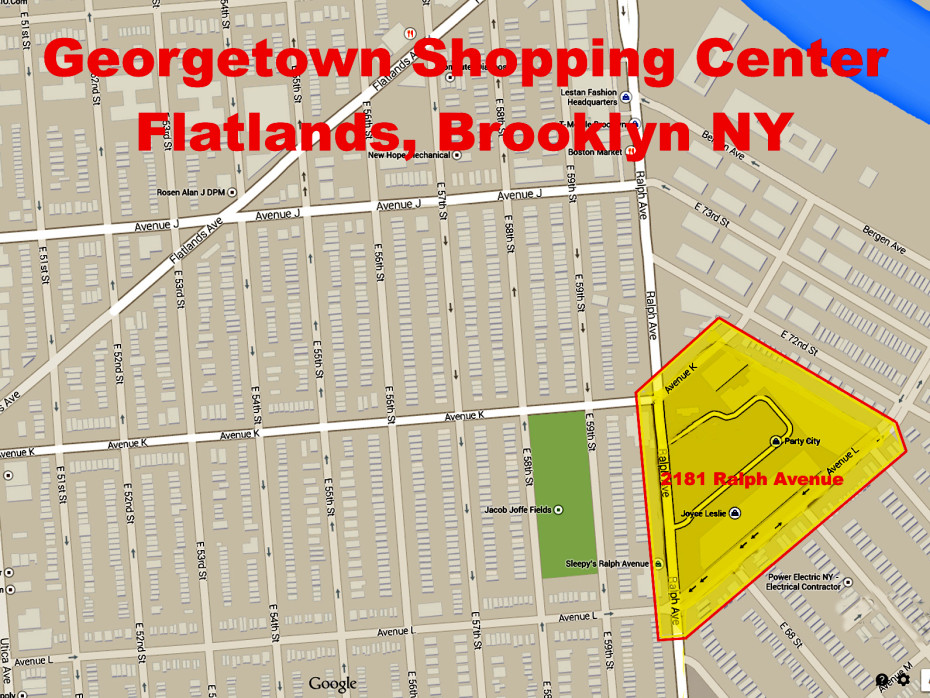 With its diverse array of stores and restaurants this shopping center draws shoppers from many diverse Brooklyn communities. The Georgetown Shopping Center is well established and is has been frequented by some for generations.
[button link="/contact-balkan-plumbing/" bg_color="#EA6E24″ window="yes" size="xl"]Get a FREE 0n-site visit today![/button]