When a water line leaks, whether you do a water repair, a new main water line, or any type of water main work, the following information will be of great use. Many people assume repair work on a water main consists simply of digging some holes and filling them in at the end of the day. Frequently overlooked is information that is vital to a correctly repair or replace a main water line. While not too complicated, the following points should be carefully reviewed before performing this type of plumbing work.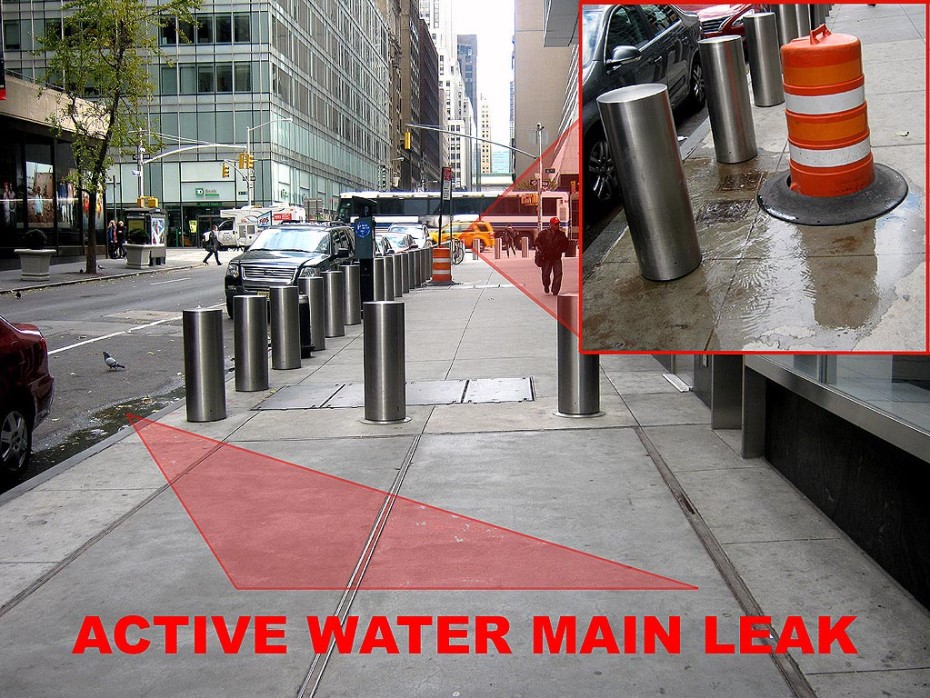 Sizing The Main Water Line Properly
When a repair or replacement is needed one of the most important issues is correctly choosing the size of the new main water line. This is not done by guesswork or 'rule of thumb'. There is a carefully devised sizing table that all contractors must use for this type of work, whether when a water line leaks or when an upgrade is required. Following this table can increase water pressure. As a point of interest, an 1 1/4″ line will supply almost 2X the amount of a 1″ line. For more information click this link: Sizing Water Service Lines
The Proper Water Main Material To Use
The NYC DEP clearly states what material is approved for a water line repair or replacement work. What is sometimes misunderstood is that illegal material for a water main or a sewer line are not listed or specified. Meaning that because a material for a main water line is not expressly excluded, does in no way mean that it accepted to be used for a water line or sewer line. It is up to the Licensed Master Plumber to adhere to the material that is listed and approved by the NYC DEP and Department Of Buildings. For a main water line in New York City the following materials as used: K type copper, Ductile Iron Pipe, and Brass. K copper is the material most widely used becuase it is permitted for service lines of up to 2″, which is sufficient for the majority of properties located in the City. For more in depth information click this link: Water Main Material
How To Increase Water Pressure
Low water pressure can be caused by a variety of reasons, including a water line leak or a break. Low pressure can be related to plumbing inside the house, but more frequently involves the main water line. A Licensed Master Plumber can easily test a system and check DEP records to pin-point the cause of low water pressure. Then decide how to increase the pressure to a proper level. Balkan Sewer And Water Main Service provides free site visits and free on-site evaluations for any service line line issue, or when a water line leaks. Fore more detailed information click this link: Increasing Water Pressure
The Importance Of A Proper Tap Connection
The tap connection, sometimes called a wet tap connection, is the connection from a main water line to the NYC DEP owned water main usually located in the roadway. If a tap connection is undersized it will not permit proper water volume to enter a premises no matter how large the size of the service line is. This is even more of an issue in the old Jamaica Water Supply territory that the DEP took over in the 1990's. A new tap connection costs around $300.00, which is a small price to pay for ensuring a correct main water line job. New tap connections are easily installed by NYC DEP field forces in around 20 minutes after the Licensed Master Plumber has secured the proper permits. In the 'old days', before power tools, a tap connection actually used to be driven into the city main by hand. Hence these old tap connections are referred to as 'driven taps'.
Water Repair vs. Complete Water Line Replacement
Thousands of NYC property owners every year have to deal with water line leaks and have to decide which type of repair or replacement to do. What somewhat simplifies this issue is the fact that the DEP rules and regulations do not permit a repair on a lead or a galvanized main water line. A lead or a galvanized service line would have to have the entire main water line replaced to be to code. If the line is copper the determining factors on whether to perform a water line repair or a complete replacement of the main water line would be the age of the existing line and the size of the existing line. The typical life expectancy of an underground water line is around 50 years. Much more detailed information is available on this link: Water Repair Vs. Water Line Replacement
What Steps To Take If You Have A Leak
When a water line leaks and a service line repair or replacement is needed there is usually no need to panic or get excited. Balkan Sewer And Water Main Service typically completes main water line work within 24 hours of an initial call for service. What may seem like extraordinary water main service is ordinary company policy at Balkan. In addition Balkan uses a 'uniform pricing policy' so regardless of the severity of water line leaks the price always remains the same.
If you suspect you have a water line leak the 1st step is always to call 311 and ask for a NYC DEP representative to come to your site for verification, the 2nd step is to call a Licensed Master Plumber to assess the situation. As mentioned previously, Balkan provides free on-site evaluations and free estimates with no obligation to hire.