Main water valves come in a variety of styles, types, and sizes. Valves will vary depending on the size and type of the property. They also vary if fire protection is required for the building. The main control valve is the valve that is at then end of the water service line inside the building. If the main valve fails, there is no other valve inside the building that will allow you to shut the water, and repair that failed valve. If your main water valve fails, you will require a main water valve replacement. A main water valve replacement is quite different, and more expensive, than replacing any other valve inside your building. When you need to close the water going into your building, always use a valve that is closest to the inside plumbing of the building. Always try to avoid using the valve closest to the street when you need to shut the water to a building.
When a main control valve breaks and a main water valve replacement is needed it requires expertise and know-how to do the job safely and to code. Working on a live main is no simple task. It poses some risk of property damage if done improperly, or by an inexperienced or unlicensed individual.
What if a valve breaks in the closed position?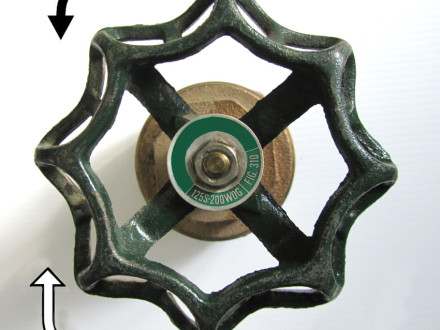 In most cases, if a gate valves breaks in the closed position extensive work has to be done. Sometimes a curb valve will be located in the sidewalk area. A curb valve would enable you to close the water by using a curb valve key. You could then remove the broken valve with little trouble.
If there is very little room to work inside the basement where the valve is located, or there is no curb valve, the roadway may have to be opened. Once the road is opened the tap connection itself would have to be closed. Opening the roadway can be fairly costly, and will involve securing DOT permits.
It is rarely advisable  to change out a main control valve under pressure. It can be a very tricky proposition, and sometimes dangerous. Removing a valve under water pressure can sometimes be done by highly skilled plumbers, but never when live electric services are nearby. One should never risk an injury just to save a few dollars. Read more about changing a water valve.
The 3 different types of water valves
1. Gate Valve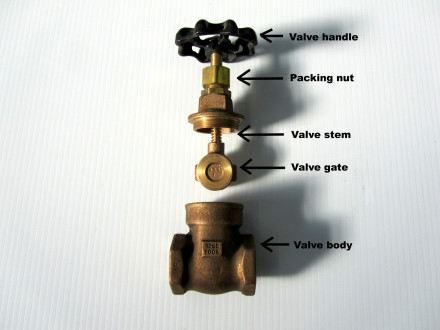 A gate valve, as the name implies, has a gate built into the body. The gate is raised or lowered by turning the valve handle. The correct way to open a gate valve is to turn the handle counter-clockwise. You should never apply any excessive force, or use a jerking motion. A 1″ water valve will take about six full turns to fully open. You should stop turning the handle as soon as there is any resistance.
Turning the handle or stem too far with excessive pressure can cause damage and very often will cause a leak. In some cases the stem can snap, making the valve gate frozen in place. Never risk breaking a main control valve in the closed position. If resistance is met while trying to close a valve, always gently work a valve back and forth. This will free up any corrosion or sediment. Make sure a sink is running to allow the loose sediment to leave your plumbing system.
2. Ball valve
A ball type valve has a bored out ball inside the valve body. A ball type valve only requires a quarter of a turn of the handle to fully open or close. There is an arrow on the handle to indicate which direction to turn the handle to either open or close it. When opening or closing a ball valve do so slowly or abrupt rushes of water going through the plumbing system can cause damage and leaks. This type of damage is called water hammer.
Always have a faucet on a top floor of the building open to monitor water flow and let air escape when water is being introduced back into the plumbing system. That rule of thumb applies for reopening any type of water valve.
3. OS&Y valve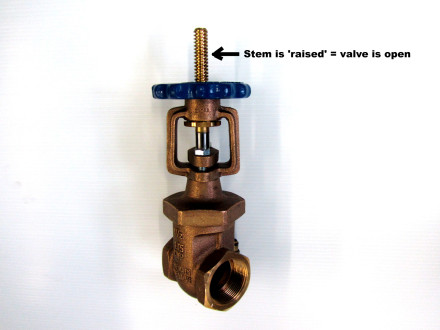 Technically OS&Y stands for 'outside screw and yoke'. Which means that when the handle is turned, it directly raises and lowers the gate of the valve by interacting directly with the stem of the valve. The handle and the stem are both threaded so they interact together (this is different than a typical gate valve).
The stem of the valve itself raises and lowers visibly outside the body of the valve, while the handle remains in a fixed position. As the stem rises, the gate inside the body of the valve rises in unison. This  lets water flow through the body of the valve. OS&Y valves are required by code for fire service lines in NYC. This is because it is always clear whether the valve is open or closed on an OS&Y valve.
The fact that the valve stem visibly rises and lowers is vitally important. That is because dedicated fire mains are not connected to plumbing fixtures. Therefore they cannot be easily tested to determine if the water is on or off.
Who to hire to perform a main water valve replacement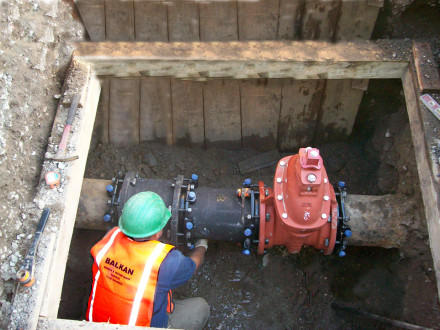 In New York City only Licensed Master Plumbers are permitted to perform a main water valve replacement. It cannot be emphasized strongly enough that hiring an unlicensed, uninsured, or unskilled individual to work on a live water main can have disastrous consequences.
Improper work is done by an unlicensed and untrained person can frequently result in damage. Faulty work on water valve work can result in both substantial water and property damage. If this is the cases, you may be declined coverage. Or equally as bad, suffer drastic premium increases from your insurance carrier.
Hiring a licensed, insured, and experienced plumbing firm is an assurance of a job well done. A plumber being experienced in all the different types of valves, no matter the size, allows a relatively simple plumbing repair to remain that way.
Joseph L. Balkan is a licensed plumbing company in business for over 65 years, with a high degree of expertise in handling any main water valve, water service line, or sewer line repair work. Balkan provides free on-site visits seven days a week, and expert advice is always available as well. Contact Balkan Sewer And Water Main Service and find out why we are the most trusted sewer and water main contractor in NYC.