New York, USA (MARCH 11th 2010) FOR IMMEDIATE RELEASE:

When a sewer replacement was required in Brooklyn by Mr. and Mrs. Gutherz they carefully investigated how they would handle their sewer line problem, and who they would hire. As concerned owners, they had a lot of questions and concerns:
Was the sewer replacement company reputable, licensed, and insured?
Would permits be secured and inspections performed by the DEP?
Would top notch plumbing materials be used, with a long term guarantee?
Could the work start right away?
Was an owner available for any questions?
Would highly trained personnel be on site?
Would they get a fair price?
The only firm to answer "Yes" to all their questions was Balkan Sewer and Water Main Service. After making their decision to hire Balkan work was started the very next morning and continued until the sewer replacement was completed as promised with sewer service restored. By taking their time and receiving the correct answer to all of their questions the Gutherz's were left with a job well done – problem solved. Balkan produces results, not excuses.
ABOUT MANHATTAN BEACH IN BROOKLYN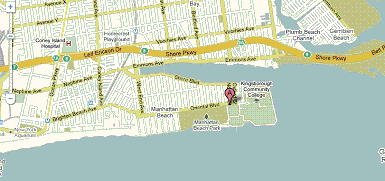 Manhattan Beach is a residential neighborhood in the New York City Borough of Brooklyn. It is bounded by the Atlantic Ocean to the south and east, by Sheepshead Bay on the north, and Brighton Beach to the west. Traditionally known as an Italian and Ashkenazi Jewish neighborhood, it is also home to a sizable community of Sephardi Jews and a large Russian Jewish presence. It is known for being one of the wealthiest neighborhoods in Brooklyn, with some of the borough's most expensive real estate. The area is part of Brooklyn Community Board 15 which is represented by the Manhattan Beach Community Group, established 67 years ago, and the Manhattan Beach Neighborhood Association, established in 2008.
Manhattan Beach is named for its beach on the Atlantic Ocean situated on the eastern end of Coney Island. It was developed in the last quarter of the 19th century as a resort by Austin Corbin, later president of the Long Island Rail Road. Manhattan Beach is patrolled by the NYPD's 61st Precinct.