New York, USA (SEPTEMBER 15th 2014) FOR IMMEDIATE RELEASE:
When a Manhattan water line break occurs it requires prompt attention. That is regardless of if it is a main NYC water line, or a service line. But besides a prompt response, all aspects of the potential job should be carefully checked before work begins. The case of a recent Manhattan water line break on a service main became a case in point. The replacement work also resolved other existing plumbing issues.
Below you can read how a water main replacement also resolved an insufficiently sized line. Lastly, about how a water meter installed in an improper location was also corrected. An accurate assessment helped to cure all of these defects. Next day service was promised, and then provided.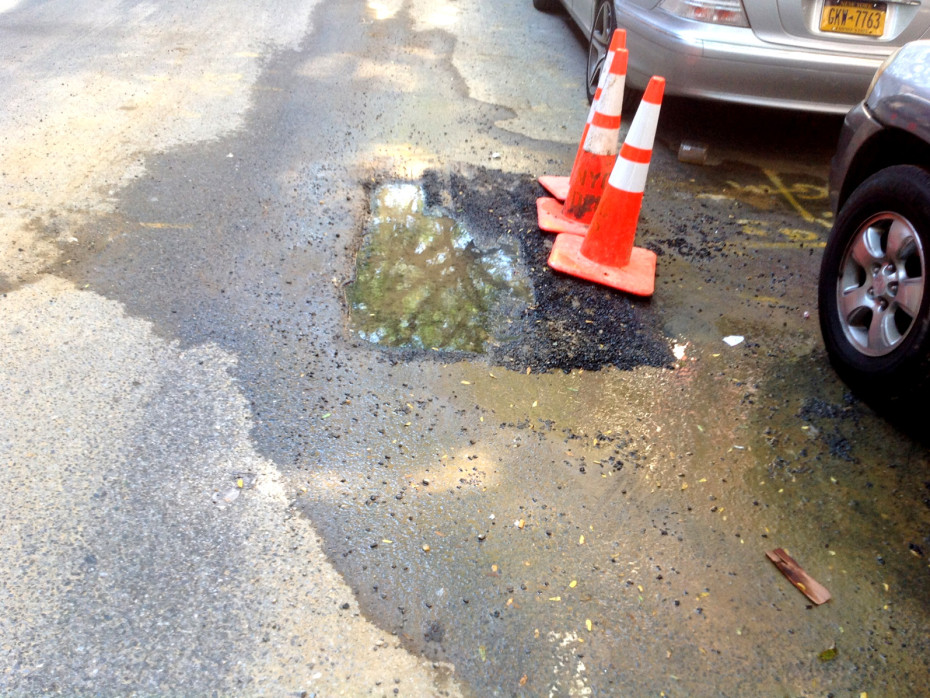 Within one hour of the call for service a Balkan field representative was on the site. For a property owner facing a DEP violation, service like this is reassuring. The very next workday the water service line was fully replaced. Service to the building was only interrupted for a couple of hours. Since a new tap connection was required from the NYC DEP the tap hole was steel plated until that could be obtained.
There is typically a delay in the process when the DEP field forces are needed to install a new tap connection. In this case waiting for a new tap connection posed no problem, as the old tap could be used in the interim. In extreme emergencies same-day tap connections can sometimes be arranged, but that was not required in this case.
Increasing the water service line size
Even though the existing water service line had existed for many years, it was completely insufficient for the property. It is not uncommon for occupants of a building to suffer along with insufficient water volume or pressure (which are separate and distinct issues) and accept the condition as normal. However when a line is being replaced, it is an opportune time to upgrade the size of the line to code.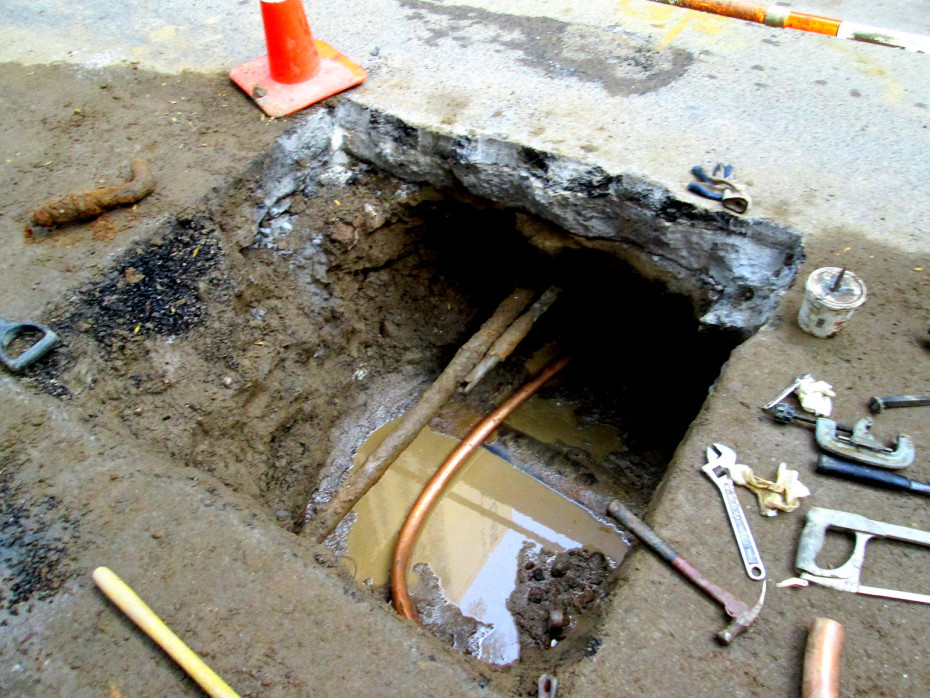 Using this location as an example, the building required a gallons per minute flow of 57. But the existing 1″ line only provided 13 gallons per minute. Below is an example of flow rates for different sized water service lines, with the length of the run of service line factored in.
1″ line provides 13 gallons per minute
1 1/2″ line provides 28 gallons per minute
2″ line provides 59 gallons per minute
Using the above NYC DEP sizing calculations the existing service line provided less than 25% of the required gallons per minute. It is not unusual for buildings to change their use, or add plumbing fixtures over time. Therefore conditions such as referenced above are not all that uncommon. Increasing the water line size does not substantially increase the cost of a water main replacement job.
Increasing the tap connection size
A new and larger tap connection frequently goes hand in hand with increasing the water service line size. In this case the existing tap connection was only 3/4″, far below the buildings requirements. Balkan secured a DEP tap and plug permit. They then arranged for DEP field forces to upgrade the tap to 1 1/2″. After connecting the new 2″ K copper water service line to the new tap the old 3/4″ tap was plugged. Plugging a tap is done by cutting off the threads on the top of the old tap. This makes a tap unusable for any future connection. It is typical for tap connections to be one size smaller than the service line size for domestic water lines. Fire sprinkler lines usually require the same size tap connection for lines 4″ or less.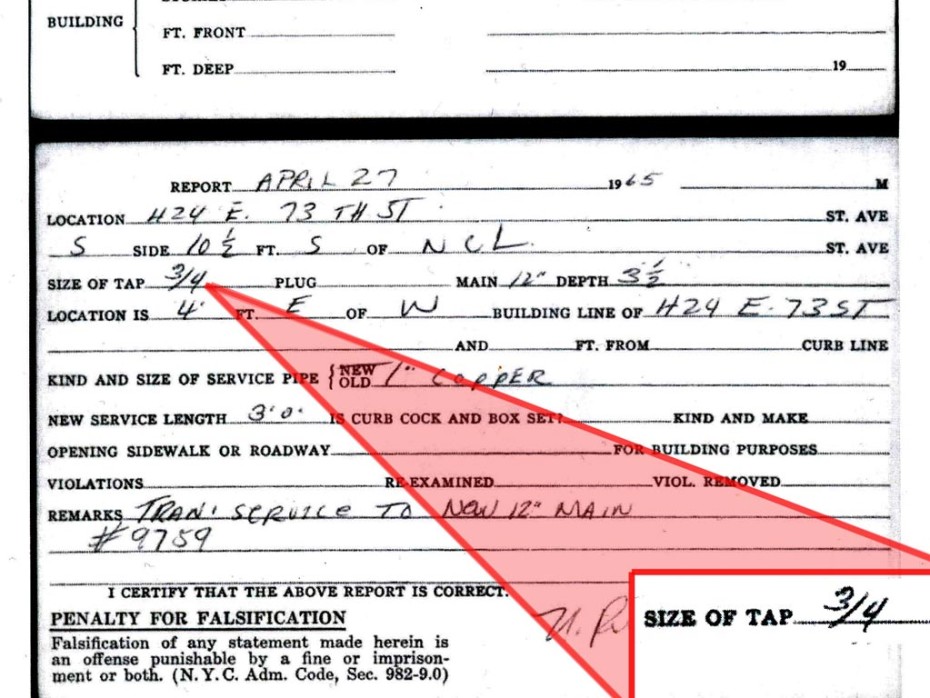 Correcting an existing water meter violation
DEP code calls for a water meter to be 3′ of less from the main control valve on the water service line. Even though this type of violation might not come to light, Balkan took the opportunity to correct the condition. It is this type of attention to detail that Balkan provides that ultimately saves a client from future issues.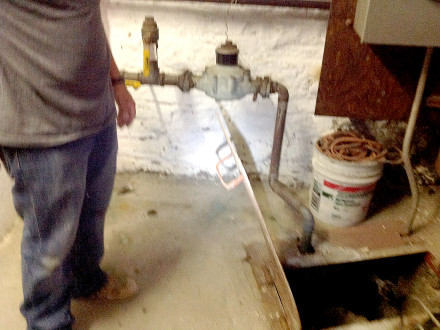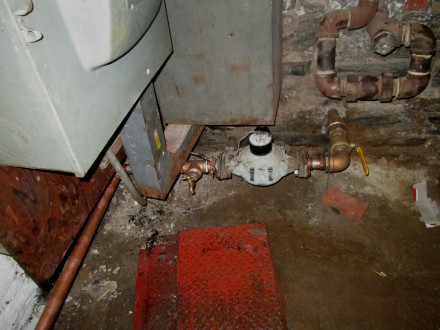 A happy resolution for a Manhattan water line break
The end result of this Manhattan water line break was an all encompassing response which addressed multiple issues. Proper volume of water was now available for all occupants, and exposure form a future violation was also eliminated. In addition, in-house Balkan paving and cement crews performed next day restoration of all disturbed surfaces. Hiring the correct water main contractor means that you do not have to spend valuable personal time overseeing the work, or worrying about a correct installation. The traits of quality, service, and integrity has enabled the Balkan Team to provide worry free sewer and water main installations to all New Yorkers for over 65 years.
About Balkan Sewer And Water Main Service
Balkan Sewer And Water Main is the largest sewer line replacement and water main service company in New York City. We are licensed, bonded, and insured. As a family run sewer and water main company in operation for over 65 years, our 10-year guarantee means we continue to stand by our work after the job is done.We are expertly equipped, from our 48,000 square foot facility to dozens of trucks, heavy moving equipment, backhoes and pneumatics. For all your subsurface plumbing including; water main repair and water main replacements, sewer repair and sewer replacements, catch basins, fire hydrants, manholes, and specialty excavation work, we can help. Contact Balkan Sewer And Water Main today or visit www.balkanplumbing.com.