New York, USA (FEBRUARY 10th 2014) FOR IMMEDIATE RELEASE:
A Manhattan water main break at 382 Central Park West resulted in a loss of water service for 414 residential units along with 19 stores. In addition the NYC DEP had issued a Three Day Notice to start and complete the repair. Just like of a lot of NYC water main breaks it required that the buildings regular plumber contact a water main specialist. In this case Balkan Sewer And Water Main Service received the call for service at around 7AM. Balkans fleet-wide GPS system allowed for a prompt response. Even with rush hour traffic and terrible Winter driving conditions a Field Representative was on the site by 9AM to survey the situation. After the scope of work required was explained and an agreement reached, a full water main repair crew was on the site by 10AM.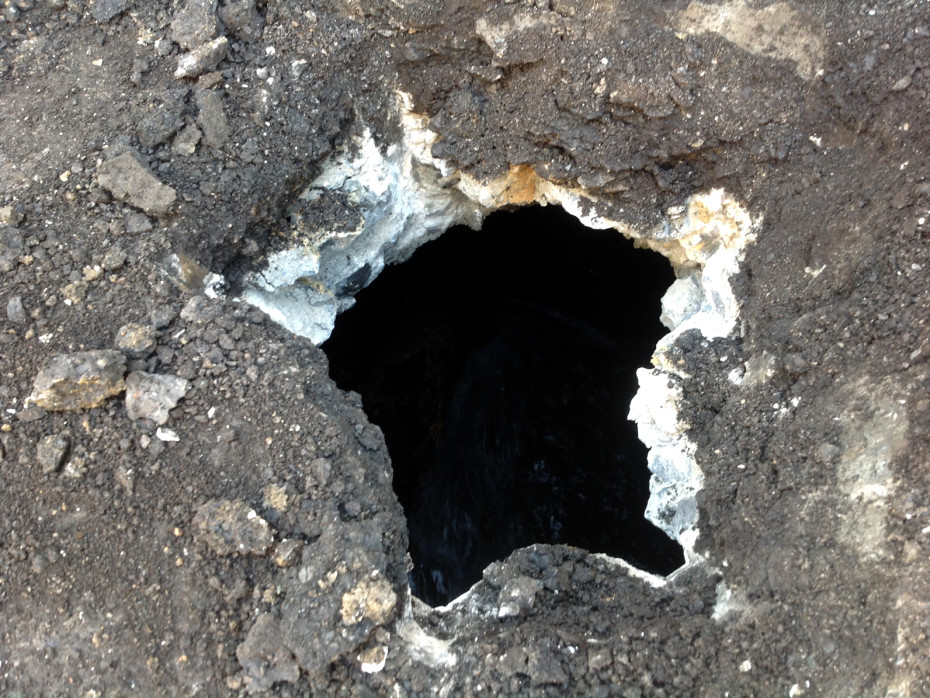 Each Manhattan water main break differs from one-another. In this case the break in the 6″ water line was so severe that the roadway was actually vibrating. The leak itself was so bad that merely breaking the asphalt exposed the underground water line. The leak had completely washed out all the soil between the roadway and the water main line. Coming prepared with heavy duty pumps and other specialty equipment certainly came in handy.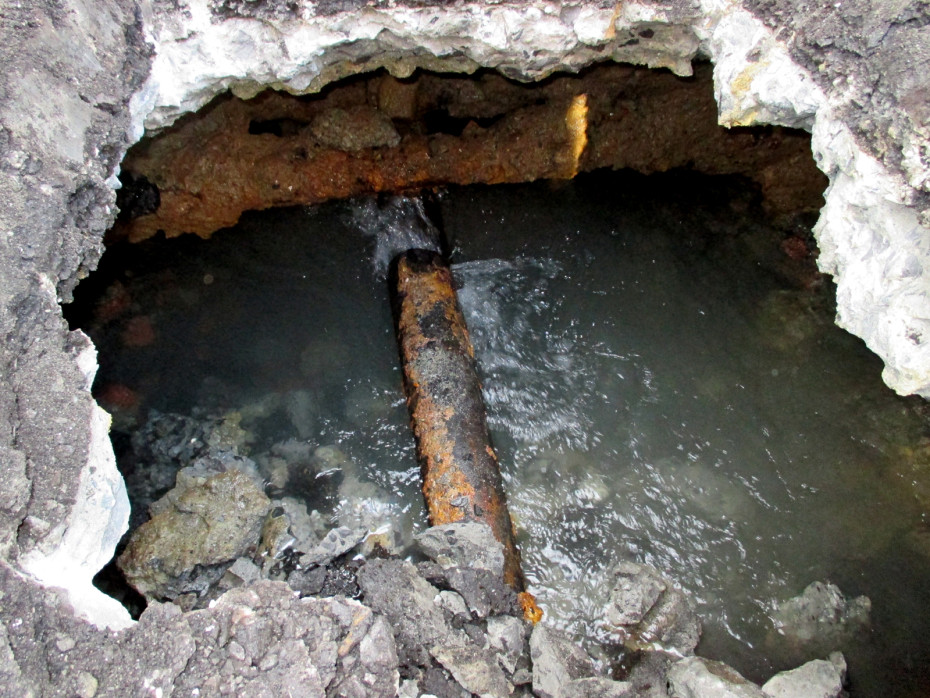 By later that same day a temporary repair clamp had been placed over the circular break on the 6″ line, and water service to the building was restored. Roadway plates were placed over all open excavations and all excavated material was removed from the site. As is typical for Balkan the site was left safe and broom clean.
On the 2nd day of work the DEP was summoned to inspect the final water main repair. This meant removing a section of the 6″ line and installing a new section of 6″ ductile iron pipe and approved fittings. A stainless steel clamp is not considered a permanent repair by the NYC DEP for a water service line. At that point the repair on the Manhattan water main break would be signed off.
That very same day clean back-fill material was trucked to the site. All excavations were filled and compacted to strict NYC DOT guidelines. Same-day paving was performed by an in-house Balkan paving crew. By the end of the 2nd day the site was broom clean, and the roadway plates were removed from the site. Mission accomplished by The Balkan Team.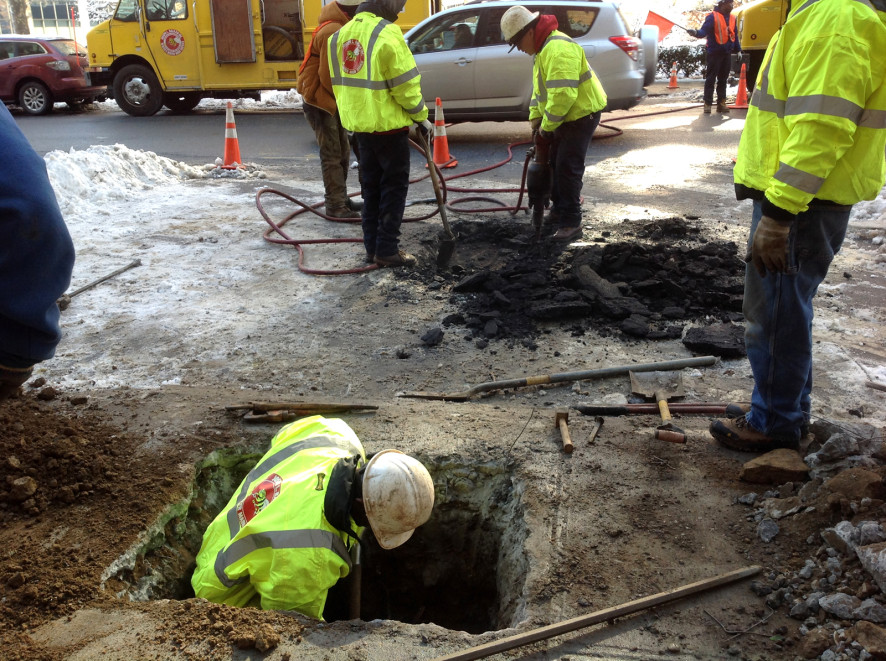 Balkan can handle any Manhattan water main break
Not every Manhattan water main break is as severe as the one mentioned above. That is why Balkan will provide the level of response and service that your particular situation requires. When a sewer or water main repair is planned work , we can carefully plan and schedule the work. Or when the situation calls for it we can provide same day service during regular work hours, or mobilize for night work as well. On some occasions a Manhattan water main break may require working continuously around-the-clock – Balkan is fully capable of providing this level of service.
Another aspect of Balkans expertise is that we are familiar with every material, type, and size water service line. Our expertise is backed up by a 48,000 square foot facility that contains a vast array of materials and specialty equipment. This makes us prepared for any situation. As an example, when older pipe is encountered with an odd-size diameter we have specialty fittings to provide long-lasting repairs that pass DEP inspection. By investing in such items as a full depth roadway saw, knuckle-boom truck, and mobile concrete mixing trucks we provide superior service. Being fully prepared and equipped also allows Balkan to provide a safe work site at all times. Our valued work force, pedestrians, and vehicular traffic all benefit from our high level of job site safety.
About Joseph L. Balkan Inc.
Balkan Sewer And Water Main is the largest sewer line replacement and water main service company in New York City. We are licensed, bonded, and insured. As a family run sewer and water main company in operation for over 50 years, our 10-year guarantee means we continue to stand by our work after the job is done.We are expertly equipped, from our 48,000 square foot facility to dozens of trucks, heavy moving equipment, backhoes and pneumatics. For all your subsurface plumbing including; water main repair and water main replacements, sewer repair and sewer replacements, catch basins, fire hydrants, manholes, and specialty excavation work, we can help. Contact Balkan Sewer And Water Main today or visit www.balkanplumbing.com.