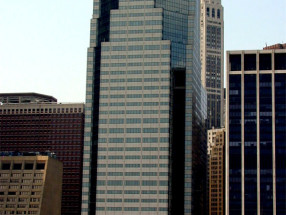 When a Manhattan water main breaks and receives a violation from the NYC DEP on a Friday afternoon 'rush service' is needed. Of equal importance is the fact that this building is located on Old Slip which is in the heart of the financial district of downtown Manhattan – which meant the water main replacement must be complete before the building opens for business on Monday. Balkan sewer and water main service was called because of its reputation to tailor the service it provides to its customers needs, which it does routinely.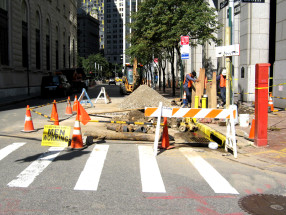 In the case of this Manhattan water main issue a water main crew was mobilized on Friday morning, followed up by a night crew working Friday night, and then the original crew returning to the site on Saturday until the installation was complete and the job site cleaned up. All told Balkan worked over 33 hours straight right through the night to perform a complete water main replacement of a 6″ water main which provided vital fire protection for this fully occupied office building. Not only was custom service provided but as is its 'trademark' Balkan also took care to address other issues and ensure a quality main water line installation.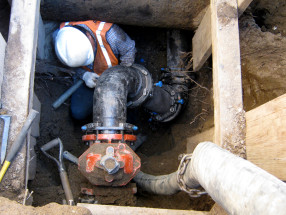 Balkan had custom fittings in stock to install an offset to go around other utility lines.
A custom granite paver sidewalk was carefully preserved without damage.
An NYC DEP inspection was arranged for and the water main replacement was 'signed off' – inspection complete.

Unique Sidewalk Design

Clean backfill material was imported to ensure a high degree of compaction and no future settlement of the excavations.

Due to a ground water condition special hydraulic cement was used to water proof both the inside and outside of the foundation wall.
The site was left broom clean with all excavations flush and level ready for vehicular and pedestrian traffic alike.
Being able to provide service around-the-clock on short notice is hard to find in the NYC water main industry. Being professional and addressing unexpected issues such as a water condition, utility obstructions, and custom sidewalk restoration is truly unique. When a house sewer or water main replacement service is needed in Manhattan or throughout the NYC metropolitan area Balkan provides the answer every time. Results not excuses are rare nowadays, the Balkan team is dedicated to results and complete customer satisfaction.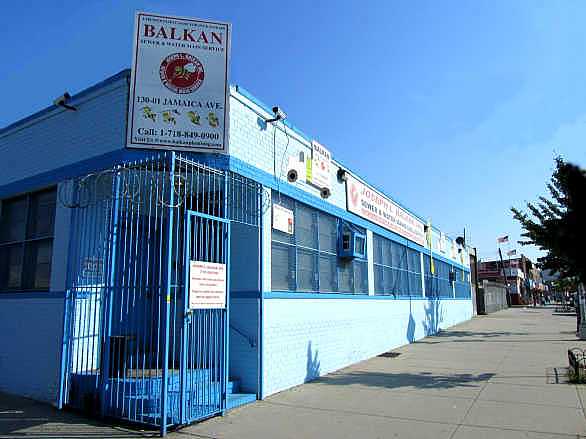 About Joseph L. Balkan, Inc.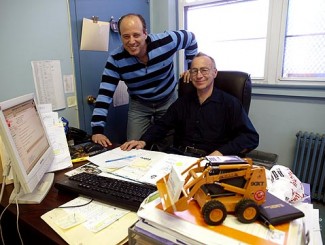 Balkan Sewer And Water Main is the largest subsurface water and sewer service line contractor in NYC. We are licensed NYC plumbers, bonded, and fully insured. As a family owned business in continuous operation for over 60 years our 10 year unconditional guarantee* on replacements means that you continue to have peace of mind long after your installation has been completed. We are expertly equipped from our 48,000 square foot facility containing dozens of trucks, heavy moving equipment, backhoes, pneumatics, and specialty tools and equipment. Choose Balkan Sewer And Water Main for your next sewer or  water main installation, upgrade, repair, or replacement. We promptly address water line leaks and all NYC DEP violations. When it comes to specialty work such as a new sewer trap, backwater valve, hydrants, manholes,  riser connection, area drain, or trench drains our level of service is unsurpassed. Contact Balkan Sewer And Water Main today for the service you require and the courtesy you deserve.