A great deal of expertise is needed when a fire hydrant relocation, or a new hydrant is required in NYC. A water main contractor must be familiar with the DEP approval process. After DEP approval they must be familiar with the installation process as well. Work on a fire hydrant is very carefully supervised by NYC DEP field personnel. Even such details as the exact placement of the  fenders, and stenciling of the size of the city main on the hydrant, is closely inspected. No detail is left unattended to in NYC when fire protection and the public safety is involved.
After plans are drawn up and permission is received from the appropriate DEP division work can commence on fire hydrant work. The actual work itself has various phases that are documented as follows.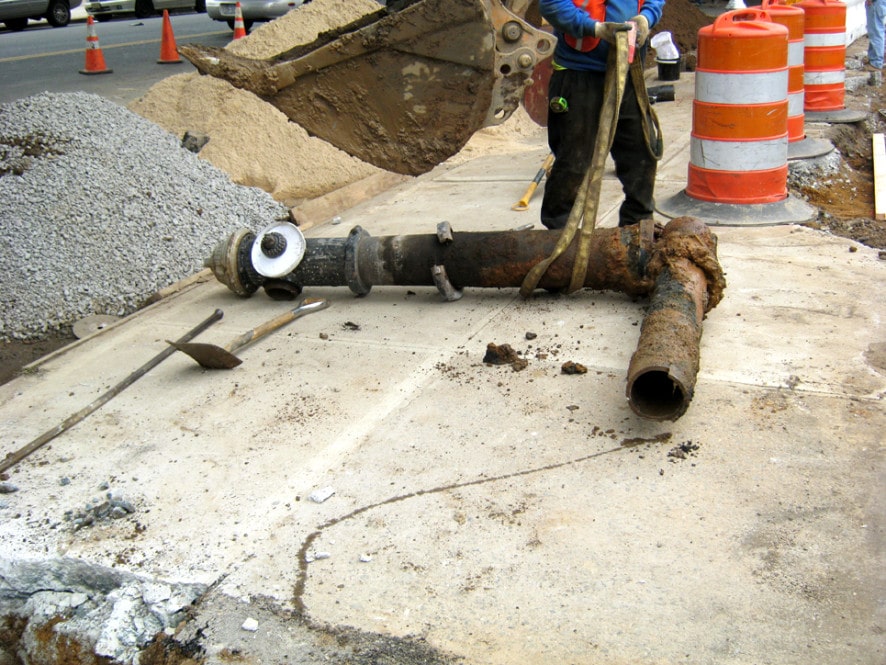 The Steps Needed For Fire Hydrant Relocation
Any time a fire hydrant relocation is desired, the existing one must be removed and a new one used. When a new fire hydrant is installed a new NYC DEP approved one must also be used. The reuse of old hydrants is never permitted in New York City. Typically the old one is returned to the DEP yard for an even exchange towards the new one. The NYC DEP does not charge for the new fire hydrant that they supply.
If a fire hydrant relocation is being done that is more than 18′ away from the present location the existing connection must be properly plugged. The existing connection can only be used if it is within 18′ from the previous location. That is because 18′ equals one length of pipe. Piping connecting a fire hydrant cannot exceed one length of pipe. The plug of the old connection must be inspected to ensure it is done to code and will not leak in the future.
When a new fire hydrant is to be installed a section of the NYC water main must be removed. Unlike a water connection for a service line, a three-way connection must be installed into the City water main. Obviously this type of work requires specialized equipment, tools, and a great deal of skill.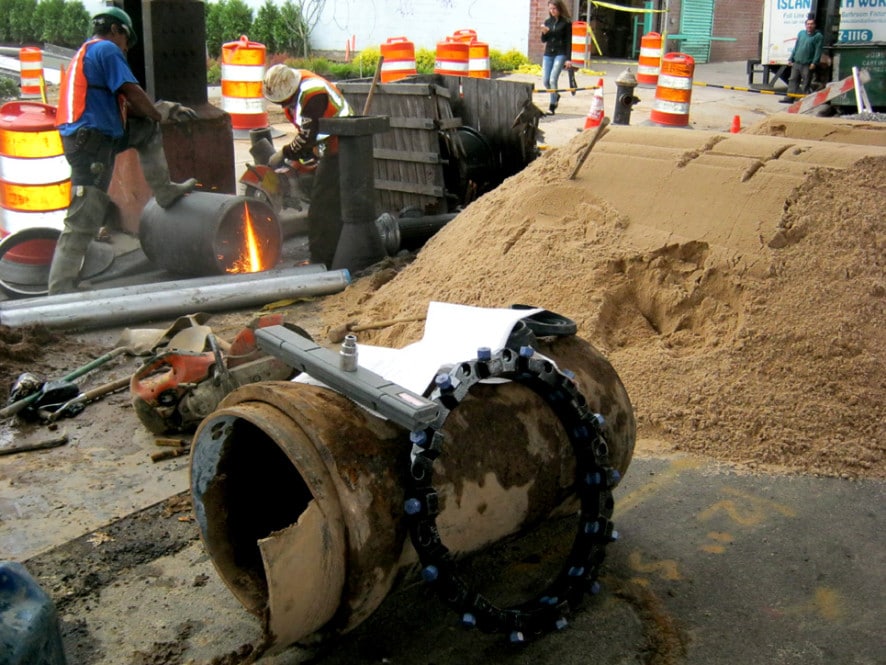 A new Fire Hyrant Connection is known as a Three-Way Connection
A new hydrant connection is called a three-way connection. That is because a tee is used that both connects to the city water main and to the hydrant control valve without a joint. Pipe must be cut to close tolerances and put together carefully. This is done under the close supervision of a NYC DEP inspector. All material and fittings are also carefully inspected.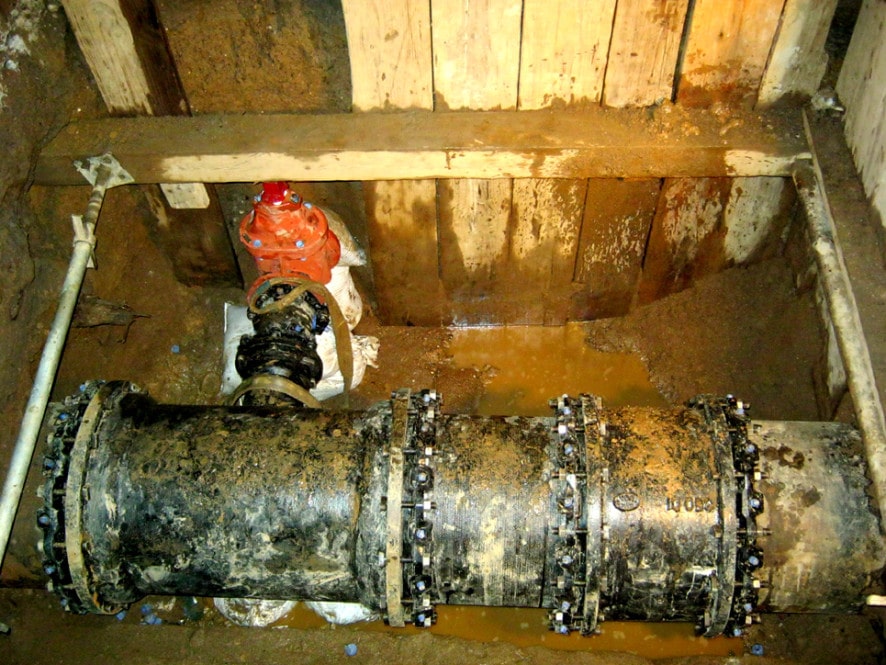 Every installation includes a main control valve for the fire hydrant itself, this is NYC DEP code. This valve allows for maintenance and repairs, without having to shut off the entire city water main. Therefore inconveniencing the general public and local businesses is avoided. A roadway operating box is placed over the valve to allow for operation without having to perform any excavation.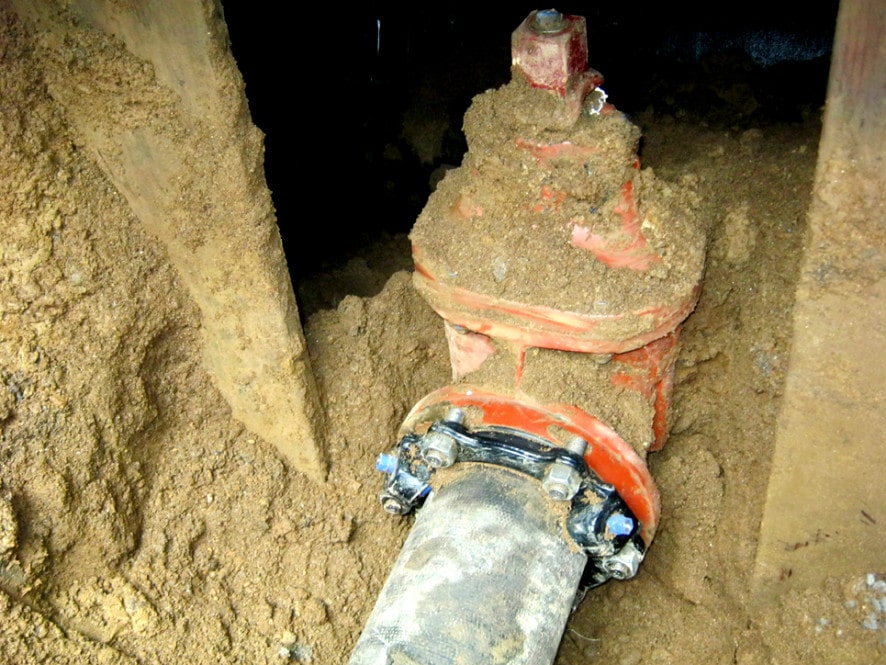 Hydrant Control Valve
A Fire Hydrant Drain Base Allows for Hydrants to be Properly Closed
A drain base provides support for the installation which needless to say is fairly heavy. But the more important purpose is to provide drainage for when the unit is shut off. Besides the drain base an approved crushed stone is placed at the bottom of the excavation. When a hydrant is closed or shut off the water inside of it drains out so it does not freeze in the Wintertime.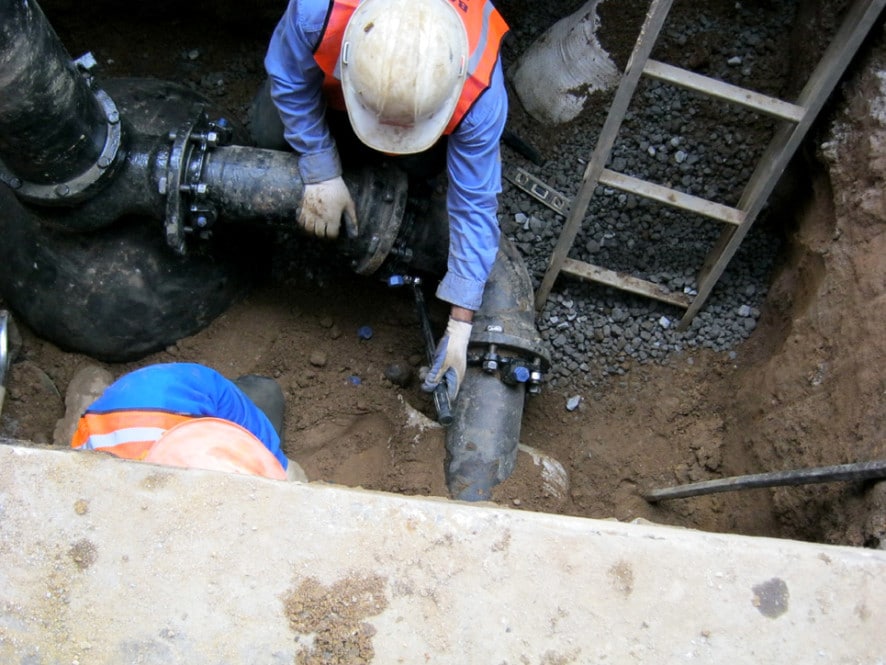 Of course the most demanding part of the job is installing the hydrant itself. The finished product must be at a precise elevation and at a precise location. All fittings and bends must be tightened carefully and at the exact proper angle. The NYC DEP grants very little latitude for an installation that must meet code and will be used for many years to come.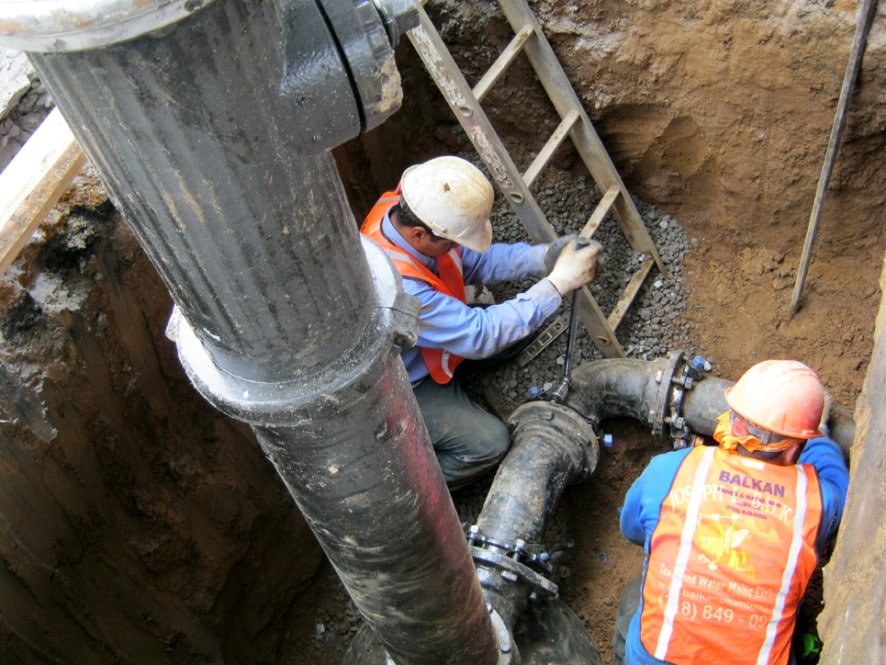 Fire Hydran Relocation requires proper backfill and compaction
Approved washed and screened sand is used to fill around the pipe and at least one foot above the pipe. This helps assure that the pipe is properly protected and that little or no settlement will occur. Once again all aspects of the installation are carefully monitored by an experienced Field Supervisor and DEP inspector.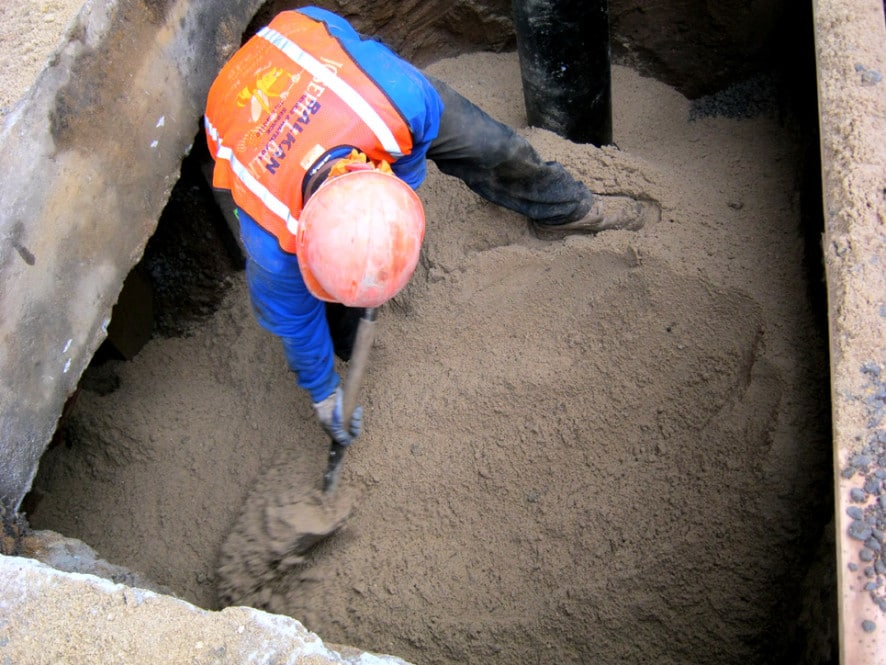 Like many subsurface installations the things that people may remember the most are the finishing touches. Hydrant and the two fenders in the correct position in addition to proper grade, thickness, and finish of the sidewalk cement. In-house restoration crews assure a high level of quality control throughout the project. A nicely finished final product completes a successful installation.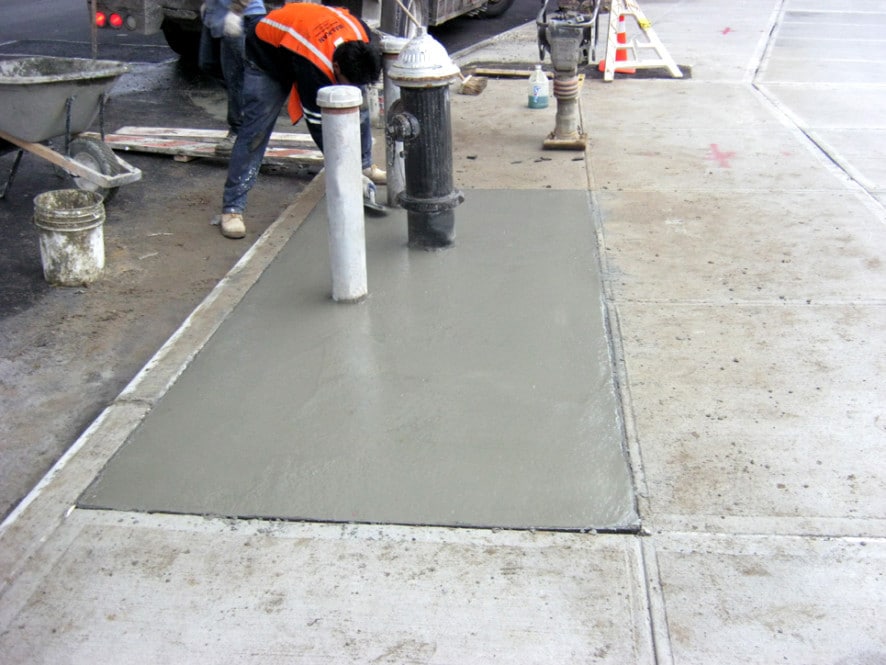 Maybe most important of all to a professional fire hydrant installation is a work crew with a high degree of expertise and a high level of teamwork. Backing up that crew must be properly maintained tools and equipment. The correct required materials must be on-site when needed. Unprofessional work, use of sub-standard materials, or a cosmetically flawed final product are not tolerated by the NYC DEP.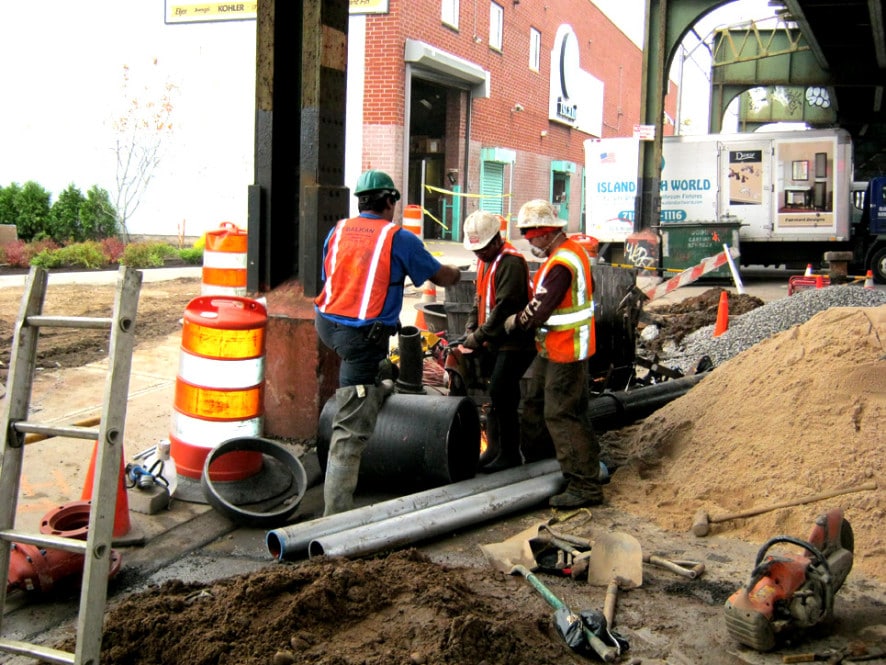 NYC fire hydrant installations become NYC DEP property
Choosing the right water main contractor is a vital decision to keep your project rolling along on schedule. Even the slightest deviation from plan or code will mean your fire hydrant relocation or new installation will not be signed off, and an entire project can be delayed.