New sewer and new water lines are needed when a property is developed or an existing building is upgraded. Recently Balkan was hired to install new sewer and water service lines for three new houses in Whitestone, Queens. Just like every neighborhood having its own unique characteristics, so does every new sewer and water main installation.
New sewer type
Every new sewer has the type of sewer specified on site development plans called SD 1&2 forms. There are three types of house sewers which are designated as sanitary, storm, and combined sewers. On this project the house sewer lines were sanitary sewers, which meant they can not take any storm water flow. Connecting any rain leaders or storm water drains would be a violation because the City sewer in the roadway was a dedicated sanitary sewer.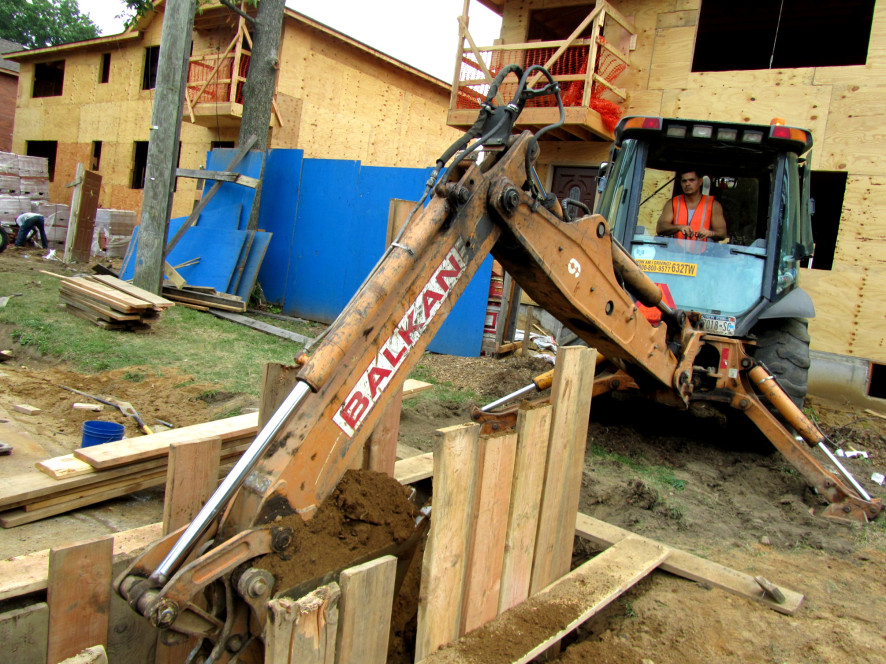 Dry wells
These new homes in Whitestone were designed with dry wells installed in their backyards to accept all storm water flow. That meant that all roof leader lines and area drains had drain lines run underground and connected to the dry wells. Dry wells themselves have to be carefully designed to ensure that they function properly. Soil types vary in each area and can absorb different amounts of water. That means that soil conditions and their absorption rate will determine the dry wells width and depth.
Dry wells are perforated concrete tanks that are installed with crushed stone underneath and around them. A filter fabric is placed around the crushed stone to allow for water to flow out from the dry well. But that same filter fabric prevents dirt from penetrating and clogging the stone and the dry well itself.
[button link="/contact-balkan-plumbing/" bg_color="#EA6E24″ window="yes" size="xl"]Get a FREE no-obligation site visit today![/button]
New water line type and size
Because one of the roadways the houses were located on was a short one block street the city water main was never upgraded to the legal minimum size. The city water main on Ryan Court in Whitestone was only a 6″ main. This affected the job because a 2″ wet tap connection was required for the houses and a 2″ connection cannot be installed into a 6″ city main. The largest connection for a wet tap is 1 1/2″ for a 6″ main. A 2″ tap would actually cause the city water main to split.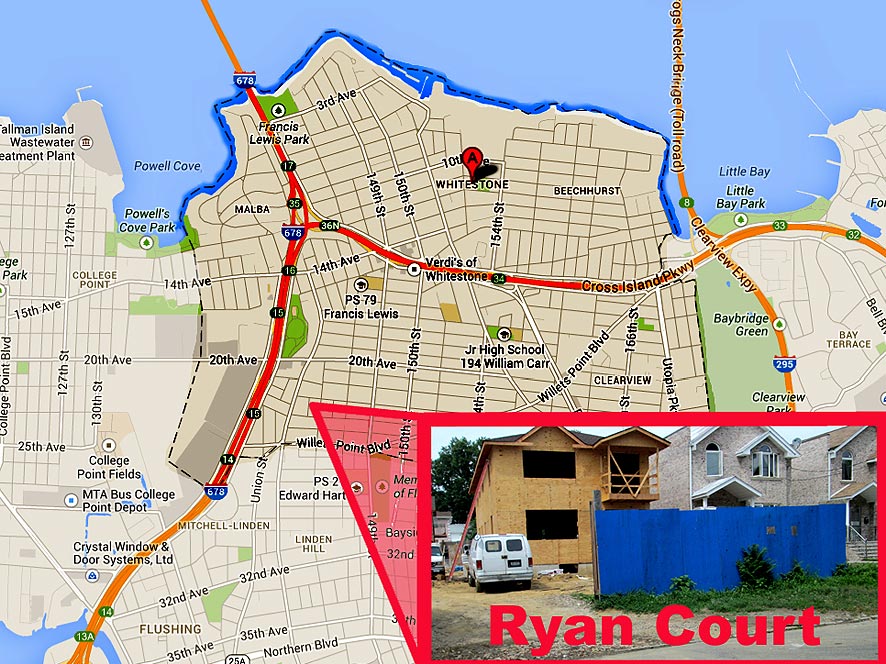 In this case 3″ wet connections had to be installed. A wet connection is installed by core drilling into the city water main. Core drilling places no stress on the city main, unlike a wet tap which is drilled in. This became a rare case where the connection size for the water lines were allowed to exceed the new water service line sizes of 2″.
Because Ryan Court in Whitestone is less than 38′ wide fire sprinkler heads were required in these new houses. In NYC this is now required because it has been deemed that a fire truck would difficulty maneuvering down a roadway less than 38′ wide. This is especially true on a street like Ryan Court where cars are allowed to park on either side of the street and the street itself is only one block long.
The intricacies of proper new sewer and water lines
Using high quality materials like domestic extra heavy cast iron and K copper tubing is important for high quality new sewer or water line installations. But there are other considerations as well. In the case of these three new sanitary sewer lines crushed stone was placed under the pipe to ensure stability. Prior to making the new drill-in connections to the 10″ city sewer the affected sections of the city sewer were encased in concrete.
The pitch on a sewer line is very important. When new sewer lines were installed at this location in Whitestone the pitch was checked carefully to ensure that it fell between the requirements of 1/4″ per foot minimum, and 3″ per foot maximum pitch.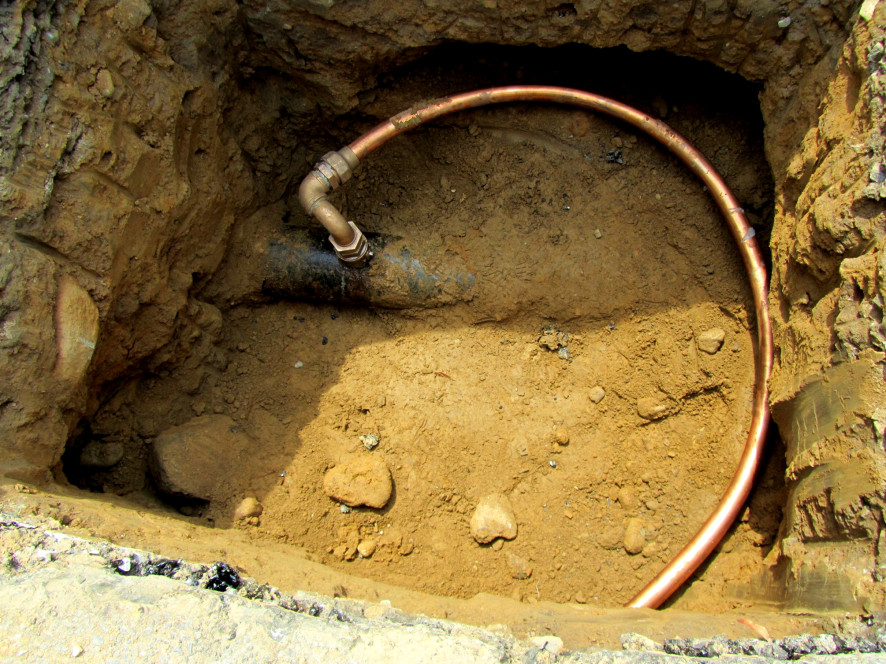 For the new 2″ combined water lines DEP code requirements were also carefully followed. That meant that the inside OS&Y type valve, curb valve, and wet connection all lined up. It also meant that a right hand swing on the K copper near the connection was installed. A right hand swing ensures that if there is ground settlement the copper line will tighten at the connection. A left hand swing would cause the line to loosen and possibly leak if settlement occurred.
Just like when any sewer and water main work is required, count on Balkan to be familiar with code and to meet or exceed it. There is a reason why that year-in and year-out more New Yorkers trust Balkan for their sewer and water main work than any other plumbing contractor.
A little bit about Whitestone in Queens, NY
Whitestone may be perhaps the most exclusive neighborhood in Queens, NY. It is bordered by the Clearview Expressway on the East and the Whitestone Expressway on the West. Willets Point Boulevard separates it from Flushing on the South side. On the North is the East River, which provides some truly beautiful views and much of Whitestone's panache.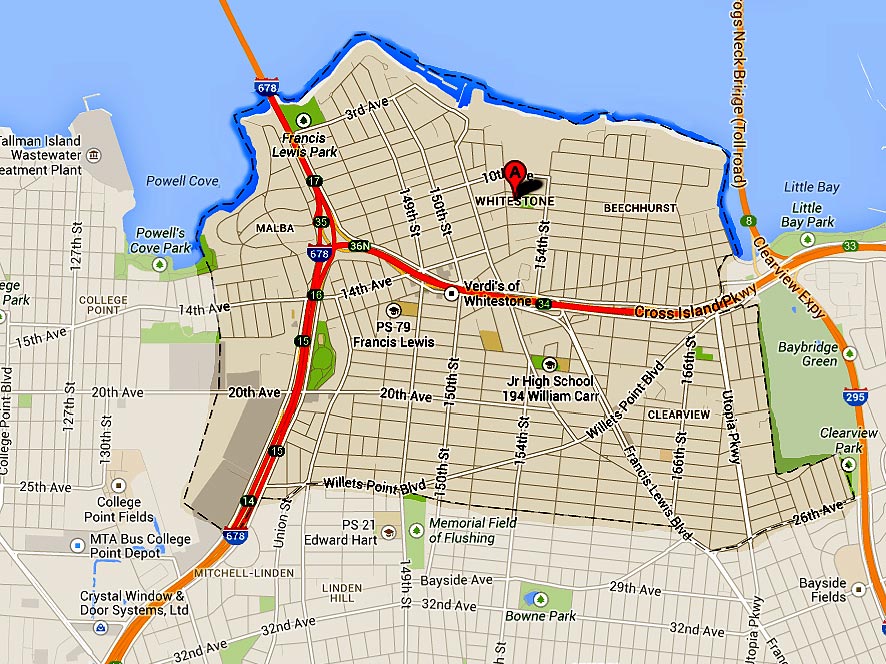 The Northern part of Whitestone encompasses the communities of Malba and Beechhurst. Malba is contains the most unique and beautiful homes in Queens and sits under the Whitestone Bridge. Many homes have the East River just outside their back door. Beechhurst, while not quite as exclusive as Malba, is nonetheless a wonderful place to live. Many homes have beautiful views of the Throgs Neck Bridge and Little Bay Park is right next door. Housing in Beechhurst consists primarily of single family homes and cooperative buildings. Like Malba many residents have direct views of the East River and can see out to the Long Island Sound.
[button link="/contact-balkan-plumbing/" bg_color="#EA6E24″ window="yes" size="xl"]Get a FREE no-obligation site visit today![/button]
[credit]