New sewer and water services were required for two new high-riser towers being built in Coney island. Many nice things have happened to Coney Island in past few years – Among them a new minor league baseball stadium, new amusement park, and new building development. This particular project involves the construction of two high-rise residential towers with a YMCA on the ground floor.
The subsurface plumbing installations for this project posed special challenges due to it's location only a couple of hundred feet from the ocean. That meant that ground water had to be removed in order to perform the sewer installations. It also meant that the building utilized a spread footing – meaning the water services at some point had to be installed with offsets to avoid the larger than normal concrete footings for the buildings.
De-watering a ground water condition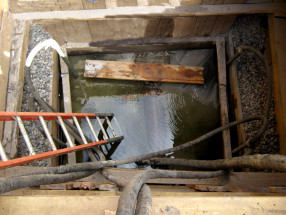 Part of the sewer installation  involved building a new NYC DEP approved manhole in the roadway. In doing this one of the first steps is building a concrete bad reinforced with re-bar under the city sewer pipe in the roadway. In order to do so a series of well points (similar as that used to draw water from the ground) had to be sunk under the sub-base and connected to pumps until the water level was lowered. At that time with the well points still running an approved ready-mix concrete was poured to form the base for the new manhole. Balkan stocks are sorts of specialty tools and equipment including well points and an array of various size and type of pumps.
Core drill penetrations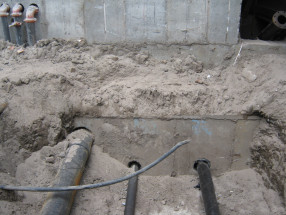 Due to the size of the structure the foundation walls for the buildings were much thicker than is typical. In order to provide a point of entry for the water and sewer services penetrations had to be made through the foundation wall – Using a jackhammer to do this would be extremely time consuming and could actually damage the foundation. At no additional charge Balkan provided a skilled core-drill technician to provide all required penetrations through the wall. Because all required sizes of diamond blade bits are in stock the work proceeded without a hitch. At the conclusion of the installation all penetrations through the foundation wall were properly sealed and waterproofed.
Offsetting water services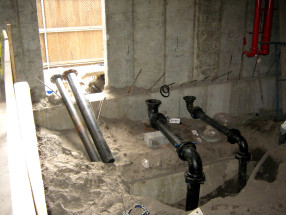 When ductile iron water services are required offsets can cause job delays. Ductile iron pipe is much more difficult to work with than copper tubing – Copper tubing can be bent to go around utility obstructions or under a footing for a building. Because Balkan stocks a full array of fittings for all applicable sizes and degree of bends the water line installations moved along seamlessly. Balkan has a 48,000 square foot facility containing virtually anything needed for a water or sewer service installation.
Balkan has an answer for every subsurface situation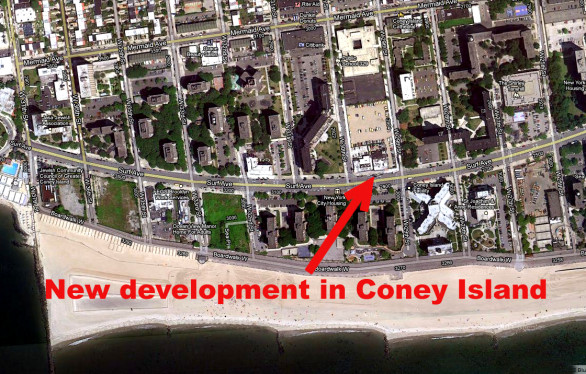 No matter how large the project or how small the project, subsurface plumbing always presents challenges. With over 60 years of dedication to the trade the Balkan team always seems to have an answer for any situation or condition. Avoiding costly delays due to inexperience or being ill-equipped is always a prime consideration when you hire Balkan. Balkan provides answers and solutions not excuses.
A little bit about Coney Island in Brooklyn, NY
Some personal memories – Coney Island as a kid in the 1960's meant a brown bag full of  fresh cut, salty, greasy french fries from Nathan's that tasted better than anything in the whole world, except their hot dogs – They were the best. The proper atmosphere while eating them was listening to people scream for their lives in the background as the  Cyclone roller-coaster dropped down at some crazy angle and at an equally crazy speed.  The family activity after the meal was skee-ball; a game very few people probably even remember. Those childhood memories are amongst the fondest from a day gone by.
courtesy wikipedia –
Coney Island is a peninsula and beach on the Atlantic Ocean in southern Brooklyn, New York, United States. The site was formerly an outer barrier island, but became partially connected to the mainland by landfill.

Coney Island is possibly best known as the site of amusement parks and a major resort that reached their peak during the first half of the 20th century. It declined in popularity after World War II and endured years of neglect. In recent years, the area has seen the opening of MCU Park and has become home to the minor league baseball team the Brooklyn Cyclones.

The neighborhood of the same name is a community of 60,000 people in the western part of the peninsula, with Sea Gate to its west, Brighton Beach and Manhattan Beach to its east, and Gravesend to the north.

Some recent history

Minor League baseball in Coney Island

In 1994 Rudy Giuliani took office as mayor of New York, and supported a plan to build a sporting complex named Sportsplex, provided it include a stadium for a minor league baseball team owned by the New York Mets. Once the stadium was completed Giuliani reneged on the Sportsplex deal, and The Mets decided to call the minor league team the Brooklyn Cyclones and sold the naming rights to the stadium to Keyspan Energy. Executives from Keyspan complained that the stadium's line of view from the rest of the Coney Island amusement area was blocked by the derelict Thunderbolt roller-coaster, and the following month Giuliani ordered an early-morning bulldozing of the Thunderbolt.

In 2003, Mayor Michael Bloomberg took an interest in revitalizing Coney Island as a possible site for the 2012 Olympics. When the city lost the bid for the Olympics, revitalization plans were rolled over to the Coney Island Development Corporation (CIDC), which came up with a plan to restore the resort. Shortly before the CIDC's plans were released, a development company, Thor Equities, purchased all of Bullard's western property, sold it to Taconic Investment Partners, and used much of the proceeds to purchase or offer to purchase every piece of property inside the traditional amusement area. In September 2005, Thor went public with a plans to build a large Bellagio-style hotel resort surrounded by rides and amusements. Plans of the hotel showed it covering the entire amusement area from the Aquarium to beyond MCU Park, and requiring the demolition of The Wonder Wheel, Cyclone, and Nathan's original hot dog stand, as well as the new MCU Park.

Late in 2006 Thor purchased Coney Island's last remaining amusement park, Astroland, and announced plans to close it after the 2007 season and build a Nickelodeon-themed hotel on the site. In January 2007 Thor released plans for a new amusement park to be built on the Astroland site called Coney Island Park.In late 2007 Thor began to evict businesses from the buildings it owned along the boardwalk, but when one of the business owners complained, Thor reinstated their leases.

In early 2007, the Municipal Art Society launched the initiative ImagineConey, as discussion of a rezoning plan that highly favored housing and hotels began circulating from the Department of City Planning. City Planning certified the rezoning plan in January 2009. As of 2010 the plan was going through the Uniform Land Use Review Procedure (ULURP) process, with Thor Equities saying it hoped to complete the project by 2011. The Coney Island Aquarium was also planning a renovation from the mid-2000s. In June 2009, the city's planning commission unanimously approved the construction of 4,500 units of housing and 900 affordable units, and vowed to "preserve, in perpetuity, the open amusement area rides that everyone knows and loves", while protesters argued that the "20 percent affordable-housing component is unreasonably low."