New storm sewer lines for a building are usually not too complicated or terribly different than a sanitary house sewer. The basic differences are that a storm sewer gets connected to a dedicated public storm sewer or a combination sewer – a public sewer than receives both sanitary and storm water flow. Many times a storm sewer installation is simpler because typically a public storm sewer is not as deep as a sanitary sewer and many times the new house sewer does not have to actually enter the building. That is because in many cases leader lines from the roof and area drains are connected from outside the building.All house sewer lines must have a trap to prevent sewer gases from fouling the air, and a clean-out to clean out the line. This is required by NYC plumbing code.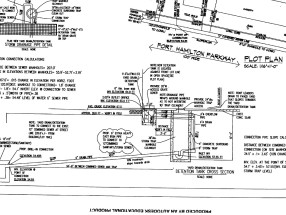 A recent new storm sewer installation by Balkan Sewer And Water Main Service in Dyker Height Brooklyn proved to be an exception. A fruit store with an outside display was required to install an elaborate drain system to accommodate both rainwater drainage and for washing off the outside sidewalk area. Unlike a typical storm sewer for a building it required such items as a new manhole containing a clean-out and a trap, a new trench drain, and a detention tank as well. Being on Fort Hamilton Parkway which is a very busy thoroughfare only added to the expense and complication of the installation.
Plans were carefully drawn up that had to be reviewed and approved by both Department of Buildings and the NYC DEP. Approved plans must be followed exactly as any deviation will result in a failure of inspection regardless of the reason, no matter the field conditions. That meant closely adhering to all indicated sizes, elevations, locations, and materials specified. While the client may only notice the cosmetic appearance of a finished new storm sewer line installation, most important is to pass all required inspections and to function properly for many years.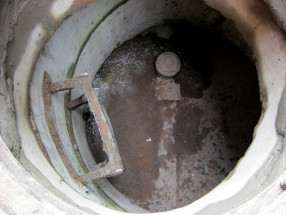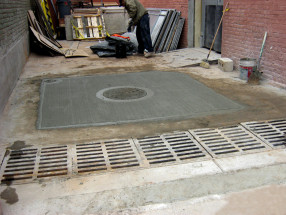 As is all too typical in NYC the approval process and the release of all required permits caused extensive delays. This was especially true on a unique installation such as this one. Once all issues were resolved Balkan was trusted to perform the installation. As a NYC sewer contractor for over 60 years Balkan has the expertise to understand any type of sewer or water line installation and execute it flawlessly. This client in Brooklyn was left with a finished product that met approved plans, was installed using high quality products and materials, and was cosmetically pleasing. Another Brooklyn storm sewer line completed by Balkan – NYC's largest and most respected sewer contractor.
Why all house sewer lines require a trap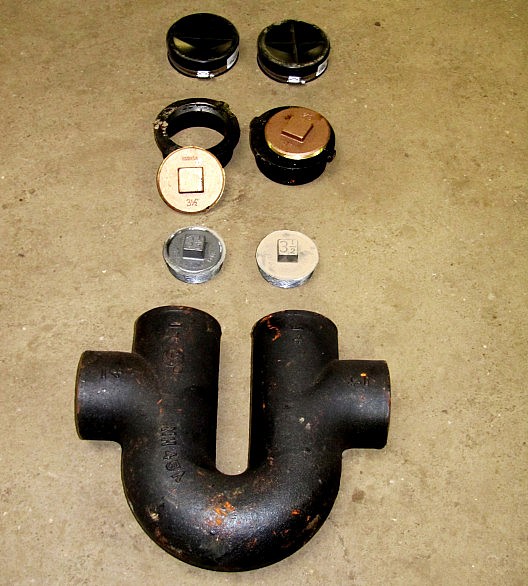 Many noxious and potentially dangerous gases form in the NYC sewer system. The last thing you would want is to constantly be exposed to them and be breathing them in – the danger goes beyond that they just smell bad. A trap is a U shaped fitting that is meant to hold water in the bottom of it. This water becomes a barrier that prevents sewer ages from escaping back into your property or out into the air.
No plumbing fixtures are meant to be connected on the street side of a trap, doing so would defeat the purpose of the trap. A secondary function of a house trap is to prevent large objects from flowing into the house sewer and causing a blockage. It is always much easier to clear out a sewer blockage by removing the trap plug or cap and then pulling out the object than to snake out a house sewer line.  [Read more about the importance of a house trap]
Specialty sewer line work expertly performed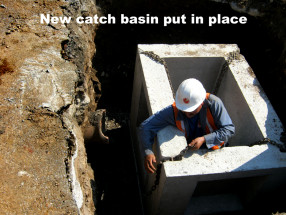 Installing or replacing a house sewer requires knowledge and skill, and most importantly safe work procedures. However installing specialty drain systems requires skill and expertise on a higher level.
Catch basins, trench drains, detention tanks, and manholes all must all be installed exactly to plan and at exact elevations and locations. Proper support of all drain hardware must be carefully attended to – a manhole shifting could be disastrous. A drain installed at the wrong elevation will not function properly. High grade materials must be used as typically these installations are exposed to heavy traffic and all sorts of extreme weather conditions. In addition many of these installations revert to NYC DEP ownership once signed off if they are located on public property. Therefore they must pass a closely monitored inspection  process.
Another consideration is a sewer contractor with an experienced and fully staffed office to expedite the project and the permit process. Having a fully Licensed Master Plumber overseeing the entire process is always a big plus. Trust the Balkan Team to meet and exceed your expectations – and at or below your budget. [Read more about custom NYC sewer line installations]