New York Sewer work, whether it's for a sewer repair or a sewer replacement, requires a great deal of expertise and knowledge. You should give some serious thought before making a hiring decision. Regardless  of the type of sewer service, it will be helpful if you are aware of some of the important factors involved. For instance, all New York sewer repair and sewer replacement work must be overseen by a Licensed Master Plumber. Additionally, all proper NYC DEP and DOT permits must be secured.
To the above point, Paul R. Balkan is a NYC Licensed Master Plumber, and the President of  Balkan Sewer And Water Main Service. Paul has over 40 years of hands on expertise in performing sewer repair and replacement work. With his personal oversight over the daily operations, you can rest assured of a job well done.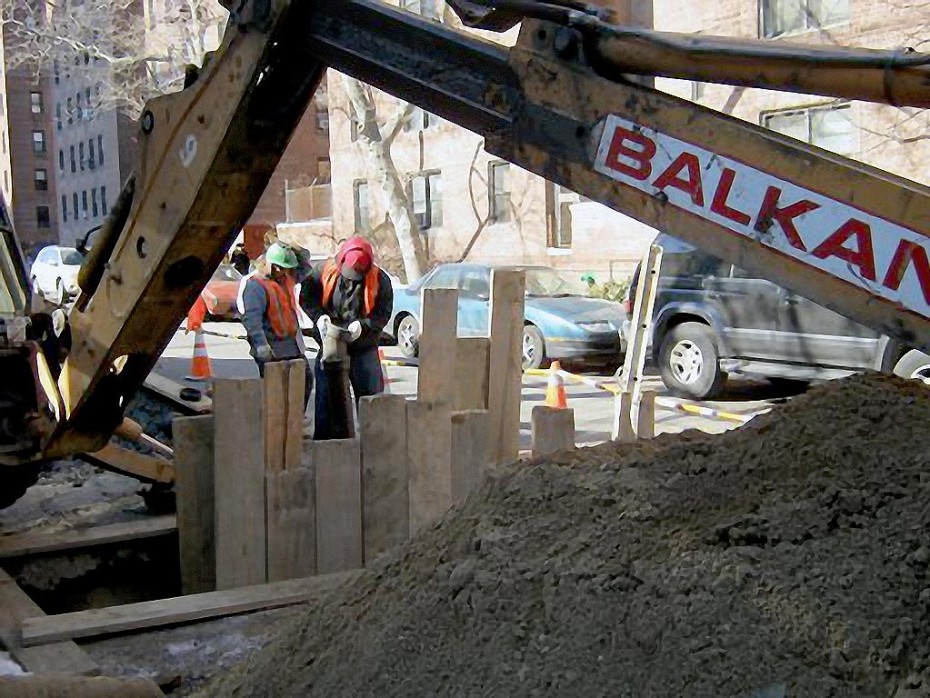 Licensed, Bonded and Insured for Sewer Repair and Replacement
All sewer contractors must have current liability and workers compensation insurance on file with the NYC Department of Buildings and be bonded with the NYC DOT. Balkan is bonded and insured as required by NYC.
Types of sewer repair & sewer replacement materials.
There are various types and grades of materials available for New York sewer work. It is important to note that not all pipe is created equal. Unlike many sewer contractors Balkan uses domestic extra heavy cast iron exclusively on sewer repair and sewer replacement work. Using premium materials and maintaining the fairest of prices is a hallmark of Balkan work.
Check the services offered & contractor experience.
It is important to know when you need New York sewer work performed that the contractor is a Licensed Master Plumber, services all areas of NYC, does not sub-contract out the work, and is experienced in all aspects of the required work. Balkan provides same day attention throughout New York including Manhattan, Brooklyn, Queens and the Bronx. With well over 50 years of continuous operation under the same trusted family name there is no sub-contracting, and all work is overseen by a Licensed Master Plumber. No matter the scope or location of the work, Balkan is experienced and prepared.
Sewer repair / sewer replacement guarantee?
Never assume work is guaranteed unless you have it in writing. The old saying is 'If it's not in writing, it's not'. Quite simply Balkan has an unconditional guarantee on sewer replacement work for 10 years, and sewer repair work for three years. No 'ifs', 'ands', or 'buts', no exclusions.
Does the contractor have the tools, equipment & vehicles to get the job done?
Hiring a contractor who works out of an empty yard, with no office, material in stock, or formal office does not bode well for a you being a satisfied customer. Do your 'due diligence' when you need sewer services performed. Check references either on-line or by past clients of the firm. Balkan operates out of a 48,000 square foot facility that is fully stocked with material, tools, material, in-house mechanics, and a fully staffed office. Highly trained Field Supervisors ensure no drop-off in sewer and water main service and client satisfaction once an installation is started.
Is there a fully staffed office & personal sewer services with experienced personnel?
Depending on an owner-operator can be an infuriating experience when it involves New York sewer repair or sewer replacement work. If the contractor you hire is out of the office, not returning cell phone calls, or not in that day when you need answers can be extremely aggravating. You as a customer desire more than that level of sewer services, and you deserve it. Balkan has a fully staffed office that is available a full 12 hours a day, a service technician available another 4 hours a day, and a live 24/7/365 operator available for any after-hours issues. Simply put we treat our sewer repair and sewer replacement customers as we would like to be treated ourselves – with respect, honesty, courtesy, and fairly.