New York City is the most populous city in the United States. If contains a cityscape filled with a complex and extensive infrastructural of various designs. With that in mind, NYC construction places a unique array of demands on developers, contractors, regulatory agencies, and the infrastructure itself. On the surface of NYC, there are 6,300 miles of roadway. On the subsurface, it has a complicated network of plumbing, utilities, conduits, and of course the subway.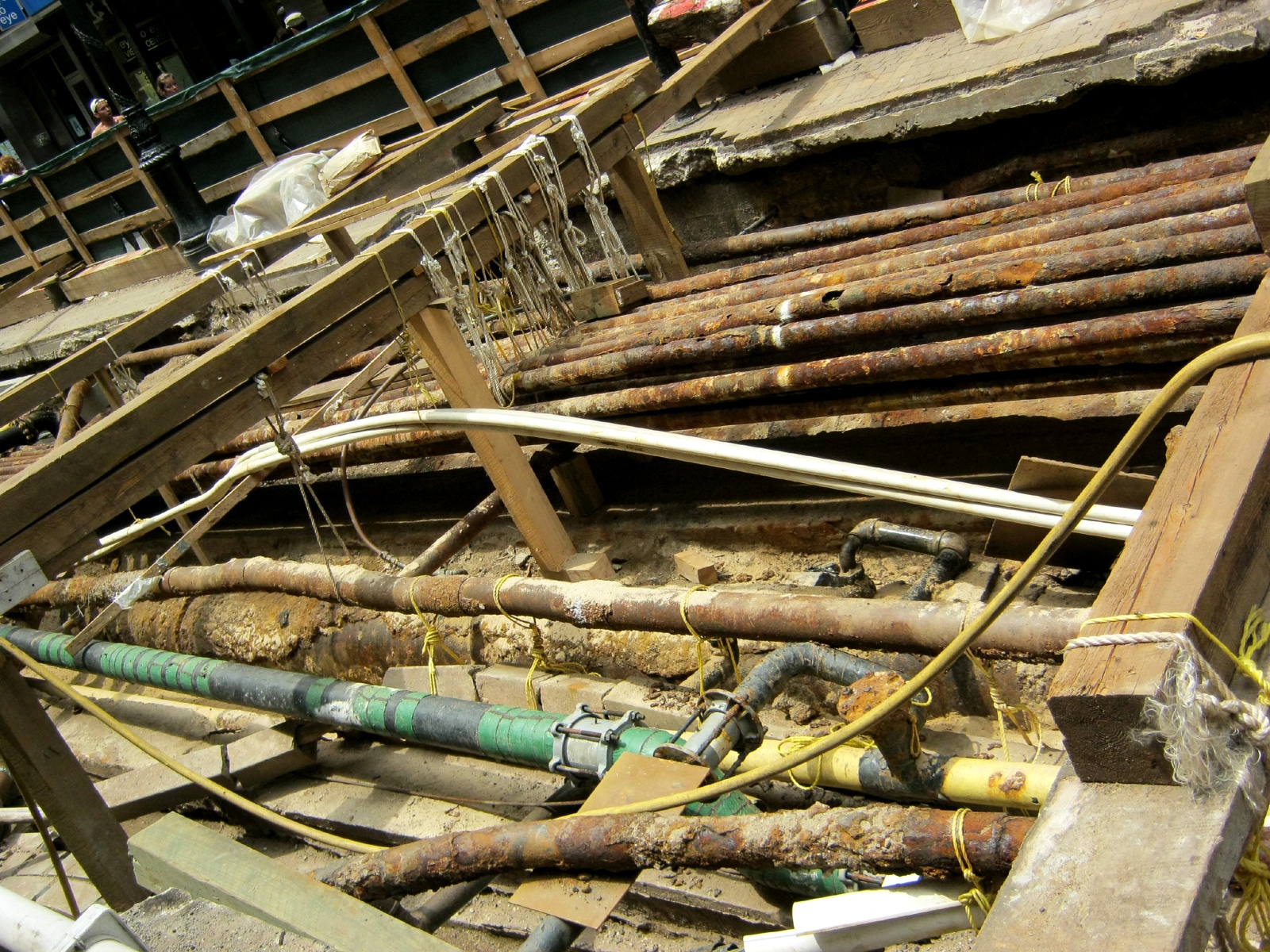 The bad news is that this labyrinth-like infrastructure has gone through many years of wear and tear. Some components of the infra-structure were stressed prior to this current building boom. The storm water and sanitary sewer systems of many neighborhoods, just to name two already stressed components.
Wastewater flows through about 7,500 miles of pipes and tunnels underneath the city. Some of this infrastructure has never been replaced, which is in excess of 100 years.
About 6,800 miles of mostly cast iron and ductile iron pipes carry drinking water from upstate New York. Similar to wastewater pipes, some are also over a century old.
A NYC building boom hits an already stressed infra-structure
Since the end of the "Great Recession" that started near the end of 2007,  NYC construction has been undergoing a boom time. The boom in NYC construction has lasted approximately 6 years. In 2015, the city's Department of Buildings issued permits for more than 56,000 construction units spread over nearly 2,000 buildings. It was 180% increase compared to the previous year. As a matter of fact, 2015 marked sixth consecutive year of increased permitting activity for residential buildings.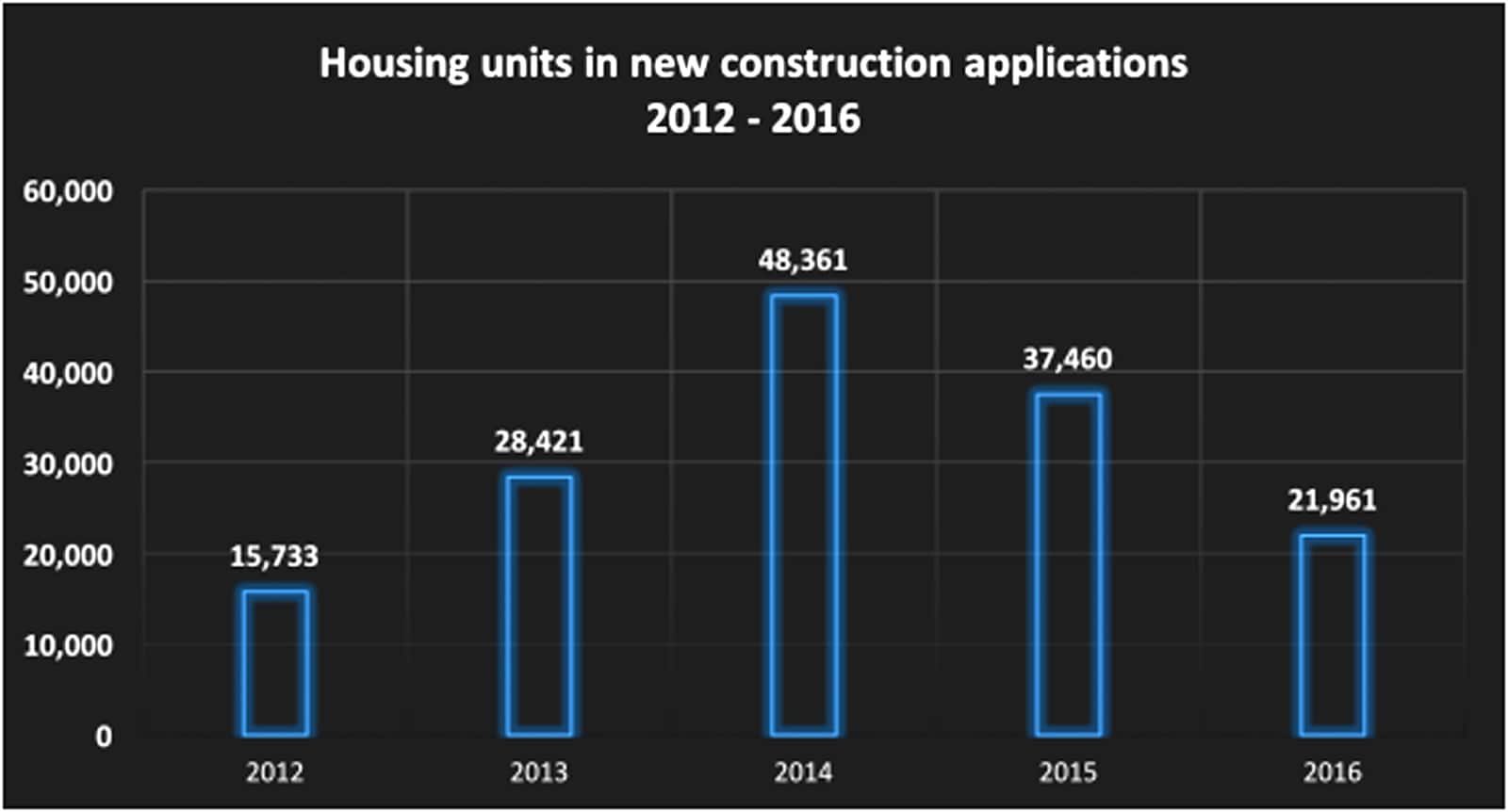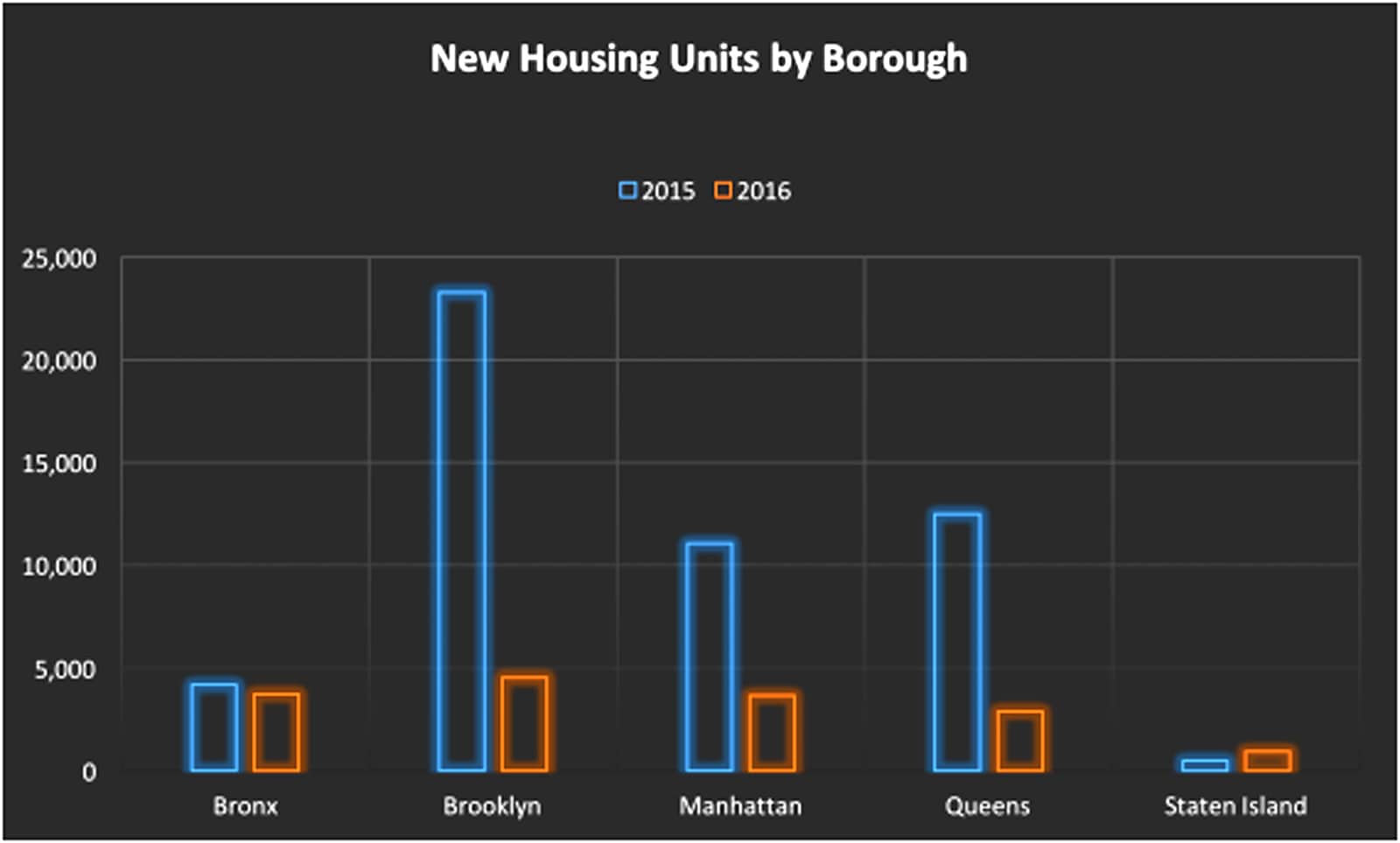 For better or worse, the upward trend of construction in NYC does not seem like it will change soon. This is aided by the fact that the commissioner of the DOB announced a new more equitable filing feeds for construction permits in May 2016. Under the new fee structure, projects will be divided into two categories as follows:
New building or major alterations for 1, 2, and 3-family homes receive 50% reduction in filing costs.
Complex new buildings and alteration to major developments (seven stories or 100,000 square feet or greater) are subject to increased fees.
As you can note in the above charts, 2015 seems like quite an aberration in an already explosive time of NYC construction. However, the bulk of the units approved in 2015 came during two rushes to beat expiring 421a tax exemptions for residential construction (in June and December of 2015, respectively).
Those permit runs pushed ahead many projects that, under normal circumstances, would have been slated for 2016. With developers under such pressure to expedite plans, the numbers for 2015 are indeed out of line. If and when an agreement is reached to renew the421a tax exemptions, we could be looking at another rush of permits in the future. This rush on construction not only stresses the agencies overseeing the approval and monitoring of the work, it creates other stresses as well.
A NYC construction boom creates safety concerns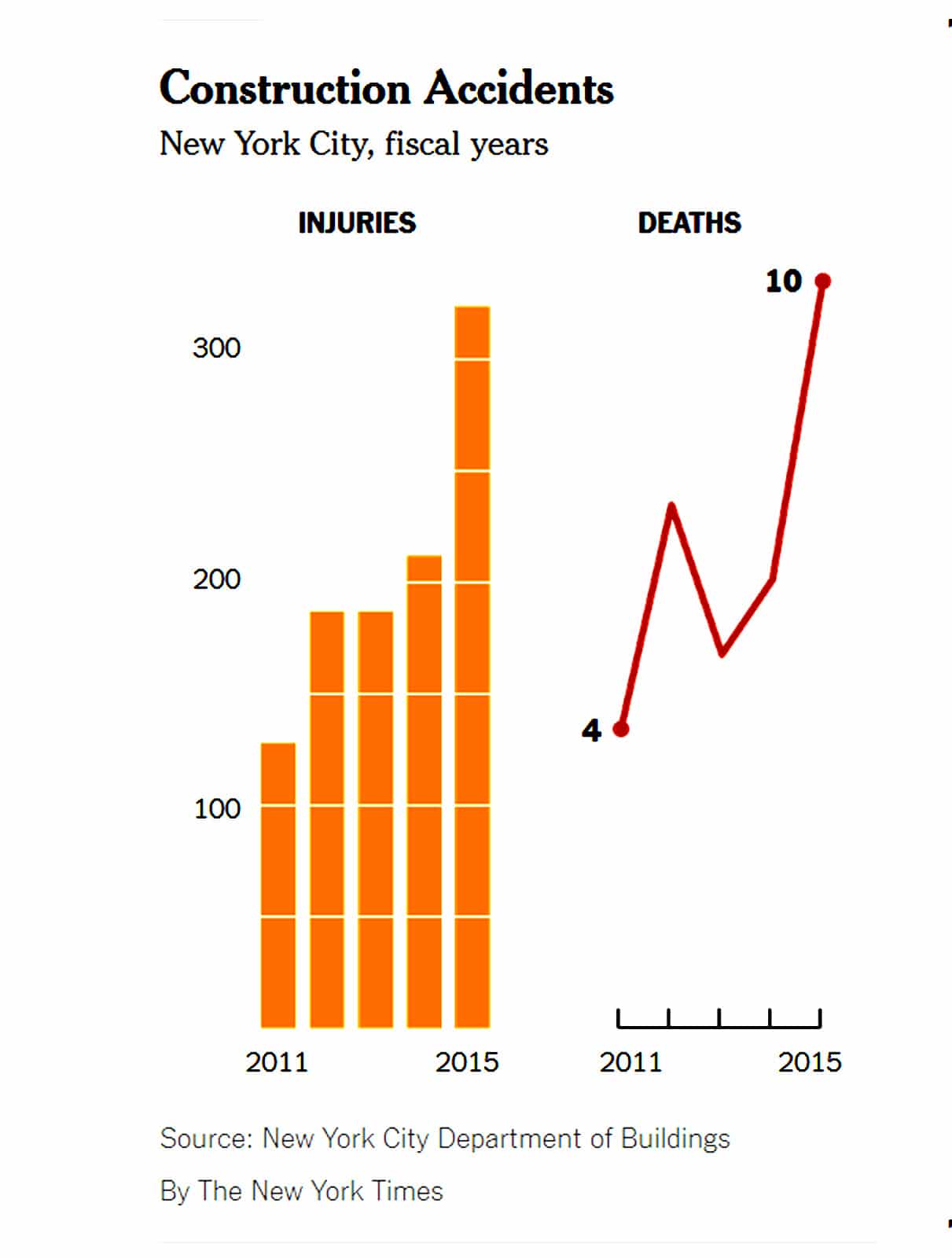 During many building booms the rate of workers injury and worker deaths can dramatically rise. The recent building boom in NYC has been no exception. For instance there were 4 construction deaths in NYC in 2011, but NYC construction deaths rose to 10 in 2015, a disproportionate increase.
Maybe more troublesome is the fact that the worker injury nearly tripled in the same period of time. Therefore when you hire a contractor to perform work, such as sewer and water main connections, their safety record should be a major concern.
Choose your contractor wisely
Balkan Sewer And Water Main Service has actually had a decreased rate of worker injury during the time of explosive growth. In 2016 alone Balkan went period of both 195 days, and 168 days, without a single lost work day due to worker injury. For a firm with nearly 90 employees, that is quite a feat. That extraordinary safety record has been rewarded with the Energi Risk Management Award two years running.
If you need a sewer and water main contractor their safety should be a major factor. Balkan's safety record speaks volumes about controlling your own exposure as a property owner or developer.
NYC construction requires expertise and quality controls

In NYC when you require any licensed tradesman, there are litany of concerns. Besides their level of skill, punctuality, and performance there are other factors. In NYC the permitting process can be cumbersome, along with the assurance of acquiring the proper sign offs. Other factors include the contractor have proper insurance in place, and safe work policies. When many contractors are working in unison on your job site, all of them must meet a high standard. If just one them fails to meet the grade, your project can grind to a halt.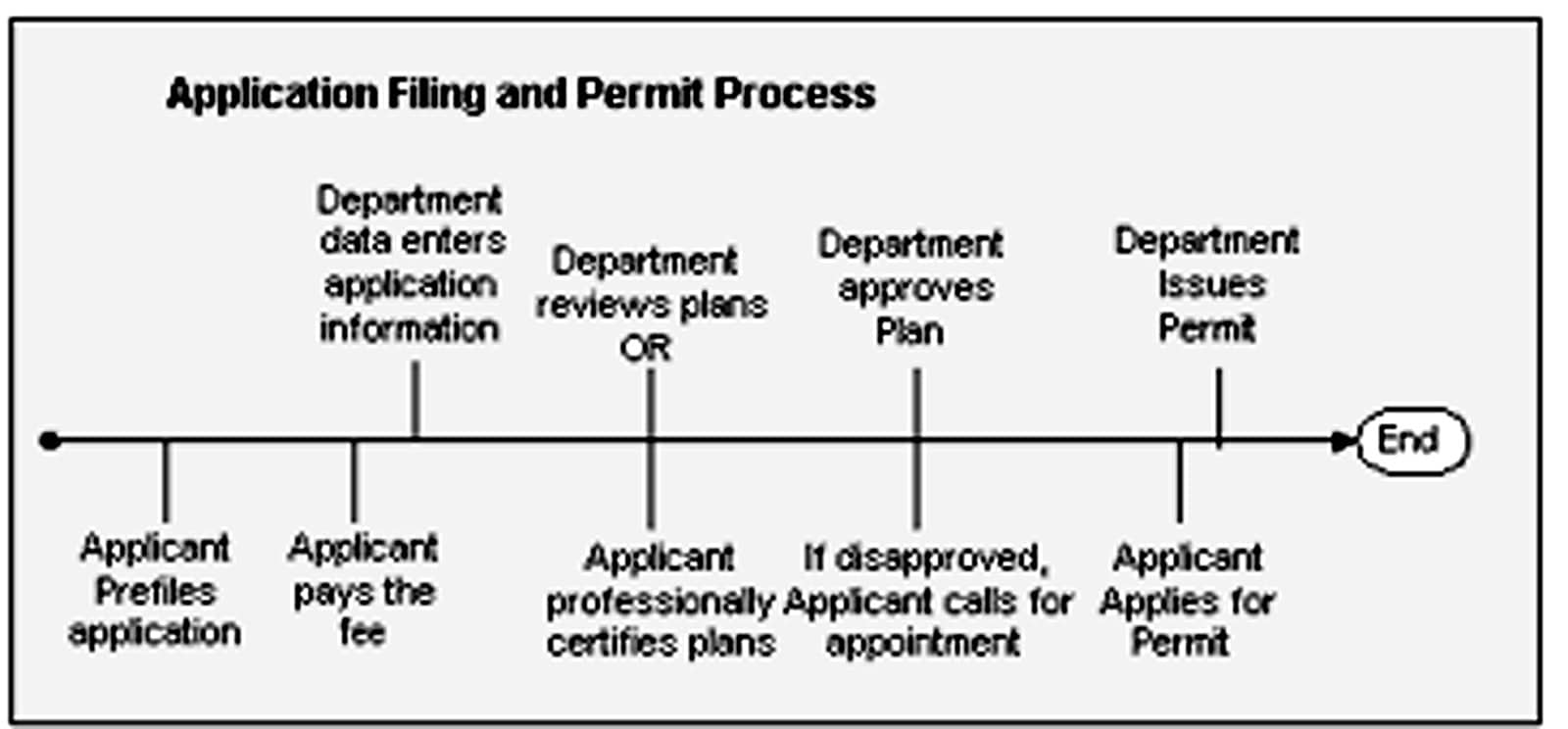 In NYC, when it involves subsurface plumbing, Balkan Sewer And Water Main is the most reputable sewer and water main contractor. Balkan has in excess of 65 years of experience in the business. With the pressures of a timely start and completion, safety concerns, and assurance of receiving the required sign-offs, it makes no sense to opt for an unknown company. An almost-impossible low quote will typically result in almost impossible headaches for you later on.Filing permit for a new NYC construction project, especially for small-to-medium sized residential buildings, costs less than ever indeed. But it does not change the fact that the process can be quite complicated and lengthy. This is why you need none but licensed experienced professionals to handle the filing process. However, each different trade, portion of the project, or part of the building, may require a different permit or sign 0ff as well. These are just some examples:
Concrete foundations
Structural steel
Electrical
Cranes or hoists
Boiler
Inside plumbing
Underground plumbing
Detention or retention tanks
Scaffold and sheds
Elevator
In the end, when all the stars are aligned, you get your Certificate of Occupancy. 
Sewer and water services are a key component of your project
Plumbing may not be your biggest concern when planning for a new building, but it will always be a crucial part of your construction. Your subsurface utilities ensure availability of fresh water, and proper disposal of waste and storm water as well. A proper installation ensures you can stand behind the guarantee you give your buyer, or peace of mind for yourself if you are the primary occupant.
Make your hiring decision with peace of mind and confidence
Balkan Sewer and Water Main Service is backed by a team of more than 80 people, and includes 4 dedicated estimators. That means prompt and accurate quotes, a seamless progression until the installations are complete and signed off.
Needless to say, Balkan makes sure that all sewer and water main performed for your building comply with regulations set by the Department of Environmental protection, and NYC Department of Buildings.  The company is BBB accredited with A+ rating, and a member of both the NYC Masters Plumbers Council, and the NYC Subsurface Plumbers Association.
The complexities of sewer and water work for NYC construction
As stated previously, the NYC underground is a complex affair, and varies greatly by Borough and even neighborhood. But before the excavation process even starts, your plumber will need to get various permits to install new sewer or water services, or even to upgrade the existing ones. Then your plumber will have to ensure all underground utilities are clearly marked out. Then, and only then, excavation can start, with your plumber carefully exposing by hand all utilities inside their trench.
It can take quite a while to figure out how to excavate safely, especially in Manhattan, or downtown Brooklyn. While the initial phase of excavation is happening, required inspections have to be booked for specific time frames. Inspections are routinely required from the DEP, Department of Buildings, and the DOT as well. What should clearly become obvious is that subsurface plumbing work in NYC has to be a well orchestrated to have a positive conclusion.
Sewer and water main work is a niche in the plumbing industry
With the complex nature of performing house sewer and water line work in NYC, only a small percent of licensed plumbers enter the industry. And only a handful have remained in the industry for any length of time. Each building has its own unique installation methods and problems to overcome. Each overseeing agency has its own stringent requirements and procedures. Insurance costs in the subsurface industry are a multiple of what inside plumbers pay. Even when an installation is complete, your plumber must guarantee the final restoration from any defect for a minimum of 3 years.
Balkan makes complicated installations into a seamless process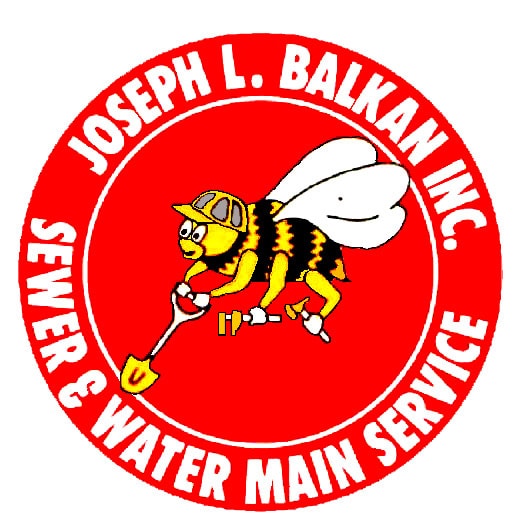 Regardless of the complexity and size of the job, Balkan Sewer and Water Main handles the project with equal professionalism. A carefully formed team of professionals takes your project from what might seem like a disjointed process, into a seamless series of events.
Balkan covers the entire series of your jobs events. This  starts from the filing permit process, until everything is is signed off, and ready to use. Another advantage is that Balkan Sewer and Water Main is a local company. That translates into an in depth understanding of the subsurface conditions all across five boroughs in New York City.
Balkan has all the needed experience in dealing not only with the actual plumbing installation, but also the complexity of permit-related tasks. Your project will get done in a time frame that exceeds your expectations when you hire Balkan. After over 65 years of dealing with changes in building codes and inspection procedures, we have the knowledge to back up that promise.
When you have a NYC construction project, receive a free and no obligation site visit, and detailed quote seen days a week. Contact Balkan Sewer And Water Main Service, and have a one-stop solution for any subsurface plumbing need you may have.