If you ever receive a NYC DEP Notice or Violation, you'd probably have a lot of questions about it. You might even find the notice confusing. Balkan Sewer And Water Main Service is here to answer all your questions, and explain the three primary types of NYC DEP notices that the DEP gives out to homeowners and property owners. Typically these notices involve either a water leak, or a sewer leak or defect, on one of your house services.
Unlike what you may think, in most cases receiving a NYC DEP notice has more positive aspects than negative aspects. After all, if your water service line is leaking, the DEP is simply verifying that fact. So, as the old saying goes, don't shoot the messenger! They're just giving clarity of who has the leak, and making sure that it is fixed. Additionally, if the notice is issue din error, it acts as a means for you to get reimbursed for your expense – more on that later. The first notice that is most commonly issued is called a three day notice.
DEP THREE DAY NOTICE FOR A WATER LEAK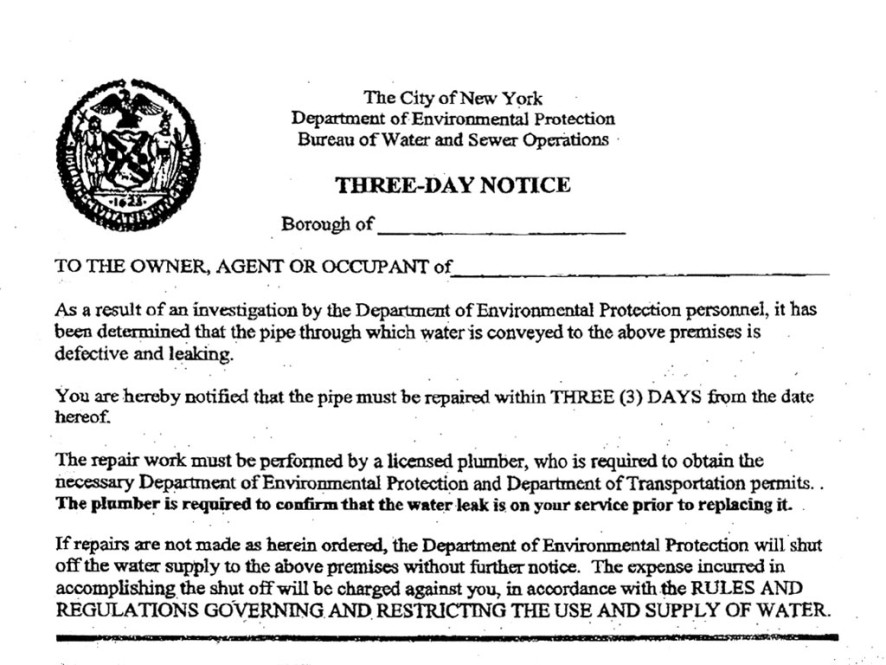 Unlike what you might think, there is no fine involved when you receive a NYC DEP Three Day Notice. It's nothing to really get nervous about. It is actually a verification that the DEP is giving you. The notice confirms that your water service line going out to the street has a leak on it. It's actually a positive thing that the NYC DEP is verifying that you have a water leak.
If you hire a contractor, or when you hire a contractor (you have to hire a contractor) if it turns out the notice was issued in error, you have recourse. That is because you will have to pay the contractor regardless, but you can file a claim against the city based upon the DEP Three Day Notice. You should be able to recoup the expense. This is as opposed to if you never got this notice, you would just have to pay the contractor that you hired. And you would not be able to recoup the money. Bear in mind that at the end day, if the water leak is yours, you'd have to fix it any way.
The Is No Fine, And Three Days Is Ample Time To Repair Your Water Line
So again, there's no fine evolved in a NYC DEP Three Day Notice. Typically the three days is not strictly adhere to, latitude is granted unless it is an emergency situation. You can get extra days added to the three days, you don't have to fret about it. If you want to get multiple bids, you most definitely can. The DEP doesn't even usually include the weekends. Bear in mind that case by case varies by job site conditions. You would know if you have an emergency condition. If so, you really should get the water repair done within the three days. But again, there is no fine, and nothing terrible to fret over. This is as opposed to the second notice, a Ten Day Notice. A Ten Day Notice does have ramifications, as we will discuss below.
TEN DAY NYC DEP NOTICE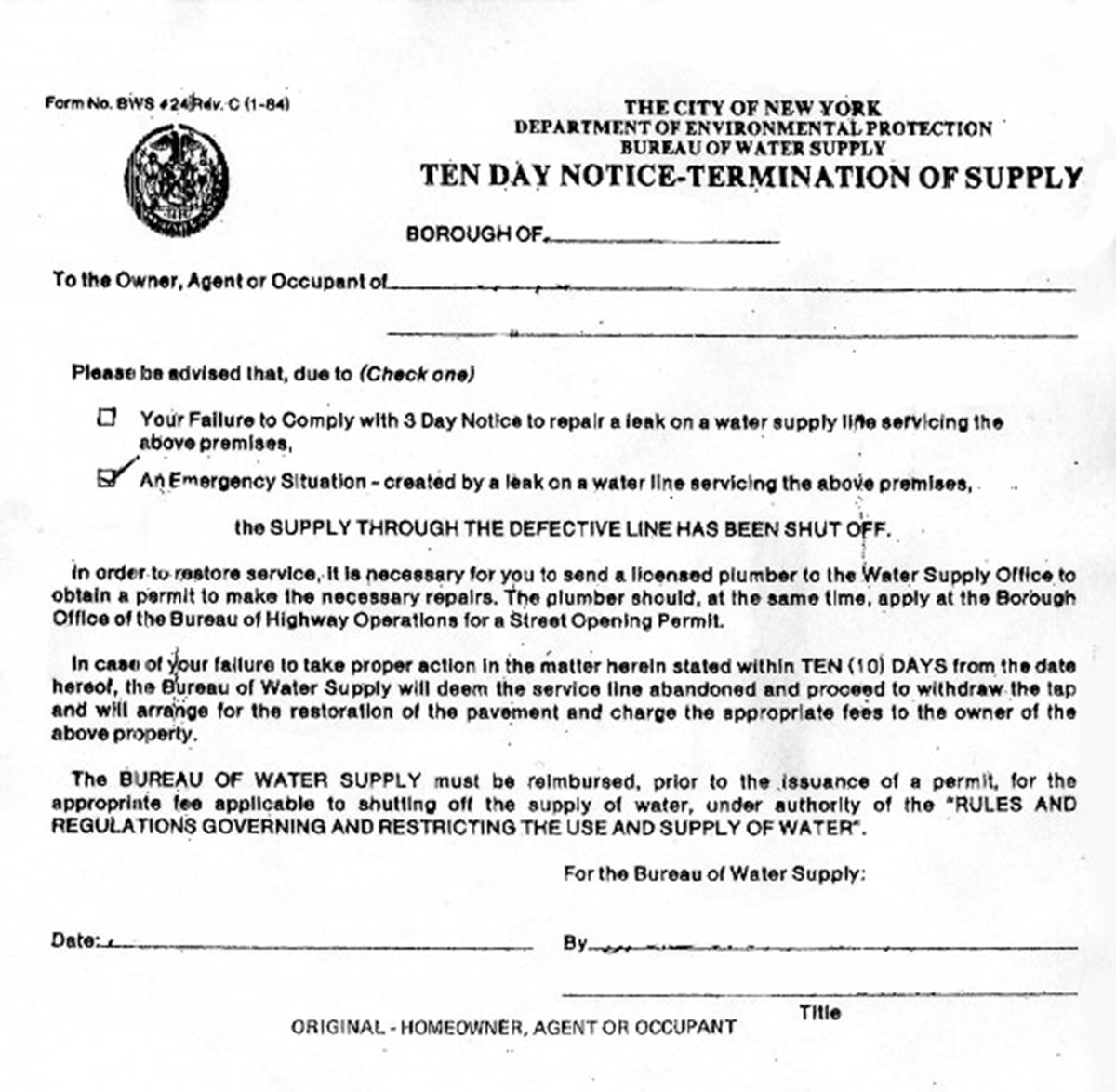 If your receive a NYC DEP Ten Day Notice it means that either you neglected to act on your NYC DEP Three Day Notice, or the water leak was causing an emergency condition. An emergency condition could be a roadway wash out, or it could be a flooded basement. Such conditions would mandate that the NYC DEP take immediate action.
A DEP Ten Day Notice would mean that they excavated in the roadway. The DEP would then turn your water off from the tap connection, stopping the water leak. Now, not only does that mean you don't have water for your property anymore, it also means that on your next water bill that you get, there will be an added charge of $1,000. That's called a shutdown fee. So this notice is vastly different from the no fee NYC DEP Three Day Notice.
Attending to a DEP Ten Day Notice is vastly different than a Three Day Notice. The really good advice is, if you have a Three Day Notice, act on it. You do not want to get a 10 Day Notice! If you have an emergency condition, you can certainly act on it before DEP ever even shows up. Just make 100% sure it's your water leak. You can read this leak testing guide, or ask Balkan to come out to your property. Balkan provides free and no obligation site visits 7 days a week, and after hours as well.
A NYC DEP NOTICE TO CEASE AND DESIST FOR SEWER DEFECT
Now the third type of notice is a NYC DEP Notice To Cease And Desist. This notice is really the least common. Unlike what you might associate it with, due to its legal language, it pertains to your sewer line. This DEP notice really means that you have a sewer defect. As an example, it could mean that you have a sanitary sewer that's improperly connected to a public storm sewer. Conversely, you may have a storm sewer line that's connected to the public sanitary sewer. Therefore the DEP is telling you that you have 30 days to correct your illegal sewer connection. There is no fine involved. Simply proceed to get your estimates, or hire somebody you're comfortable with, and correct your sewer connection.
The other reason that a NYC DEP Notice To Cease And Desist would be given out is if you have a sewer leak that's causing a wash out. Of course your sewer defect may be causing some other condition outside your house. DEP would also give you a cease and desist to mandate that you fix that defect. This type of defect is usually determined when the DEP does a sewer die test. That's how they would verify if there's water leaking or running under the ground, causing a wash out. The dye test would verify that it's coming from your sewer line. Sometimes the DEP also use a sewer camera in addition to, or in lieu of the dye test. DEP is very careful and accurate prior to issuing any notice, but an order to Cease And Desist in particular.
The Balkan Way: An Educated Property Owner Is Our Best Customer
That basically is your quick tutorial on the three different types of NYC DEP notices and violations that you might receive. If you have another question or you need clarification on anything, you can feel free to contact us via our website contact form, or you can shoot an email to TeamBalkan@BalkanPlumbing.com. Typically if it's during normal work hours, a Balkan Team Member will respond promptly. In most cases you will typically receive a response within one hour or less with a clear explanation. It is our clear intent to help you, that is what Team Balkan is passionate about. We want to educate the consumer, and we want to make whatever situation you have less stressful. Feel free to contact us virtually any time of any day.