Although NYC DEP water main and sewer permit fees do not comprise much of the cost of a job, it is good information to know. When a property owner, developer, or management company needs plumbing work done it never hurts to be educated on the details.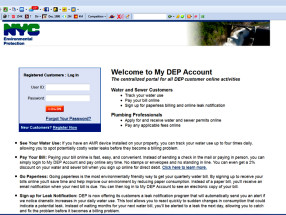 Up until recently a factor in the cost of a permit or connection fee was the expediting cost. In certain instances many hours can be spent expediting a DEP permit in New York City. However many permits can now be applied for electronically involving no expediting costs. As of this writing DEP permits to replace an existing service line can be applied for electronically. As time goes on more and more permit types will be available electronically online. Currently most DEP for-fee permits still cannot be secured electronically.
Sewer and water main relay permits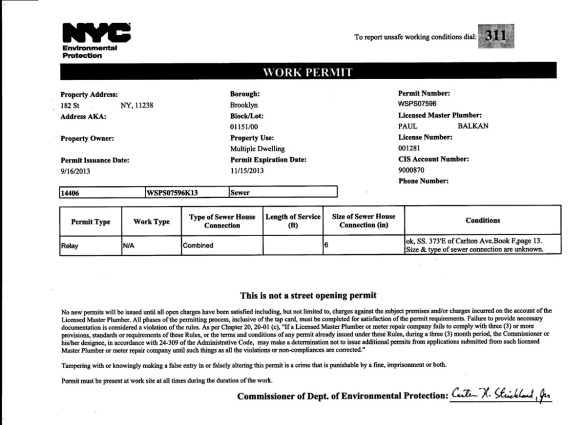 Permits to replace an existing sewer or water service line are no-fee permits. Since an inspection or connection fee was paid for at the time the service was first installed, the DEP does not charge when the same line has to be replaced. That is because there is already an account open for that property in the DEP records.
New sewer permits
When a property was not previously connected to the city sewer a new sewer permit is required. This can occur when a septic system previously was used, or no plumbing existed in the building. When a new building is being built a new sewer permit is also required.
In both of these cases there is a $200.00 fee for the sewer permit. The $200.00 fee is for a site inspection from a NYC DEP Field Inspector. Any new sewer connection must be inspected and signed off by the DEP in order for the property to receive a certificate of occupancy.
[button link="/contact-balkan-plumbing/" bg_color="#EA6E24″ window="yes" size="large"]Get FREE expert advice today![/button]
Water service line connection fees
Any water service line connection that the DEP has to install has an associated fee. Similar to new and relay permits there is a slight difference in the fee structure. Any new connection costs $200.00 more than replacing an existing connection. This $200.00 fee is for a DEP inspection, regardless of if an inspection is actually required or not.
A water line tap connection is typically used for water lines up to 2″ in diameter. The rough price of a tap connection is only around $300.00, which is probably well below what it costs the DEP it actually install. On a new tap connection (as stated above) there is an additional $200.00 inspection fee. On domestic water services 2″ or less an actual DEP inspection is not required by code – it is at the NYC DEP's discretion whether to show up or not.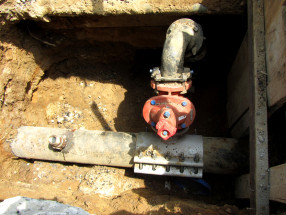 A wet connection refers to a connection that is larger than 2″ in diameter. Because a wet connection requires more expensive material and is more time consuming to install, it is likewise much more expensive. To install a wet connection the city water main actually has a hole cored out of it. On a tap connection the city water main is drilled, which is much easier to do.
A typically sized wet connection costs between $1,900.00 to $2,300.00, plus the associated $200.00 fee if it is a new connection. A wet connection is perhaps the only permit or connection fee that has a great bearing on the budget of a project. Like many DEP fees it is actually provided below cost. Wet connection material is very expensive and the connection itself is very time consuming to install. A DEP wet connection installation crew can only install three wet connections a day under ideal circumstances.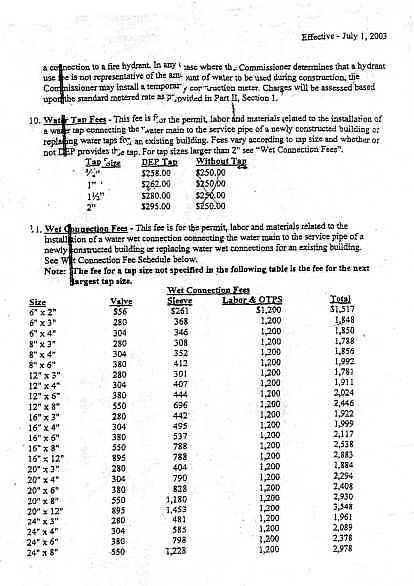 Sewer and water main plug permits
Likewise to a new sewer permit, plug permits for a water service line or sewer line has a fee of $200.00. A plug permit is required any time a building is being demolished. There are some other rare cases when a plug is required.
One of the first steps in the demolition process is permanently disconnecting the sewer and water service lines. On plug work a DEP on-site inspection is mandatory, as are sign-offs of the work. Without sign-offs from the DEP the demolition work will not be signed off.
[button link="/contact-balkan-plumbing/" bg_color="#EA6E24″ window="yes" size="large"]Get a FREE on-site visit today![/button]
The owners of Balkan Sewer And Water Main feel that an educated consumer is their best customer. Feel free to browse our website to discover virtually all there is know about sewer line and water main work in New York City.
[credit]