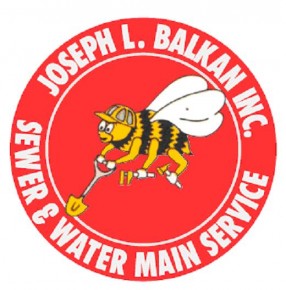 In NYC there has been an ongoing debate as to whether sewer lining and pipe lining in general is legal using the various different pipe lining methods available. Manufacturers and installers alike continuously claim that such lining methods are approved in NYC and many continue to use them for sewer repair work and other plumbing work. Recently the NYC Buildings Department wrote a bulletin that conclusively and definitively states that pipe lining for sewer and drinking water supply lines is not approved and illegal. To quote a portion of the bulletin "…….use of pipe lining repair is not considered equivalent in quality, strength, effectiveness, and durability…". Furthermore stating "…… pipe lining repair for any of the above systems shall not be permitted in New York City."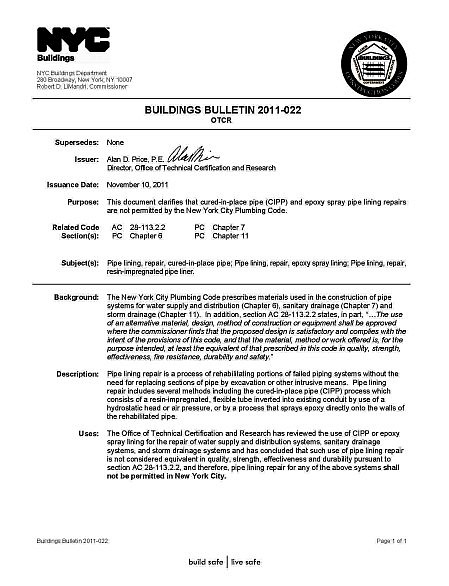 This Buildings Department bulletin is long overdue in putting to rest a very questionable practice of using epoxy, resin, cured-in-place pipe and other methods as well to repair and rehabilitate sewer and drinking water service lines. It should be noted that this bulletin supersedes no other rule or regulation – In other words pipe lining was never legal in NYC. These various methods have frequently been implemented and installed by unlicensed plumbers and contractors for unsuspecting property owners. Not only was a faulty repair process used but property owners were left with an illegal installation that cannot be removed without completely replacing the affected plumbing system. The frequent end result of  the lining of house plumbing in NYC is the work having to be performed twice and at around double the initial cost.
For many people this bulletin will eliminate the possibility of a faulty plumbing installation. For many other property owners this bulletin will provide conclusive evidence for pending and future court actions to recoup large sums of money spent on illegal and faulty sewer lining and pipe lining installations. Unfortunately for many NYC property owners who had house sewer and pipe lining performed over the years it is too late to recover from the monetary and property damage caused by these illegal methods.