If you are a NYC property owner you may assume that your contractor meets insurance requirements. Apparently, even a NYC Agency incorrectly assumes the same, and has refused to investigate the issue as of yet. Unfortunately that assumption can leave you and the City itself exposed to litigation. Likewise, it exposes all parties to great financial harm. You may doubt that this can be the case, but that doubt could come at your own expense.
As a case in point, the NYC DOT has clearly defined insurance requirements for anyone attempting to secure a DOT permit. In addition, the DOT also has safeguards to ensure the required limits of insurance are in place. However, serious loopholes in insurance requirements exist in the form of exclusions. The NYC DOT has thus far refused to address these clearly stated and serious loopholes.
What is the risk to You and all of NYC in general?
If a Plumber or any contractor working on a city sidewalk, roadway, or even private property, has inadequate insurance it affects all concerned parties. Someone suffering an injury or loss will seek redress. That means that if the contractor themselves does not have coverage, the inured party will sue both you (the property owner), and of course the city for issuing the permit. All concerned parties will be party to the claim, only with increased exposure due to the contractor having insufficient coverage.
In some cases, you as the private property owner, may bear the brunt of the claim. If work is contained to being inside your property, you may be held responsible for hiring an individual without proper insurance. Additionally, your property insurer may decline the claim. You would then be "out on your own", left to defend yourself at your own expense.
With the NYC DOT being the party issuing the permit, and having the "deepest pockets" in the event of a lawsuit, it is perplexing why they have not taken action to date. It would seem to be in their own best interest.
A Solution to Enforcing NYC DOT Insurance Requirements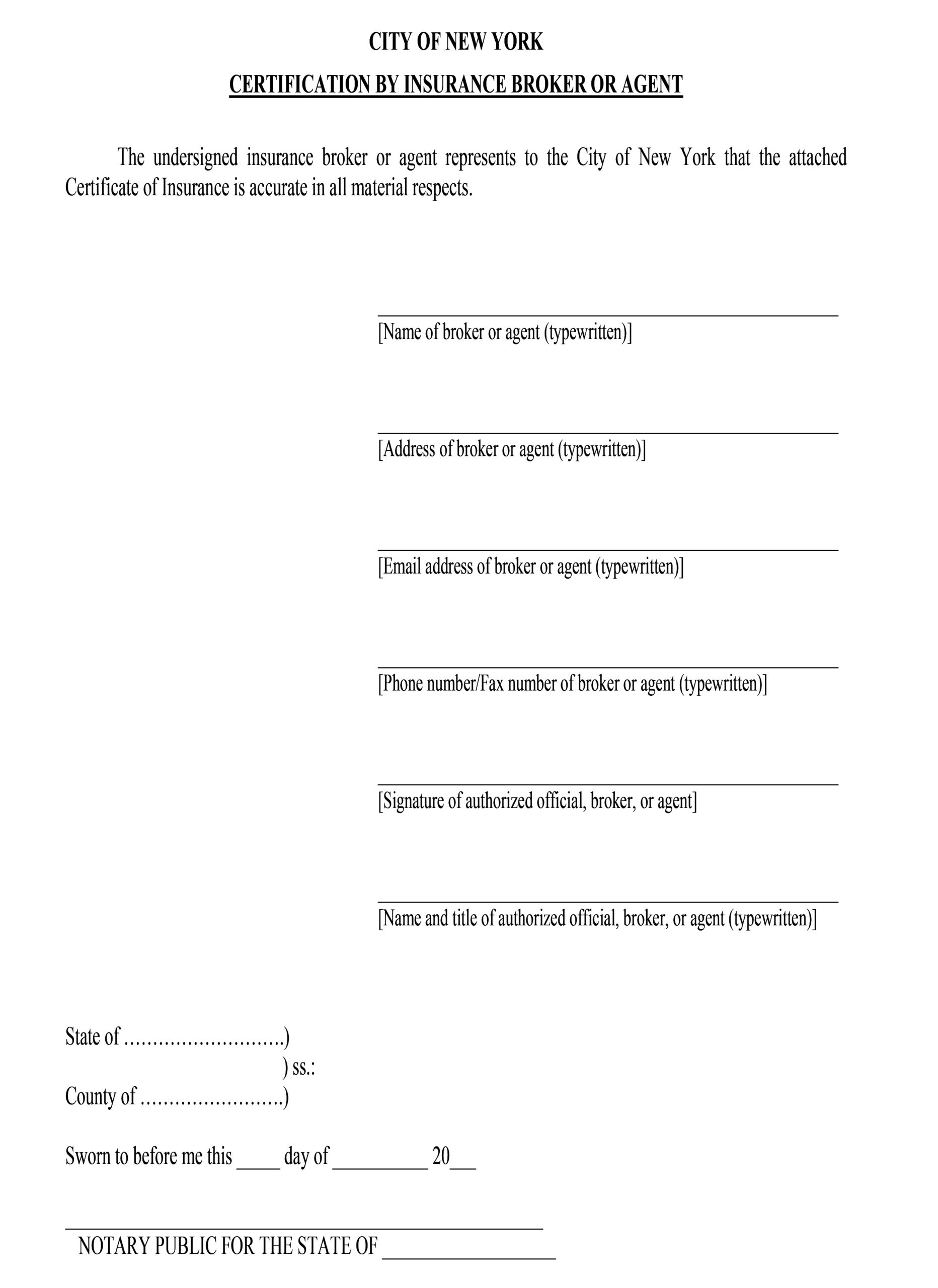 Some background: Every year, as part of the process of maintaining NYC DOT permit privileges, all contractors must secure a letter from their insurance broker. This letter must be given to the NYC DOT for review. Currently the required NYC DOT brokers certification does not address any potential for exclusions from required coverage.
A potential solution: One would think that by NYC DOT adding in some required language attesting that no exclusions exist, the existing glaring loopholes would be closed. This change could potentially be as simple as adding one sentence. Of course, the NYC DOT using their own expertise and legal council can devise the proper solution. But regardless, a solution seems to be easily obtainable, and of an urgent nature.
How Contractors Avoid Proper Insurance Requirements
Improper insurance, or in effect non-existent insurance coverage, may seem hard to believe. However, a Plumber or Contractor may be working on your property, or a public street, and have the work expressly excluded from their insurance coverage. While a NYC DOT Permittee may have sufficient limitations of coverage to secure a permit, they can have any number of exclusions that leave the client and the City of New York exposed. In addition, they are achieving a competitive advantage versus the legitimate tradespeople in their industry. The following are 4 such exclusions that are not monitored by the NYC DOT before a permit is issued: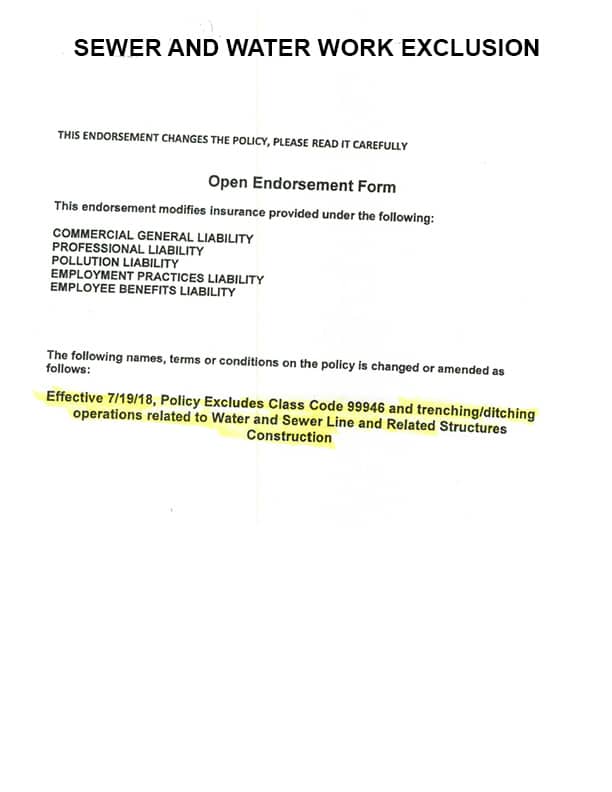 1. Sewer and water work insurance requirements exclusion:
Sewer and water line work is a specialty and requires to be specifically covered in an insurance policy. Likewise there is specific language that expressly excludes this coverage in many policies: "Policy excludes Class Code 99946 and trenching/ditching operations related to Water and Sewer Line and Related Structures Construction". (See enclosed example)
2. Subsidence Exclusion:
As hard as it may seem to believe, this exclusion entails the issues from which most claims are derived: "This policy does not apply to any claim for "bodily injury" or "property damage" caused by, resulting from, attributable or contributed to, or aggravated by the subsidence of land as a result of settling, sinking, slipping, falling away, caving in, shifting, eroding, tilting or any movement of land or earth". (See enclosed example)
3. Exclusion – Designated Work:
Even though residential work is typically the primary source of most plumbers and contractors work, it can be excluded from an insurance policy. All residential construction can therefore be excluded from a policy, and the NYC DOT will nonetheless issue a permit to that company; just as if they met all insurance requirements. (See enclosed example)
4. Exclusion – Designated Work:
A "designated works exclusion" can include a new residential single family dwelling, townhouses, condominiums, co-operatives, or multi-track housing developments. Therefore the contractor or plumber working on your project may be expressly working without coverage. (See enclosed example)
Securing DOT Permits without Proper Insurance: A Red Flag
On the face of it, a contractor skirting insurance requirements is a red flag for other additional shortcuts they may be taking. If one has inadequate insurance, it is fair to say the overall quality of their operation may also be severely flawed as well.
The Plumbing Industry is Ignored
As of this point in time the legitimate licensed plumbing industry of the City of New York has been ignored. The Subsurface Plumbers Association has been told not to raise this issue at industry cabinet meetings, as it will not be addressed. Likewise, there has been no response whatsoever from the DOT. In addition, the City Council has recently been notified. It is the industry's expectation that NYC Council Members will give this matter the attention that it deserves. Quite obviously, failing to meet insurance requirements, or deliberately skirting them, is a serious matter.