New York, USA (Aug. 4th 2020) FOR IMMEDIATE RELEASE:
If you are looking to find one of the most dedicated trade associations in all of NYC, look no further than the NYC Master Plumbers Council. The NYC MPC is dedicated to the advancement and continuing education of the licensed plumbing industry of New York City. The members of the MPC benefit greatly in a variety of ways. An example of the benefits of membership were recently on display during the current Covid crisis. The NYC MPC has been giving regular and informative updates and guidance of all sorts. This has been accomplished through a steady stream of online resources and information. The topics addressed ranged from workplace safety, to guidance regarding PPP.
One particular accomplishment of note was the MPC's direct role in the NYC Department of Buildings acknowledging that all sewer line and water service line work is deemed essential. This allowed for all sewer line and water service line work to continue uninterrupted during covid. This was a vital determination during a time when there were bans on certain other types of construction during covid.
The Vital Importance of Licensed Master Plumbers
Think about how many water pipes, drain and sewer systems, heating, and gas lines there are across the 5 boroughs. You may wonder how anyone can handle all the plumbing and gas work challenges that will be experienced throughout any given year. Above ground and underground plumbing and gas work can certainly be a headache for anyone who is inexperienced. It is also against code for any unlicensed individual to work on most of these systems.
After homeowners or business owners have gone through all the DIY steps and drain cleaning options, they turn to a licensed professional. Only the professional and licensed NYC Licensed Master Plumbers will have the ability to take on all the challenges that are faced. Licensed contractors have the ability to successfully repair plumbing defects and imperfections. They accomplish this task without causing any damage to the installation that is currently in place. Additionally, it is indicative of that plumbers passion for their chosen trade if they are members in the NYC Master Plumbers Council
NYC Plumbing Repair, Replacement, and Gas Work
If you start to notice signs that you have a plumbing, sewer, water main problem, or gas issue, you should search for a contractor in New York City as quickly as possible. We know there are so many contractors available, and it can be difficult to find the right one for your home. When you are researching licensed plumbing or sewer repair contractors in NYC, one of the key qualities you should look for is their experience and qualifications.
You do not want to hire someone working on your home or commercial plumbing without being insured, licensed, or bonded. A contractor's documentation is one of the best ways to determine one's professionalism and ability to repair your problems. In New York City, all repairs that are related to plumbing, gas, and installation changes will require a permit.
In order to obtain this type of special permit, the applicant will need to be a Licensed Master Plumber. Furthermore, their license will have to be in good standing, and with proper insurance in place.
The NYC Master Plumbers Council
Anyone who is a Licensed Master Plumber in NYC, and is a member of the NYC Master Plumbers Council, is considered to be one of the leaders in NYC's plumbing industry. The NYC Master Plumbers Council is a non-profit trade association for Licensed Master Plumbers, and their affiliates. The NYC Master Plumbers Council's proud history can be traced back to the late 1800s.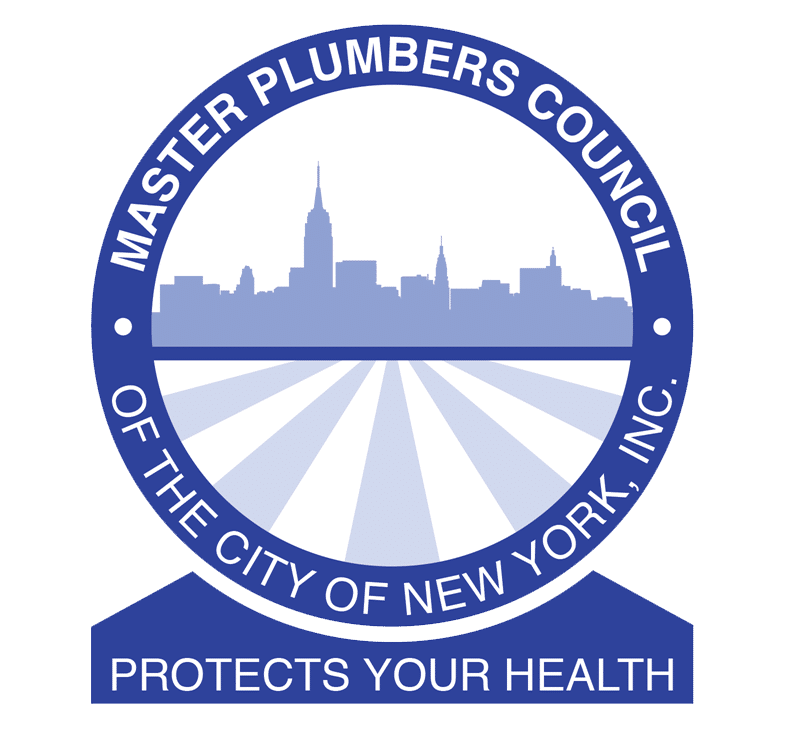 Master plumbers who are part of this historic association are proud to represent such a strong and proactive political organization. The NYC Master Plumbers Council has also proven to be a constant and consistent source of information to Master Plumbers, especially as it relates to rules, regulations, codes, etc. The association also gives its members the freedom to share information and advice with one another.
Throughout its existence, the NYC MPC has strived to promote the plumbing industry. Likewise, the association promotes all of the benefits of hiring a company that is insured and licensed.
NYC Master Plumbers Council And The Community
Through its various committees, the NYC Master Plumbers Council meets on a regular basis with different city agencies. These many committees openly discuss plumbing work, and have a dramatic positive effect. During the MPC monthly meetings, every member is given the freedom to ask questions and clarify their practices. All actions are based on the laws and rules that have authority over how the licensed industry does its work.
Members of the MPC have put in a significant number of hours attending meetings, code revisions, effective practices, and more. The MPC is dedicated to ensuring its members are aware of illegal practices and laws. This knowledge is based along, and allows homeowners, residents, tenants, business owners, etc. to have the best services possible whenever they run into a plumbing problem.
The NYC MPC is also known for its charitable contributions throughout NYC. One example is their ongoing scholarship fund. The members of the MPC take pride in their work, and they take pride in the communities they are serving. The vast majority of members are fellow residents in the very communities that they serve.
The NYC MPC Reaches A Milestone
The NYC Master Plumbers Council recently hit its 300 member mark, and there is great pride in being members of such a historic association. We are actively involved in learning and following the codes that exist across New York City. Any plumber who takes pride in his or her profession owes it to themselves to join. Through our association with the NYC Master Plumbers Council, the Balkan Team will always provide services to residents, property managers, business owners, with full assurance of high-quality results. Balkan takes great pride in being part of this association, and fully appreciates its extraordinary value. Feel free to contact Balkan Sewer And Water Main today for expert advice and service.
About Balkan Sewer And Water Main
The Balkan Team provides expert sewer and water main repairs and replacements. We are experts in all types of NYC underground plumbing. Balkan Sewer And Water Main Service was founded in 1952. Since its inception, the foundation of the company has been based upon integrity and honesty in all of our dealings. That solid foundation has enabled us to thrive in every economic climate. The year 2020 actually marks our 68th consecutive year in business. As we have grown, we have become increasingly dependent upon a "Team First" approach. What helps ensure a continuation of our high standards, overall integrity, and high company morale, is that same team approach. Complete client satisfaction has always been the number one goal at Balkan Sewer And Water Main. That is why we are NYC's largest and most trusted sewer and water main service in New York City. Simply put, if it's plumbing, and it's underground, we do it. For almost 70 years, and for over 70,000 New Yorkers to date, Balkan is "The Team You Trust".