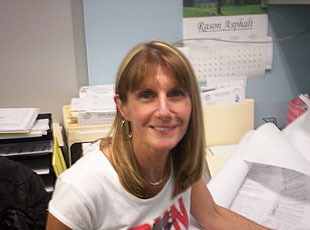 When clients call Balkan for sewer repairs or for water main work they need a high level of attention, care, and professional service. Typically sewer and water work involves NYC DEP violations or notices, NYC DOB approved plans, and a whole litany of other job coordination issues to be worked out such as water line leaks or sewer back-ups.
Like all Balkan representatives trusted with customer relations Sharon Gleason had to learn the Balkan customer care system. That meant many hours of learning in-house systems and the concept of treating clients the way we wish to be treated when when we are clients ourselves, with respect, honesty, courtesy, and with work performed at the fairest of prices.
Frequently homeowners have to be led through an unfamiliar process, and prepare for once-in-a-lifetime sewer repairs or water main work. An experienced, calm, and understanding person is needed for proper and professional customer care in all of the above instances. Sharon steadily advanced herself from one job description to another more challenging position. At the same time she consistently exhibited dedication, composure, intelligence, and understanding in all of her job duties.
For over fourteen years Sharon has been a highly valued and loyal member of the Balkan Sewer and Water Main team. A person that long-standing clients, new clients, and co-workers alike depend on for correct, honest answers every time and a resolution to their issues with water main or sewer repairs. Sharon is another reason why people say 'Balkan provides answers not excuses'.