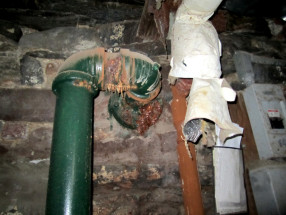 Balkan Sewer And Water Main Service, a NYC water main and sewer contractor, recently got served by the Police Department with $3,300.00 worth of  DOT summonses written by Traffic Agents. It may sound confusing because it is confusing. The Traffic Intelligence Unit (TIU) Agents are employees of the Police Department (PD) and are authorized to write summonses for offenses covered by the Department of Transportation (DOT) – Got that? TIU, PD, DOT, it's a lot of letters and a lot of agencies.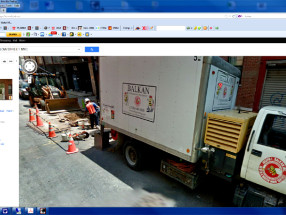 Frequently these various agencies are not too familiar with the actual rules they are writing traffic tickets for since the rules are not from their agencies. NYC residents frequently complain about faulty tickets for $50 or $100 – Little do they realize that contractors get thousands of dollars worth of bogus summonses each and every day. Typically this forum is used for informative, interesting, and helpful posts for the general public related to sewer repair and water main work. What prompted this article was such an egregious action by a Traffic Agent that Balkan felt the public may take some interest in what happened.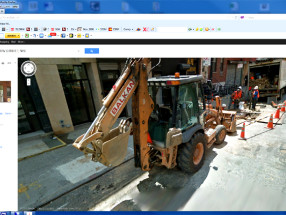 Balkan Sewer And Water Main Service was hired to perform work on an emergency basis to replace a leaking and defective water main at 54 Ludlow Street in Manhattan. Work was started and performed continuously until the installation was complete on July 1st, 2011. As a matter of fact the work was caught by the Google camera for Google Places. On July 5th the roadway paving and sidewalk cement was completed – Job done, happy customer.
Look what happens next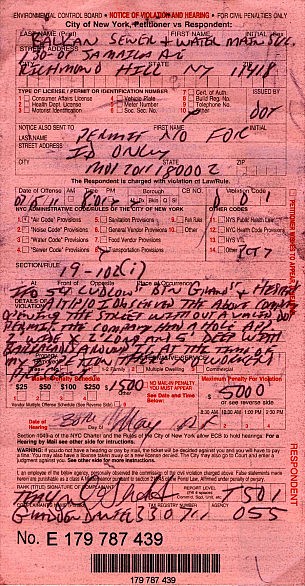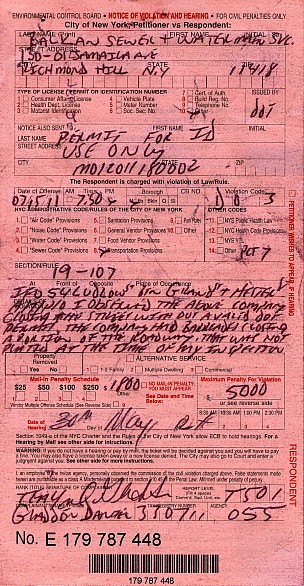 Fast forward to March 29th 2012 when two Traffic Agents arrive at Balkans office and serve summonses that were written over eight (8) months earlier in the amount of $3,300.00. The issue is that the day the violations were observed was July 15th 2011 and at 8 PM. This was ten days after Balkan had completed all work and was off the site. The traffic tickets were for blocking off the roadway, having an open excavation 5′ deep, and working without a permit – 10 days after all work had been completed.
It is Balkans contention that this particular Traffic Agent had extra special sensory powers. Once on 54 Ludlow Street this person could actually see back in time and detect that a violation had once taken place ten days ago. Well if not, then they would have to be completely incompetent. Either way it is hard to believe and a far cry from the typical $100 ticket that NYC residents ordinarily deal with and complain about.