When a NYC sewer contractor performs work special care must be taken to protect the customers property. A sloppy or unprofessional sewer contractor can cause damage or create situations that are more costly to correct than the job itself. In other words it is important to restore disturbed areas properly – but it can be more important to protect and avoid damaging areas altogether.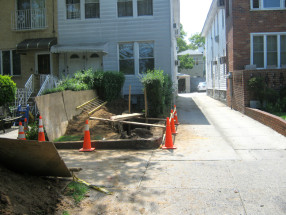 As an example Balkan Sewer And Water Main Service, a NYC sewer contractor, recently replaced a house sewer in Brooklyn, NY. A quick look at the active job site may not seem to reveal anything unusual, or even that precautions were taken. However the fact of the matter is that many steps were taken to completely avoid disturbance and damage to the driveway, sidewalk cement and landscaping as well. If the proper forethought had not be used and then executed by a highly experienced  work crew hundreds if not thousands of dollars of additional restoration costs would have been added to the job.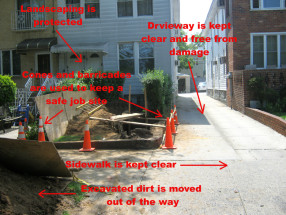 Besides avoiding the disturbance of finished areas other considerations came into play as well. Because the driveway was a 'party driveway' with joint ownership the neighboring house would have also been inconvenienced if excavated material was placed on it. Balkan took the trouble to place absolutely no excavated material on the driveway – thus the driveway remained usable during the whole installation. Likewise the sidewalk was kept clear for pedestrians avoiding inconvenience to the neighborhood. The job site was located on Ocean Parkway in Brooklyn, a bustling area with many small children. Maintaining an open and safe sidewalk for the children and their parents was a major safety concern. 
Before and after a sewer replacement
Thinking about what a property might look like before and and after a house sewer line replacement does not conjure up a pleasant vision – but it does not have to be that way. Balkan is a NYC sewer contractor that takes extra steps to provide a safe work-site and prevent damage that a homeowner might not even should be a concern. On this work-site the cost of replacing damaged landscaping, sidewalk cement, and driveway areas could easily have cost $4,000.00. All of these possible costs were completely avoided – all that was needed was some grass seed.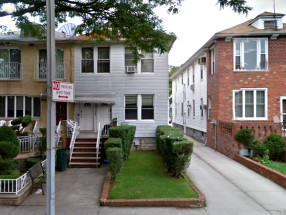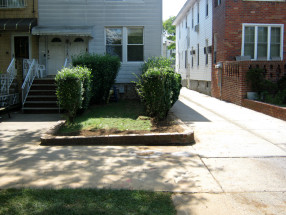 Because the city sewer was located under the sidewalk area Balkan carefully exposed the connection without having to break any of the sidewalk cement. In addition the sidewalk was protected from the heavy weight of the excavator by using heavy lumber. Naturally all required permits were secured and required inspections from the DEP were made. A final job sign-off was received from the DEP, which is an another assurance to the owner of a quality house sewer installation. In addition the homeowner received an unconditional 10 year guarantee from Balkan.
A Little History About Ocean Parkway
courtesy of wikipedia
Frederick Law Olmsted and Calvert Vaux (who were also responsible for Central Park, Prospect Park, and Eastern Parkway) suggested Ocean Parkway to Brooklyn park commissioners in reports prepared during the 1860s. They drew up a plan for the parkway, inspired by boulevards in Berlin and Paris (such as the present Avenue Foch). In 1868 the land was acquired by the City of Brooklyn; work began in 1874 and was completed in 1880. The resulting parkway is similar to Eastern Parkway, with a central roadway, a grassy median and pedestrian path, and a commercial road, with a total width of 210 feet (64 m). Trees, playing tables, and benches line the pedestrian path and boulevard. The parkway begins at Park Circle (now known as Machate Circlein honor of NYPD Officer Robert Machate) at the southern entrance of Prospect Park, and passes through Windsor Terrace and what is present-day Kensington. The Prospect Expressway, built in the 1950s, replaced the northernmost half-mile of the parkway, and thanks to a local activist named Arlyne Bronzaft the parkway was designated a landmark by the city in 1975 to prevent any additional alterations.

The pedestrian path was split in 1894 to create the first bike path in the United States. Around 1900, homes were constructed along the perimeter of the parkway, and during World War I, many mansions were built. Buyers came to Ocean Parkway from Bedford-Stuyvesant, Brooklyn Heights, and Bushwick. In the 1920s, apartment complexes and one- and two-family homes were constructed; the northernmost portion of the parkway became the site of luxurious, elevator-equipped apartment buildings.

Apartments began to replace older homes in the vicinity of the parkway after World War II. Horse racing took place on the parkway until 1908, when a ban on open betting took effect. Until the parkway zoning was changed and restoration was carried out in the 1970s, bridle paths existed as well. The bridal paths were on the eastern side of Ocean Parkway; equestrians could rent horses near Prospect Park and ride them on Ocean Parkway as far as Coney Island. The bridle paths have since been paved over and are no longer in use.