When a plumbing emergency occurs such as a leaking water line or broken house sewer it can be the most stressful repair you can ever encounter as a NYC homeowner. In a time such as this it is so important to know who to trust and what to expect. The last thing a homeowner with a plumbing emergency wants is to be charged for a site, for an estimate, or to figure out the problem before any work is even done. Having to pay a bill before any work is even done is hard can seem like insult-to-injury.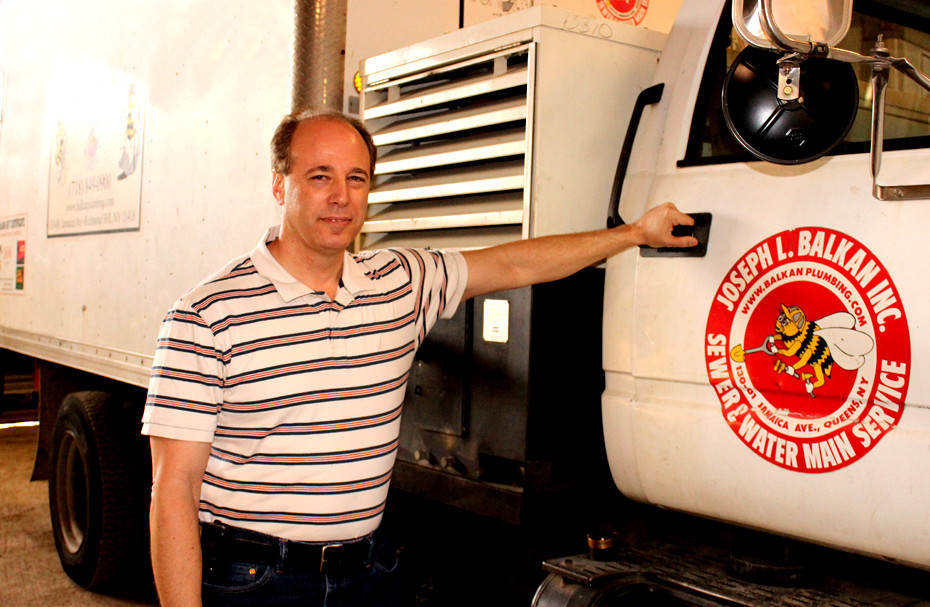 Paul R. Balkan and David Balkan, the owners of Joseph L. Balkan Inc., are lifelong NYC residents and Queens homeowners as well. They full well understand how stressful an emergency plumbing repair can be. Because of their understanding they have tailored their business to relieve the apprehension and anxiety from the sewer line or water main repair experience. The Balkan Team provides emergency services that are truly unique in the NYC metropolitan area.
Balkan has a team of highly experienced field representatives and support staff available 16 hours a day Monday through Friday and 12 hours a day on weekends. But maybe more importantly these professionals are available to provide free site visits to your property any day if the week and at almost any hour. Frequently an experienced person assessing the situation can save on unneeded or incorrect plumbing repairs. No one wants to replace a sewer or main water line due to a misdiagnosis. The Balkan staff ensures that a client in distress doesn't act in haste.
How often do contractors give a verbal quote on some hazy scope of work – Only to result in a heated dispute with their client and job delays? There is never any guesswork with Balkans services or prices. All work water and sewer service work orders are clearly written in terms understandable to any homeowner, and a principal of the company is always on hand to answer any questions before they become disputes. In addition all work orders have written quotes that are clear and concise. When some contractors may look to get 'their foot in the door' Balkan looks to build long-term relationships and an impeccable reputation.
You can always rest assured that no matter the degree of emergency or time of day you will receive the fairest of prices. No matter if the water main or sewer work is planned or needs urgent attention Balkan utilizes a uniform pricing policy – A strictly enforced company policy is to never take advantage of a homeowner is distress and betray a trust. A well deserved reputation for fairness, integrity, and honesty is based upon policies such as this.
When you think about it is simple – We all know what we expect when we call in a contractor to work on our home or property. We expect them to respect our time and be prompt, then to carefully evaluate the situation. If work is needed we expect a fair quote, given in writing with an unconditional guarantee on the work. We then expect the work to be performed as promised and when promised by workers under the direct supervision of the contractor. That should seem like basic stuff that we all expect – nothing extraordinary. Those are the things that we all expect.
Then why can't the same people who expect these things for themselves, but happen to be in business, provide this for their own customers? The ugly answer is they do not want to – it is hard. At the foundation of Balkan is to treat other people, namely customers, vendors, and employees, as we would like to be treated ourselves. It is a company-wide commitment that is a mandate from the owners. From that basic commitment all other policies are developed in order to achieve that goal. Compassion, understanding, integrity, and fairness may seem odd traits nowadays for a contractor to have, but it is the only way the Balkan family knows how to conduct business.
Some may think that if some corners aren't cut, inferior materials used, employees underpaid, and guarantees ignored, how can a company stay in business and thrive – What's the angle? Well sometimes the 'good guys' win – Joseph L. Balkan Inc. has been in continuous operation under the same exact name and using the same exact phone number for over 60 years. There is not another sewer and water main service company in New York City that can say that. In addition our reputation is unmatched – In good times and bad times alike our quality and level of service is unwavering. There are very good reasons why we have maintained our position as the largest NYC water main and sewer company, and the most trusted one too.