Being OSHA certified and understanding job-site safety is a vital part of performing sewer line and water main repair work in NYC. That commitment begins upon mobilization in the morning, continues on the job-site, and doesn't end until the end of the workday. A successful  company safety plan involves many areas and cannot be a one-time or once-a-year chat with the workers. It needs to go much farther than that to have any true chance of success and of being taken seriously company-wide.
Stressing safety on a daily basis means constant attention to details and constant reminders to field forces that may tend to be primarily interested in completing a sewer or water main repair as quickly as possible. That could mean that on a rainy or foggy day reminding drivers to drive carefully and with their headlights on, and reminding backhoe drivers to drive with their revolving emergency beacon on. It also means inspecting personal safety gear on a daily basis to ensure an injury does not occur simply because someone forgot to ask for new safety glasses, or a new reflective vest.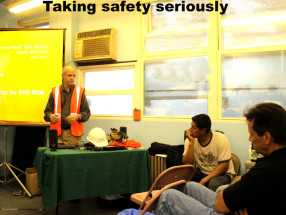 But there are larger and more meaningful actions to take as well. In NYC a couple of years ago it became required by the Department Of Buildings that workers would have to be 10 hour OSHA certified in order to work on buildings 10 stories or higher. Many subsurface plumbing companies got on board and held classes individually on in groups to be in compliance, even though some plumbing companies  rarely worked on such structures. Joseph L. Balkan Inc. took it one step farther in that they hold follow-up courses for new hires and those employees that would like a refresher class. Balkans most recent class was held in May of 2012.
OSHA Ten Hour Certification
To make the safety class more meaningful Balkan held the class on consecutive Saturdays, five hours each. In this way the full impact of the class could be absorbed and the full benefit of working safely realized. A recent addition to the Balkan Employee Manual is a requirement that all field workers are OSHA certified either by attending a company sponsored class, or to attend a class at their own expense. Another option is to take the class on-line which is becoming a more popular option nowadays.
This class properly administered not only has a forceful verbal impact but through videos and photos an unforgettable visual impact as well. An example is how spending an extra $10.00 for steel tipped work boots can literally keep the toes attached to one's feet. Another example is how wearing safety sunglasses can save an eye. Simple and inexpensive steps to prevent catastrophic injuries.
As standard policy Balkan supplies safety sunglasses free of charge and gives out a $20.00 show credit when safety tipped work boots are purchased – Steel tipped boots are the only foot wear permitted at Balkan.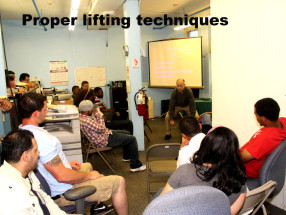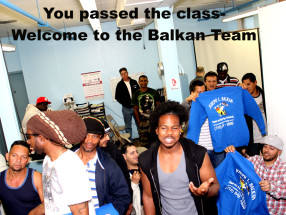 Partnering with our vendors
Partnering with vendors typically means a contractor attempting to receive a discount on material or some other form of service. In the case of insurance it can mean showing the insurance carrier that you are supplying more than lip service to their suggestions on a full and comprehensive safety plan. It means a sincere effort to implement safe practices from which all concerned parties benefit.
One of Balkans insurance carriers agreed to actually teach the ten hour OSHA class to the field workers – The level of interest was so high that some office personnel and drivers also attended the class. Agreeing that safety is very important and following through are two very different things. Balkan is a water main and sewer contractor that is truly dedicated to providing safe work sites throughout the boroughs of NYC.
OSHA's Outreach Training Program
courtesy osha.gov
The OSHA Outreach Training Program provides training for workers and employers on the recognition, avoidance, abatement, and prevention of safety and health hazards in workplaces. The program also provides information regarding workers' rights, employer responsibilities, and how to file a complaint. This is a voluntary program and does not meet training requirements for any OSHA standards.
Through this program, workers can attend 10-hour or 30-hour classes delivered by OSHA-authorized trainers. The 10-hour class is intended for entry level workers, while the 30-hour class is more appropriate for supervisors or workers with some safety responsibility. Through this training, OSHA helps to ensure that workers are more knowledgeable about workplace hazards and their rights, and contribute to our nation's productivity.
Balkan Stays Ahead Of The Curve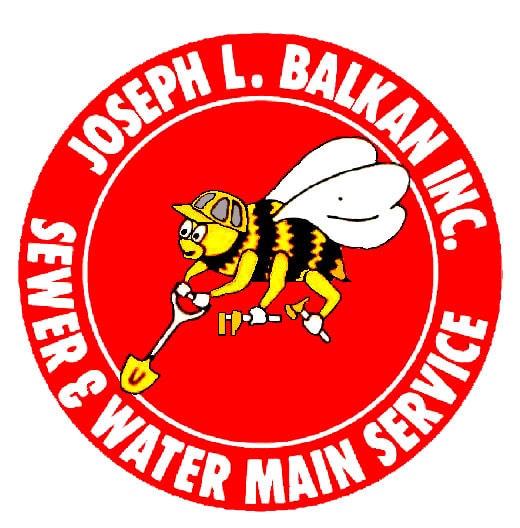 The original intent of the 10 hour training class was a basic introduction to safety and meant to be applied to larger type buildings. However even in the brief time since its implementation this certification has been required more and more frequently – Safety has become an ever increasing concern for all parties. Different municipalities and counties have their particular  circumstances where the certification of training is required. However on an increasing basis it is required for smaller scale projects in terms of dollar amount and building size.
It is not unreasonable to expect in the near future that work on non but small residential properties will require OSHA training. Staying ahead of the curve is vital to remaining at the forefront of the NYC sewer and water main industry – That is why Balkan is 100% OSHA certified.