New York, USA (July 21st 2020) FOR IMMEDIATE RELEASE:
We love using Oxford Plastics composite road plates! When you find the solution to a problem that's been vexing you for years, you want to shout about it from the rooftops. The modern-day version of the rooftops very well could be YouTube. With that said, given the opportunity to share our experiences with Oxford Plastics composite road plates, we jumped at the chance to do an interview. You'll understand our excitement when you view the video.
For almost 70 years Balkan Sewer and Water Main Service has been serving the greater New York City area. During that time we've had to wrestle with the issues that steel roadway plates present. Steel plates are routinely used to cover the holes we've needed to dig. These holes are located in both public sidewalks, and roadways as well. Every day Balkan needs to access sewer and water lines to perform our work. When a friend recommended Oxford Plastics composite road plates to our CEO, David Balkan, he was excited by the chance to try them out. "When I explored the product, it was the answer to a multitude of problems. Problems and issues that we've contended with for many years," Dave states in the interview.
Safety First In All Of Our Endeavors
Team Balkan's No. 1 concern in dealing with steel roadway plates is the inherent danger they represent for our crew members. As David explains in the video, we suffer one or two injuries each year during the handling of steel roadway plates.
The special equipment needed to lift the heavy plates into place is another issue. Boom trucks and handling adds to the risk for our employees, and the general public itself. The required equipment, such as knuckle boom trucks, forklifts, and backhoes, themselves carry their own sets of danger for our employees.
With the Oxford composite road plates, as you'll see in the video, there is an extreme ease of operation. Two employees can easily carry the the plates, or the leaves, and place them over the street holes. Using simple ergonomic tools provided by the company, it could not be safer or easier. The plates also have easy-to-use, interlocking components to keep them from sliding. Even as cars, trucks, and even our heavy equipment pass over the leaves, they will remain in place.
Composite Road Plates Save Time and Money
While employee safety was our No. 1 concern, we are pleased that the composite road plates can save time and money for our company and our customers. Without special equipment on the job site to move plates on and off the street, our equipment operators can move on to other jobs where their specialty services are more vitally needed. Additionally, when a roadway needs immediate coverage, it can be covered in less than 1 hour in most cases.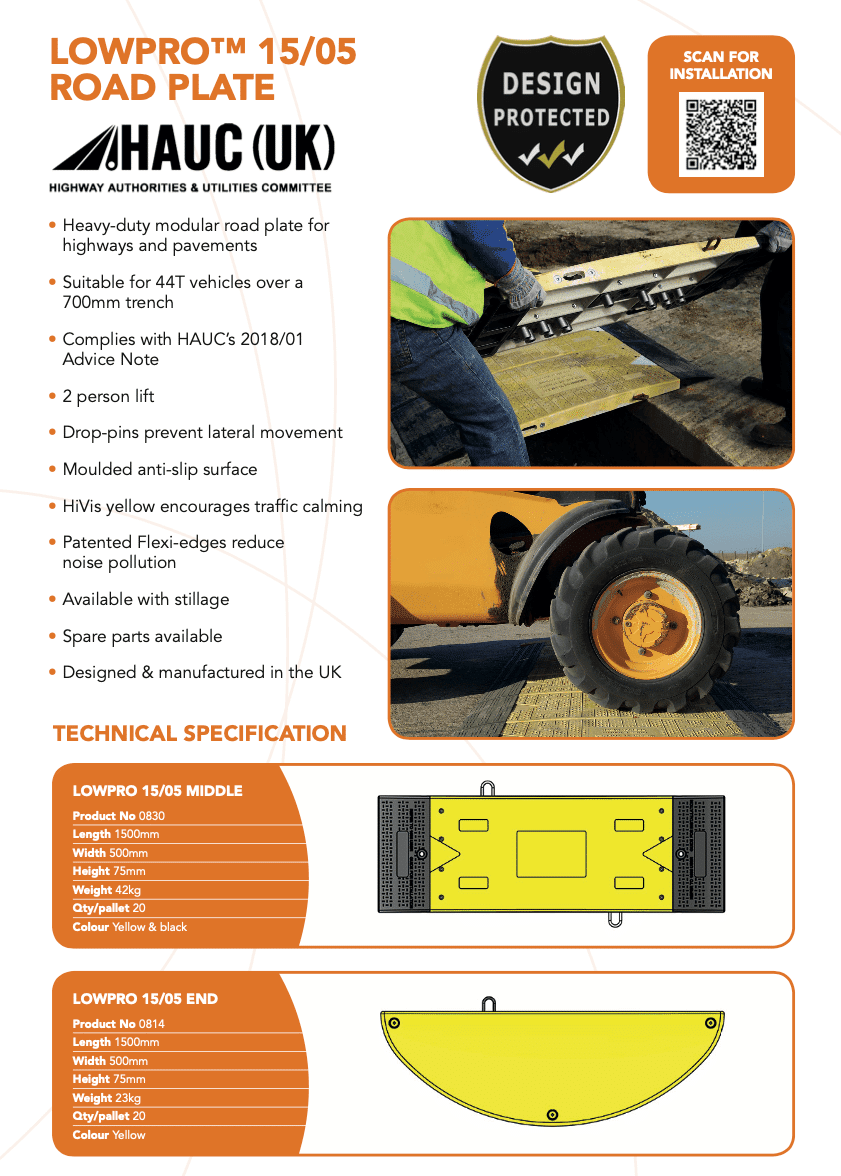 Furthermore, EnduraSign Road Plates & Trench Drains allow us to keep city streets less congested with our heavy equipment. Heavy equipment or vehicles do not have to remain on job sites when not needed for the specific tasks of placing down or removing plates covering street holes, and open trenches for sewer and water line repairs and replacement.
This saves our customers money as well. We no longer need to leave vital equipment sitting idly, or move that equipment back and forth between job sites to handle the steel plates.
No Composite Road Plate Concerns
Oxford Plastic's composite road plates have turned out to be an ideal solution for Balkan Sewer and Water Main Service. If your company is looking to get away from handling heavy steel roadway plates, here is your solution as well. The plates are strong enough to hold up to our heaviest equipment. Additionally, the interlocking components ensure they do not slide around when pressed by heavy metro traffic.
Our employees also appreciate the ease of use and the added safety benefits they experience by not handling those heavy and dangerous steel plates.
Contact Balkan Sewer And Water Main today if you'd like more information on our experience with Oxford Plastic's composite road plates. Of course, we'd like to hear from you if you need sewer or water central repair or replacement in the greater New York City area.
About Oxford Plastics
Our products are safe, secure and compliant with Safety at Street Works and Road Works & Chapter 8 legislation. 75% of Oxford Plastics products are made from recycled plastic, and 95% are recyclable, covering our full range of pedestrian & traffic Barriers, LowPro® Road Plates & Trench Covers, Road Signs, Traffic Cones,Ground Protection Mats and Fence Feet.

https://www.oxfordplastics.com/about-us/
About Balkan Sewer And Water Main
The Balkan Team provides expert sewer and water main repairs and replacements. We are experts in all types of NYC underground plumbing. Balkan Sewer And Water Main Service was founded in 1952. Since its inception, the foundation of the company has been based upon integrity and honesty in all of our dealings. That solid foundation has enabled us to thrive in every economic climate. The year 2020 actually marks our 68th consecutive year in business. As we have grown, we have become increasingly dependent upon a "Team First" approach. What helps ensure a continuation of our high standards, overall integrity, and high company morale, is that same team approach. Complete client satisfaction has always been the number one goal at Balkan Sewer And Water Main. That is why we are NYC's largest and most trusted sewer and water main service in New York City. Simply put, if it's plumbing, and it's underground, we do it. For almost 70 years, and for over 70,000 New Yorkers to date, Balkan is "The Team You Trust".