New York, USA (July 14th 2020) FOR IMMEDIATE RELEASE:
Have you noticed a change to our office while walking along Jamaica Ave? Balkan Sewer and Water Main Service has recently gotten new window graphics designed and fabricated by Sign Central Creative Services. Our new appearance as a plumbing brand is sure to get your attention. Building a brand is yet another way to reach out to potential customers. View Sign Central Creative Service's amazing wall wrap an their truckwrap solution for us.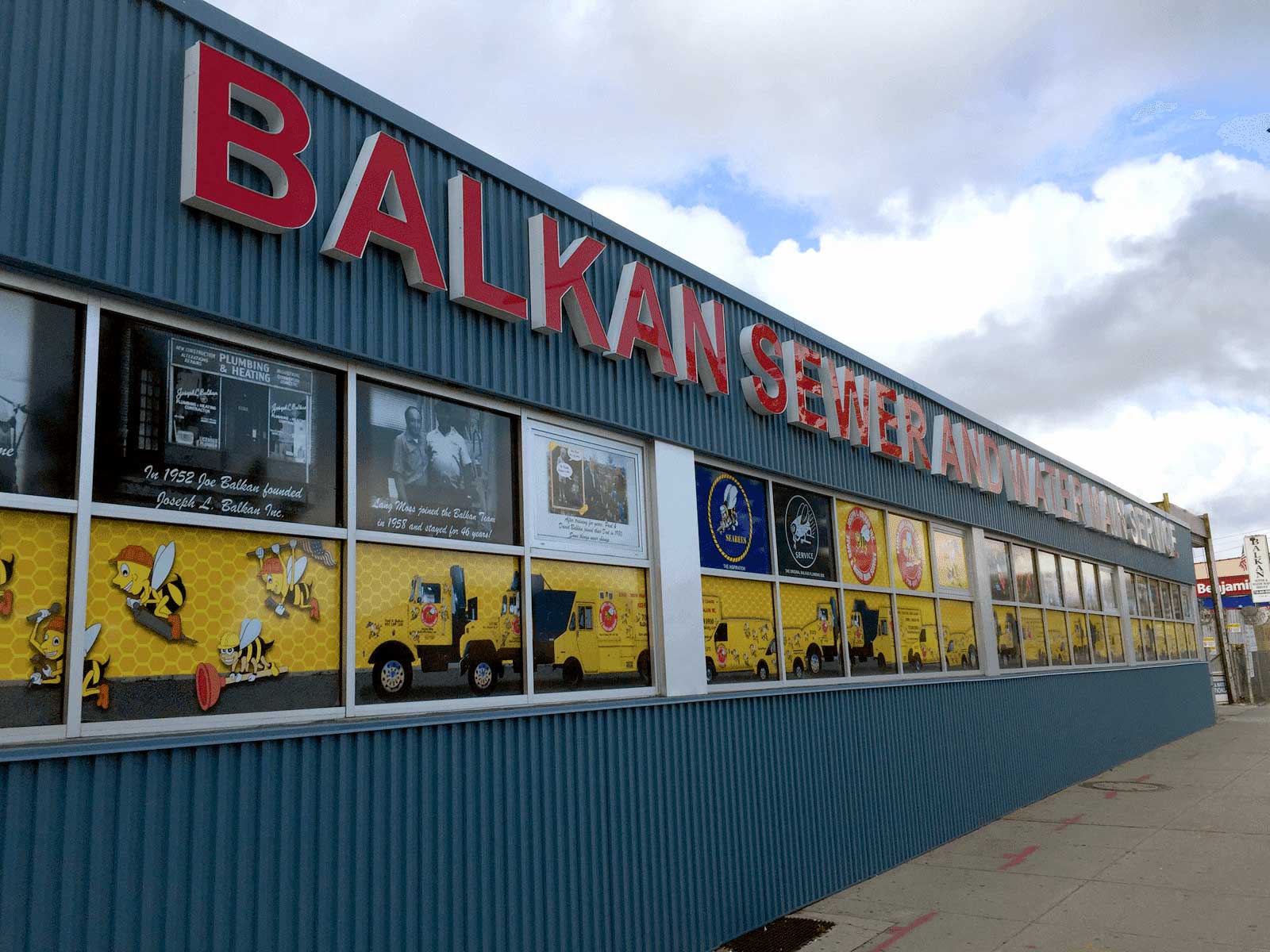 We understand that sometimes all it takes to turn a passerby into a new customer are appealing window graphics. When placed in a central location, window graphics are a vital component of a plumbing brand. Sign Central Creative Services is a cost-effective and impressive means of business promotion. Team Balkan plans to utilize our partnership with Sign Central to provide essential information about Balkan and specials and promotional offers.
The Balkan Plumbing Brand: Increasing Awareness
We understand that marketing and advertising are not just about gaining a sale. In our case, one of our goals is to simply get the Balkan name out there to those who are not familiar with the Balkan name. We refer to the extent to which New York City residents are familiar with the Balkan brand as brand awareness. Our brand consists of more than our name. The type of services we provide, our mission, and our logo and signage all make up our brand.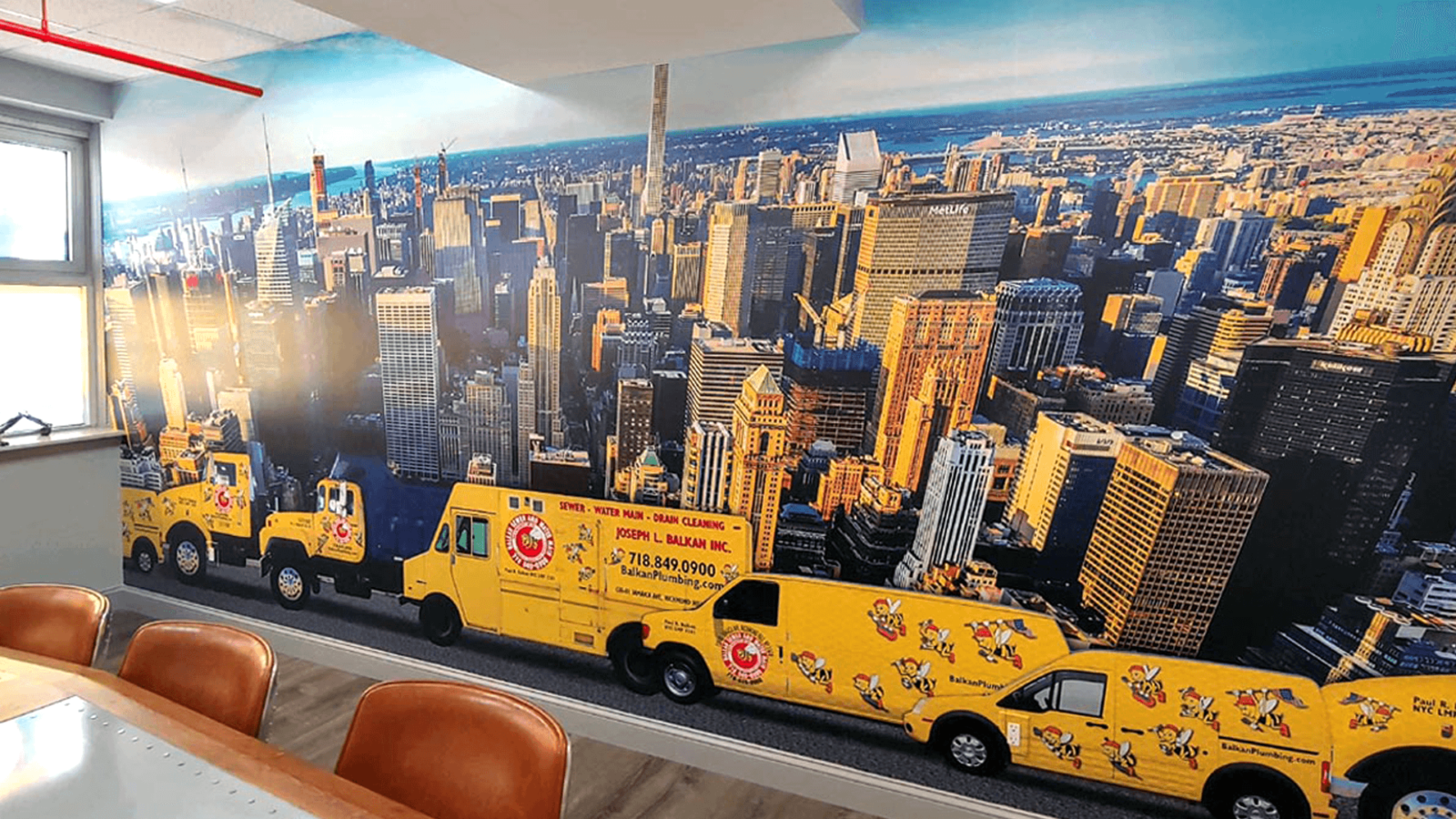 We want the people of New York City to always think of the Balkan Plumbing Brand when they have a need for the services we offer. So, how can a new window sign help increase brand awareness? We understood that covering our window with amazing graphics that include various aspects of the Balkan brand would be an incredible way to get our name out there in a big way.
Anyone who walks, rides, or drives past our business will see an appealing display of our brand. Seeing our window signage on a daily basis can fortify that brand awareness.
Generating Interest Through A Brand
Have you ever seen a window sign that obscured the inside of a business? Did that obscurity make you want to go inside the building to learn more about it? We knew that Sign Central Creative Services would create window signage that would be so appealing that it would generate interest from outsiders.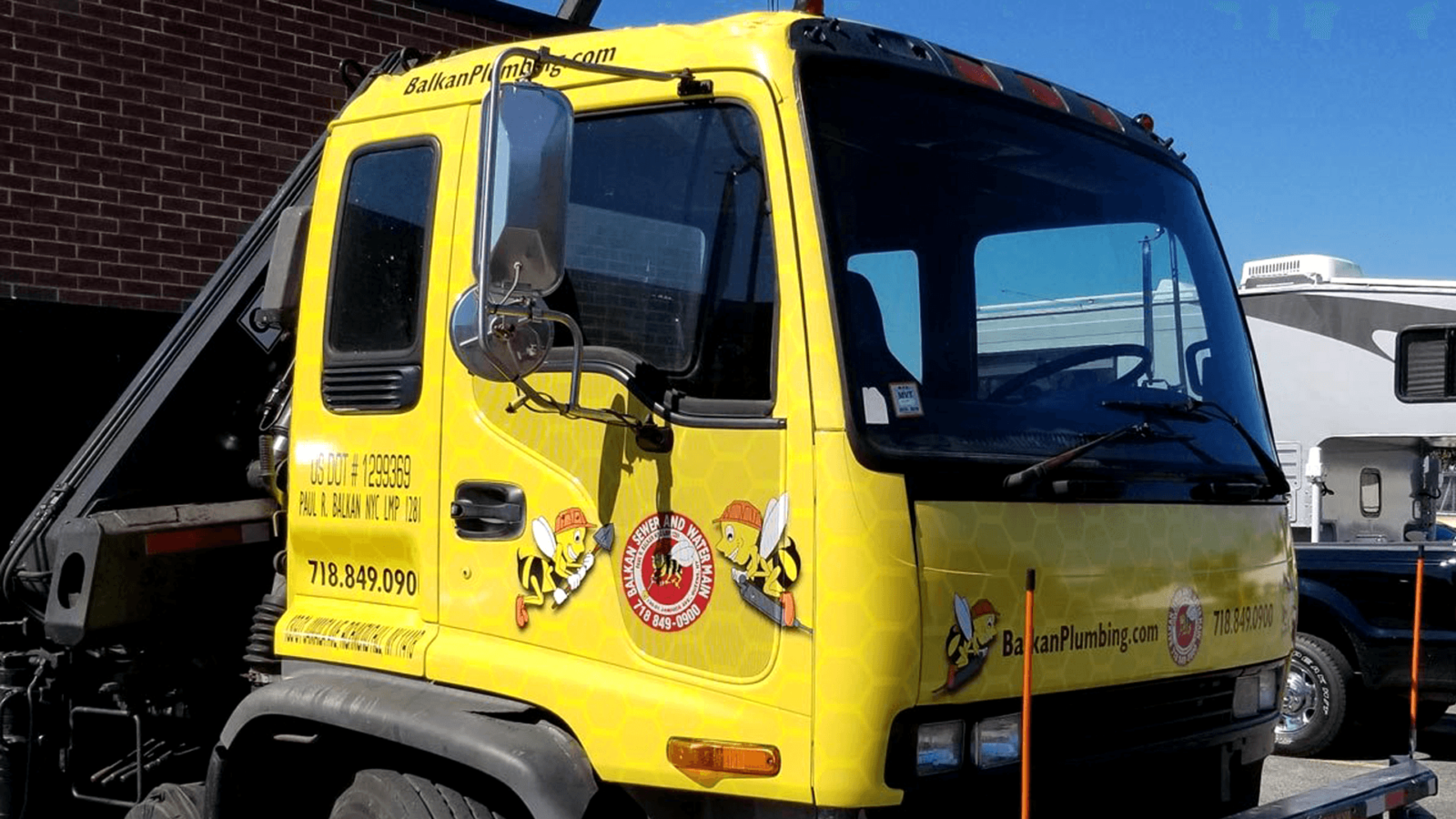 When people want to learn more about a business today, they will generally look us up online, or they may walk through our door. Walking into our business is a quick way for someone to learn more about the services we offer and how we could help them when they need our services. We wanted our sign to include just enough information to make people curious.
Our office will be one of the first things someone takes in about our business. Perfecting our business has always been essential to us. We believe the fantastic window graphics will make an impact on longtime and prospective customers, and further build our plumbing brand. We know a bare office building or a bare window will no longer cut it. Our window is prime space to project our name and promotional messages that will attract attention for the right reasons.
A Vendor That Partnered With Balkan to Build a Plumbing Brand
Sign Central Creative Services' consultants worked with us to create the amazing window signage you see today. The clear and crisp promotional window signage fits our business precisely. Our window has been personalized, but it remains professional because it has the right design. Our window signage has already drawn eyes and more attention.
More people are reading our information, taking in our logo, and becoming familiar with the services we offer. Eventually, more people will connect themselves to our brand. If you want to be seen with high-quality window graphics, from either inside or outside your windows, Sign Central Creative Services is ready to assist you. You can find them at 14C Burt Drive in Deer Park, New York 11729. Call them at (631) 586-5871 or visit www.signcentralny.com.
About Sign Central Creative Services
Sign Central Wraps is New York's premiere vehicle and window wrap specialists. We are a full service creative design and vinyl wrap installation company. We specialize in commercial, fleet and small business high-impact mobile marketing solutions. Turn your Commercial vehicle into a constantly moving 4-sided "billboard", where rush hour traffic becomes free advertising. With our advanced graphic design team, certified installers and fast turnaround times, Sign Central Wraps provides the most visually dynamic and cost effective way to reach potential customers that other advertising just can't offer.

http://www.signcentralny.com/about/
About Balkan Sewer And Water Main
The Balkan Team provides expert sewer and water main repairs and replacements. We are experts in all types of NYC underground plumbing. Balkan Sewer And Water Main Service was founded in 1952. Since its inception, the foundation of the company has been based upon integrity and honesty in all of our dealings. That solid foundation has enabled us to thrive in every economic climate. The year 2020 actually marks our 68th consecutive year in business. As we have grown, we have become increasingly dependent upon a "Team First" approach. What helps ensure a continuation of our high standards, overall integrity, and high company morale, is that same team approach. Complete client satisfaction has always been the number one goal at Balkan Sewer And Water Main. That is why we are NYC's largest and most trusted sewer and water main service in New York City. Simply put, if it's plumbing, and it's underground, we do it. For almost 70 years, and for over 70,000 New Yorkers to date, Balkan is "The Team You Trust".