New York, USA (June 30th 2020) FOR IMMEDIATE RELEASE:
Lean about our new sewer and water main mobile centric plumbing website! We considered the range of reasons people contact plumbing companies. That range includes simple repair requests, to curiosity regarding trade secrets. Team Balkan then put them all in one place: our new plumbing website. From the basics of how to contact us, to detailed regulations and solutions, to specific problems, you'll discover the answer there. Once you've explored Balkan's new website, we think you'll agree our site is one of the most complete, informative, enlightening places to find information about plumbing anywhere on the web.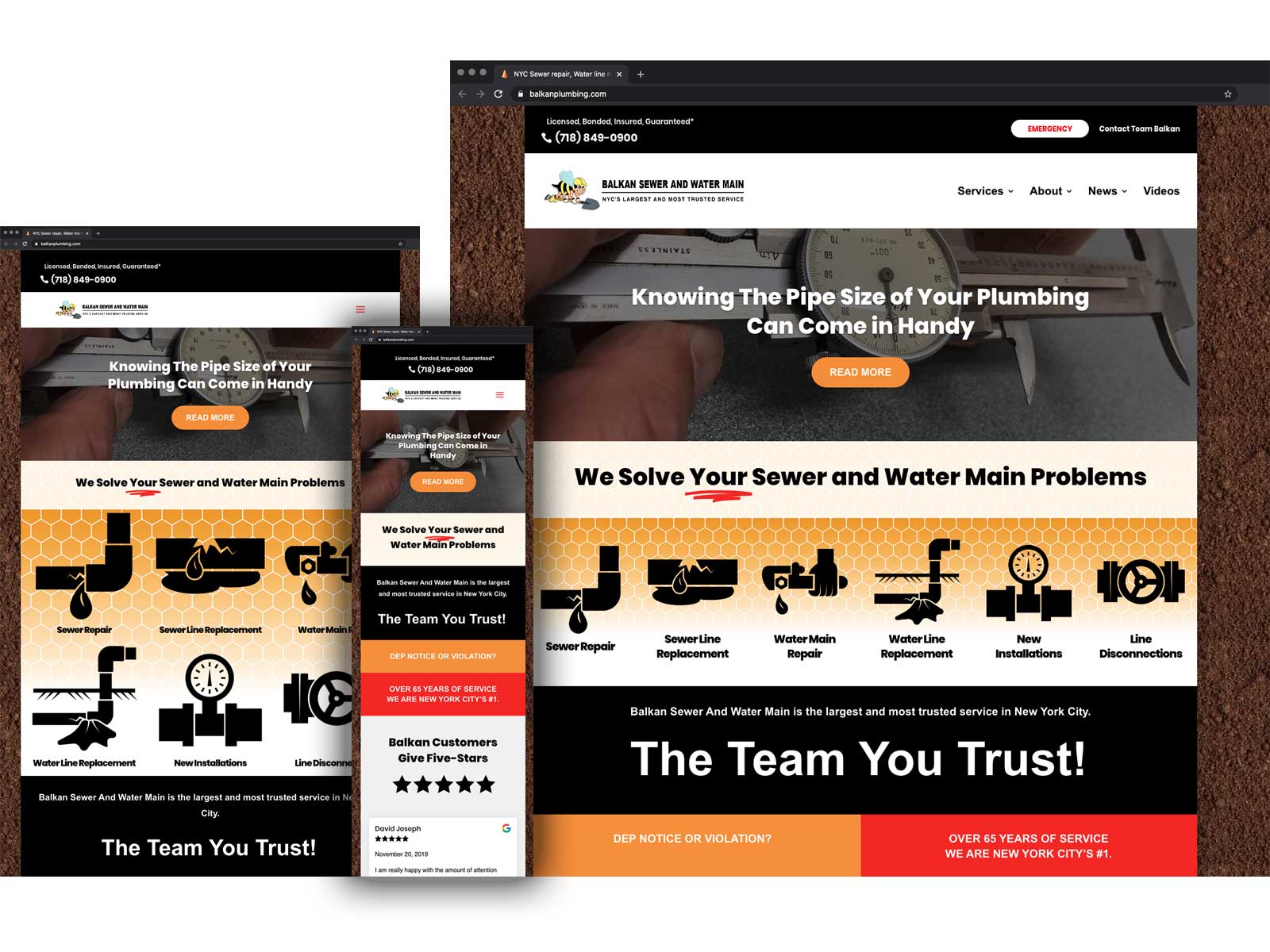 We take pride in our family business, New York City's largest and most trusted service. We can find our way around the underground, so we wanted our site to be thorough and easy to navigate too. Here are some topics you'll find on Balkan's new subsurface plumbing website.
Take a Tour of Our Sewer and Water Main Services
We know what you're thinking. These services cause disruption, wear, and tear on terrain and pavement. For reassurance, see the "services" section of our site to learn of our commitment to fixing problems quickly and safely. Then, take comfort that we promptly restore, and, if needed, professionally repave the worksite. Most jobs are started, completed, and repaved within 24 hours.
You'll learn reasons why it's wise to choose Balkan: Details of licenses, bonding, and insurance. Emergency service, guarantees, and a long history of serving New York City. As a matter of fact, after almost 70 years and over 70,000 customers served, Balkan is "The Team You Trust".
See our links to Instagram, YouTube, Facebook, and Twitter, if you're into social media.
Learn About Us Through Our Plumbing Website
Visit Team Balkan. We're a fun and attractive group, meet our Team via our Employee Spotlights. Read our family and business history (hint: it's one and the same). See our top officials' childhood pictures. We've been in this business since we were kids. Learn more about our history by reading about our founder, Joseph L. Balkan. His time spent in World War II, the Seabees, and how quitting smoking bankrolled the startup.
See our Sewer and Water Main Contractor Checklist. It lists important points to look for when hiring a contractor. Feel free to call other companies and inquire about the listed topics. Then compare their answers to ours. A big part of our plumbing website is devoted to making you a smarter and more educated consumer.
A FAQ Section With Accurate And On-Point Answers
Check out our Frequently Asked Questions. We've put together the answers for the most common and essential questions about contracting professionals for water and sewer line repairs.
Want to work for the best plumbing company in the greatest city in the world? Check out our job categories and what it's like to work for Balkan.
View Our Plumbing Website News Section
Get your sewer and water main education through our sewer and water main news articles. Browse our categories:
We Show and Tell Via Video
Want to lean more about your sewer and water main service? Watch our sewer and water main videos. See what we mean when we explain common types of repairs or jobs we've completed? Visit our video section. Seeing is understanding and believing, that's why we think video recording is so important.
The Big Picture
We tried to take as much care with our online site as we do with construction, repair, and restoration in relation to plumbing projects for which we are contracted. Our family taught us well, not just how to repair plumbing, but how to treat people. Competitive pricing and satisfaction are our priorities. Team Balkan makes certain that not only the repairs are done, but the entire system also works properly. Our Team returns your jobsite to the condition in which we found it.
We hope you have fun on our new sewer and water main mobile centric website, learning about our company, and a bit about plumbing. Then contact Balkan Sewer And Water Main with any questions or to schedule a repair. When you need us, Balkan's new website we'll be there.
About Balkan Sewer And Water Main
The Balkan Team provides expert sewer and water main repairs and replacements. We are experts in all types of NYC underground plumbing. Balkan Sewer And Water Main Service was founded in 1952. Since its inception, the foundation of the company has been based upon integrity and honesty in all of our dealings. That solid foundation has enabled us to thrive in every economic climate. The year 2020 actually marks our 68th consecutive year in business. As we have grown, we have become increasingly dependent upon a "Team First" approach. What helps ensure a continuation of our high standards, overall integrity, and high company morale, is that same team approach. Complete client satisfaction has always been the number one goal at Balkan Sewer And Water Main. That is why we are NYC's largest and most trusted sewer and water main service in New York City. Simply put, if it's plumbing, and it's underground, we do it. For almost 70 years, and for over 70,000 New Yorkers to date, Balkan is "The Team You Trust".