Six residential apartment towers in Woodside Queens, known as Big 6 Towers, started to suffer poor water pressure. This occurred on the start of a weekend. After calls to the DEP, and an on-site investigation, the complex completely lost water service by late Saturday. As it turned out, the 8″ private water main supplying the complex had ruptured. At that point well over 400 residents were left with no water supply.
Poor water pressure – a foreboding of bad things to come
Frequently poor water pressure can be from a minor defect, such as clogged strainers on a sink, or running flushometer toilets. But when poor water pressure is experienced by a large group of residents, in multiple buildings, it is sign that something very bad has occurred. When an entire building, or in this case a group of buildings, loses water pressure, there is a good chance that a major water main break has occurred. But in other cases, it is possible that a gate inside main control valve has dropped into the closed position, or some other event occurred.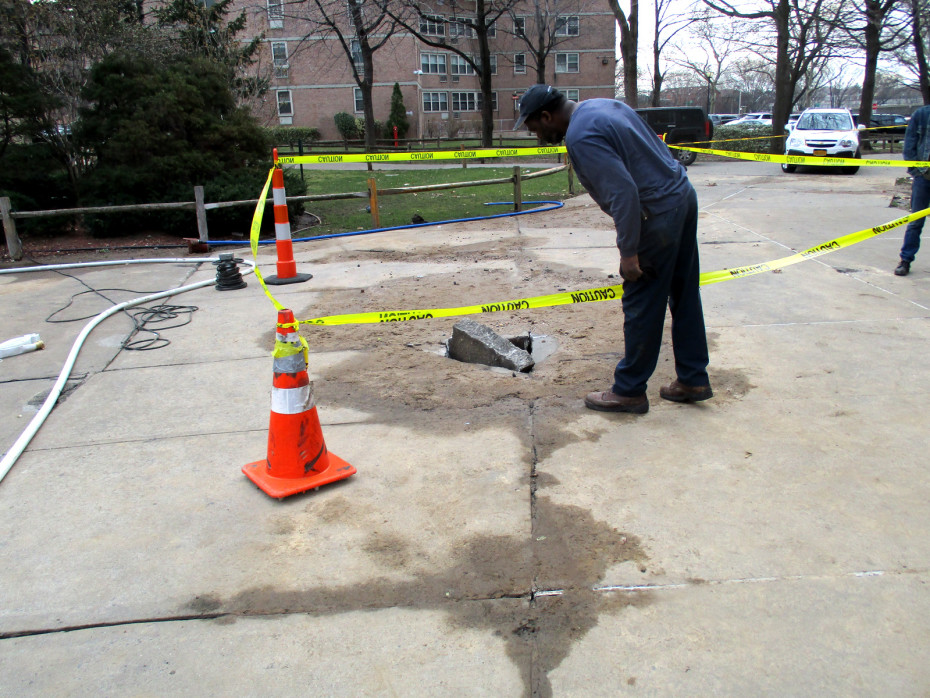 Because a loss of water pressure is hard to pin-point, the fact that the private 8" water main had ruptured was not determined until around 9:30am on Sunday. That would seemingly too late to receive repair service for the recently discovered water main break. But sometimes calling the right water main contractor will lead to service that exceeds one's expectations.
Water Runs Dry at Woodside Apartment Complex
Courtesy of NY1 News
Residents in seven Woodside apartment buildings were forced to used a streetside fire hydrant for water over the weekend.

By Sunday afternoon, residents of the Big Six Towers, near Queens Boulevard and 61st street, said they had been without water for around 12 hours.

People who live in the building said they were told a water main break was the reason they didn't have water. However, a spokesperson for the Department of Environmental Protection told NY1 that they didn't have any reports of water main breaks in the area.

Residents said the water stopped working around 10 p.m. Saturday.

They said they were told by the building's managers to get their water from nearby fire hydrants until the problem could be resolved.

"It's pretty hard to be without water. You realize it pretty quickly how much you need it," said Israel Martinez, who lives in the apartment complex.

"I am dealing with it. I bought water, and now, I am over here for water for the bathrooms," said Patricia Shalvey, who also lives in the building.
Fast response for a Queens water main emergency
Balkan Sewer And Water Main Service was contacted around 9:30am on a Sunday. The call was received through their 24 hour live weekend service center. Unlike many call centers, Balkan actually has both service staff and field personnel on-call throughout every weekend, and after-hours as well.
Within 2 hours of the original call, Balkan had a full crew mobilized on a Sunday, and on the job site working. Mobilizing for an emergency 8" Queens water main repair requires specialty tools, heavy equipment, and hard to find materials as well. All of the items necessary for a successful outcome were on-hand, and in stock, by Balkan as a matter of course.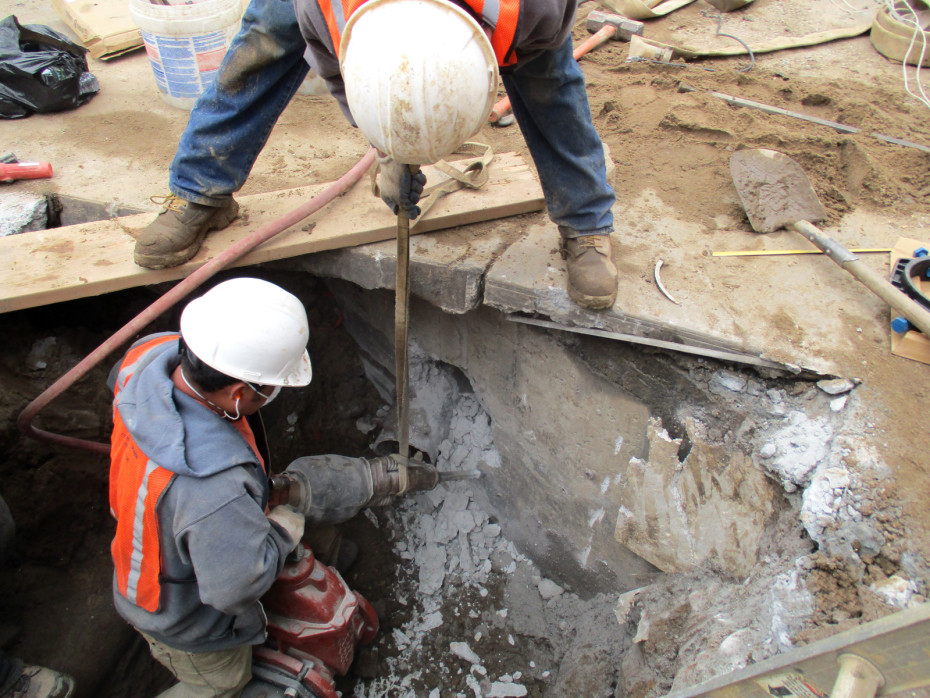 More important than having the hard assets on hand, is having the "people" assets. That translates into a devoted team of professionals. One that will report to work on a Sunday in order to restore water service for hundreds of people, no questions asked.
Same day completion of a Queens water main emergency
Even though the water main repair work was not started until around 11am on a Sunday, a permanent repair was completed that very day. The full scope of work demanded locating and exposing the break, removing the defective section of pipe, and installing a new section of 8" water pipe. By late Sunday afternoon water service was restored to the 7 apartment buildings.
But other add-on services were provided as well, all within that time frame. A new main control valve was added to the main line. And provisions were made to ensure that a break at that point would not occur in the future. This was done by enlarging an existing opening through a concrete wall. Balkan also carted away all of the excavated material because it was deemed to be unsuitable as backfill material. needless to say, the poor water pressure condition was alleviated, and the site was left safe for the night.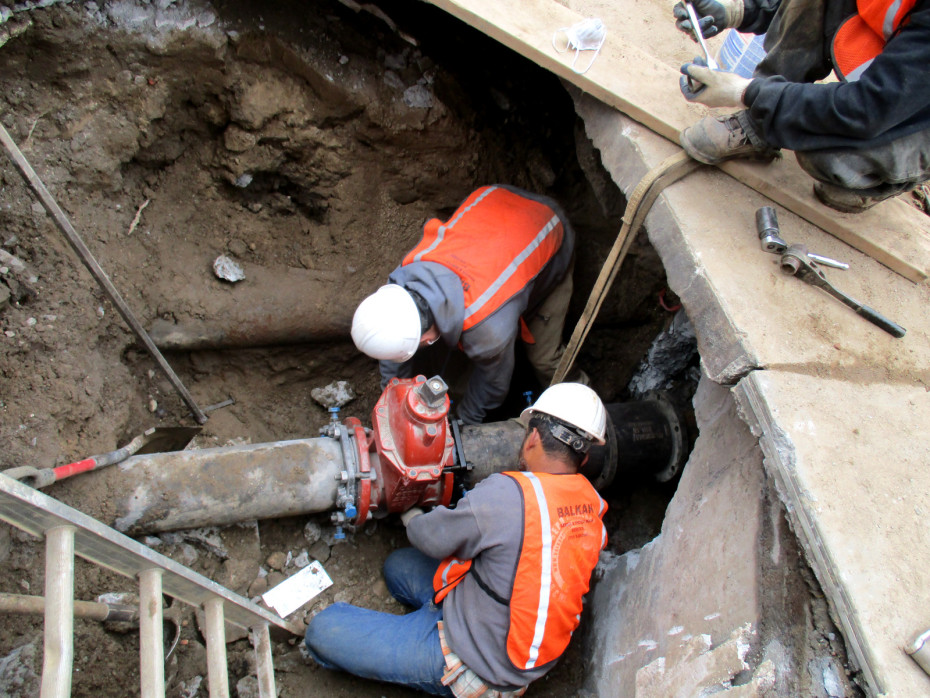 The very next day, on Monday, clean backfill material was trucked to the site and carefully compacted. A highly Balkan cement crew then restored the disturbed concrete area in "full flag" restoration. The site was then left broom clean; all within 30 hours of the original call for service. Knowing who to trust for a Queens water main emergency can make all the difference. That may be why for around 30 years, more New Yorkers trust Team Balkan for their sewer, water main, and poor water pressure issues than any other plumber in the entire city.