Water line repair work is a specialty in the plumbing field. And when a plumber in Queens is needed for subsurface water line work it helps to know who to trust. Most Queens residents are familiar with Balkan Sewer And Water Main, since they have been around for over 60 years. A recent leak in the street proved why the Balkan Team is so trusted, and why having over 60 years of experience can have its benefits.
Water main break in Rochdale Village
173rd Street in Rochdale Village has had visible leaks in the roadway for a long period of time. Whenever multiple leaks are present the condition must be carefully diagnosed and tested before an improper or unnecessary repair is made. In the case of this job site Balkan took special precautions to ensure that in fact the line they were hired to replace was leaking.
After the roadway was opened and the tap connection exposed, Balkan performed a meter leak test. This is a way to 100% verify if a leak exists on a water service line. First the tap connection on the city water main and the main valve inside the house must be turned off. Then a properly functioning water meter is connected between the tap connection and the end of the existing water service line. If no leak is existing on the water service line the leak dial on the meter will not spin or move. If there is leak on the line the leak dial on the meter will move and register that water is running through the line. Since the line is turned off inside the house, the only way water could be running is through a crack or break in the line. In this particular case the DEP's finding of a leak was correct and all work proceeded to replace the lead water line.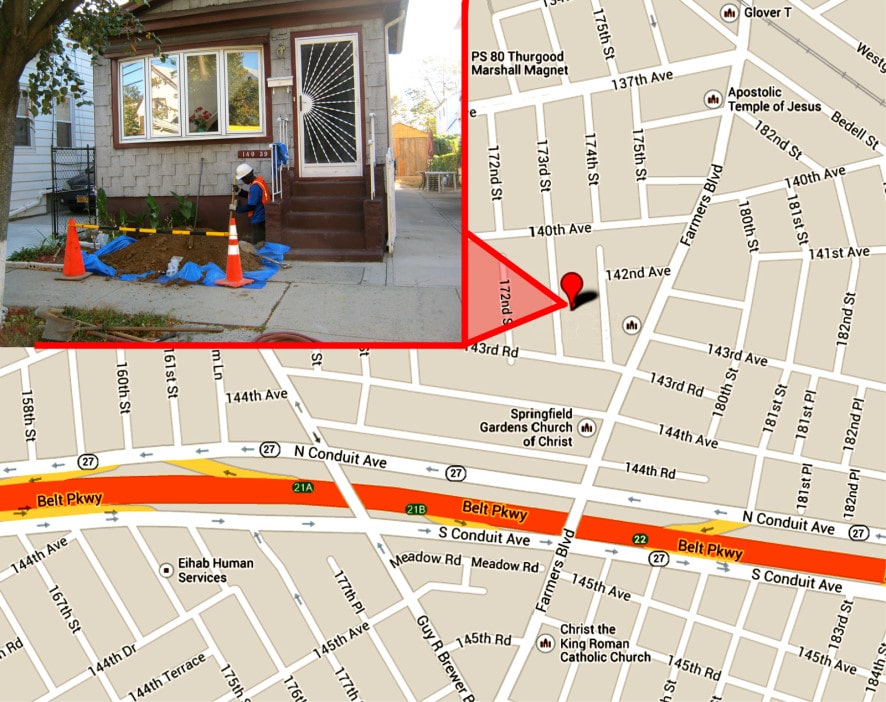 [button link="/contact-balkan-plumbing/" bg_color="#EA6E24″ window="yes" size="large"]Get a no-obligation on-site analysis today![/button]
What was unusual was that there was another active leak in the roadway from another source. Balkan called 311 and notified the DEP that they had to perform further investigations. Many times underground water line leaks are difficult to diagnose. However Southeast Queens poses special challenges that the rest of NYC does not. Up until the early 1990's the Jamaica Water Supply company provided service for this area. JWS, as Jamaica Water Supply was commonly called, frequently had unmapped water mains and abandoned service lines in their service area. These lines frequently were never properly shut off or kept track of. In many instances these lines leak and there is no record of them existing or their exact location. In this case the second street leak took weeks to diagnose and attend to.
More about testing for water line leaks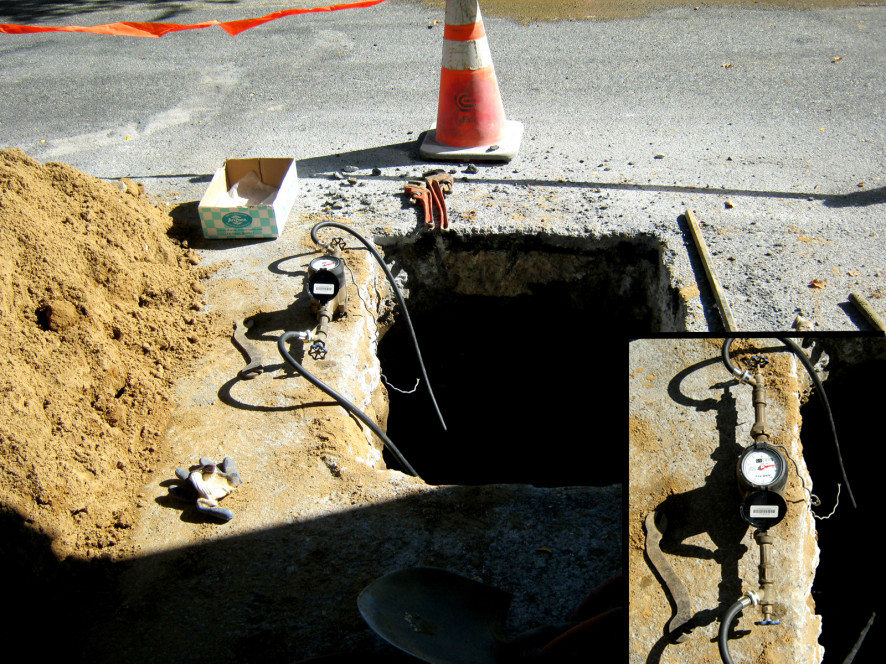 Accurately determining if you have a water line leak requires no special tools or equipment. But it does require care and a step-by-step process. A homeowner can perform the test themselves but calling a licensed plumber and your local water authority is usually the best bet and you will incur little or no cost. What follows is a commonsense and easy to follow guide on how to check for various types of water leaks. [Read the leak testing guide]
Only in some very particular cases, such as the above instance, is a water meter leak test advised. Unfortunately a meter test can only be performed after permits have been secured and the roadway has been opened.
A Queens Plumber who knows the territory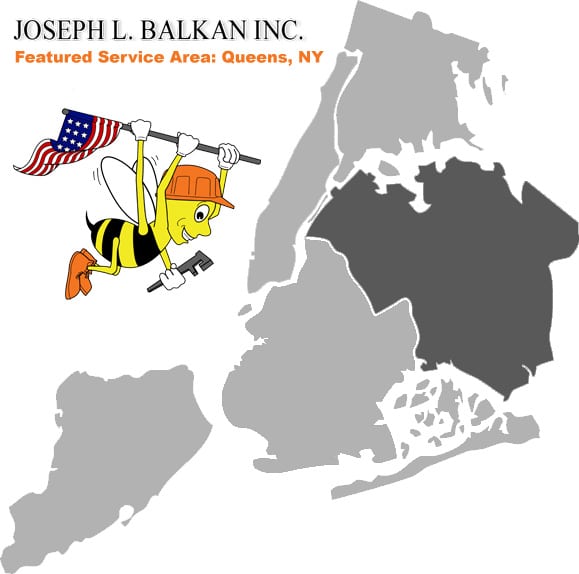 Just like Rochdale Village, each neighborhood in Queens has special characteristics that affect sewer and water line work. From one block to the next ground conditions may vary or other conditions may vary as well. For instance in areas of Woodside and Jackson Heights ground conditions vary greatly. Only an experienced Queens plumber who specializes in water main work, like Balkan Sewer And Water Main, will know that when the BQE was built through these neighborhoods that large rocks removed from the site were used as fill on the East side of the new expressway. This land in Woodside and Elmhurst would later be developed with builders and subsurface contractors alike encountering the most difficult excavating in the entire borough.
Having over 60 years of experience as a Queens plumber specializing in sewer line and water main work enables Balkan to be familiar with each part of the Borough. No matter the service required, when it involves subsurface plumbing count on Balkan.
[button link="/contact-balkan-plumbing/" bg_color="#EA6E24″ window="yes" size="large"]Get a FREE no-obligation site visit today![/button]
[credit]