When it comes to sewer line repair work in NYC every borough has its own unique personality. Queens sewer line repair work frequently involves conditions not found in other areas of NYC. Some of these conditions are attributable to Queens being developed as a place to reside later than some of  the other Boroughs in New York City. In particular there was a tremendous building boom after World War II. This it seems led to some rather sketchy subsurface house sewer installations – In particular was how many house lines were connected to the city sewer it in a relatively short period of time. It may have been that the volume of work outstripped the inspection divisions capability of overseeing it properly at that time.
Balkan Sewer And Water Main Service recently performed a full replacement of a house sewer line in Forest Hills, Queens. The plumbing work was moving along as planned until the point of connection to the public sewer was exposed. That is when Balkan uncovered a number of complicated issues that were also not to present code requirements.
City sewer connections being too close together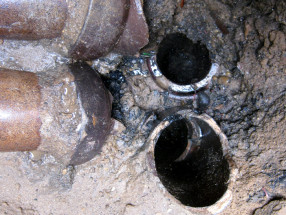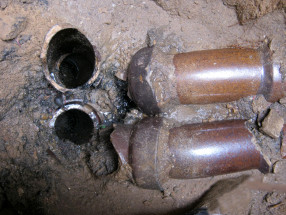 When connections are made to a sewer there is a NYC DEP requirement that each connection is 5′ away from each other. This avoids possible damage to the main sewer line and also allows for any future required repair work to be done more easily. If connections are too close together it becomes impossible to repair one sewer pipe without also taking apart other sewer pipes close by. That is exactly what happened in the case of this Queens sewer repair job.
In order to repair one house sewer connection at this job-site Balkan had to take apart four house sewer lines and redo all four connections. Once again because of shoddy work done in order to save a few dollars years before a homeowner was left to correct someone else's mistake. Specialty extra heavy cast iron fittings and pipe had to be used to reconnect all four houses back to the main trunk line sewer with water-tight gaskets and fittings. Using top notch domestic materials helps ensure a long-lasting sewer repair.
Two Queens sewer lines connected into one pipe
Unfortunately at the time the original connections were made for these Queens sewer lines the contractor connected two sewer pipes for two different houses into one pipe. That sewer contractor then made one connection to the city sewer for both houses. This has never been legal in NYC, each house must have its own individual connection to the main public sewer.
This is another case where a plumber saved a handful of money in order to perform illegal work and cause future problems for the homeowners. Once connections are made in this manner, coupled with other issues, both houses must be reconnected back in the same manner. It is not legal to disconnect a house and eliminate their service, and there was no room available to make a new connection – So in essence there are times when  plumbing work that is not to code cannot be corrected, only properly repaired.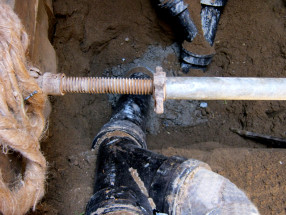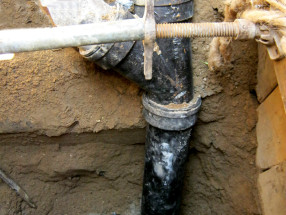 Queens sewer line repairs require answers not excuses
There is an old saying "Just tell me what time it is, not how the watch was made". And that is how it is when a homeowner has a water main or sewer problem – They want it fixed not a long story about what has to be done to fix it.
In the case of the above described sewer repair all sorts of obstacles presented themselves to Balkan Sewer And Water Main Service. From the sewer in the roadway being almost 15′ deep, to multiple underground utilities in the way and dealing with another plumbing contractors improper work from years ago. But with over 60 years of experience in the NYC plumbing industry Balkan seems to have an answer to any subsurface problem. That starts with a reputation based on honesty and integrity, which allows for a respectful relationship with the NYC DEP field forces. Working together as professionals a reasonable solution and remedy was reached for a professional repair of this house sewer with very unusual circumstances.
In addition having a 48,000 square foot facility containing specialty fittings and a full stock any size and length pipe allows for work to proceed seamlessly regardless of the situation. Balkan makes sure to secure all required permits and inspections – A sign-off is your final assurance of a job well done and to code.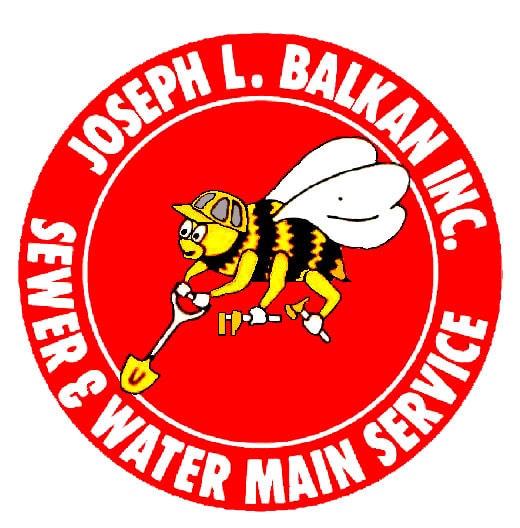 As a final touch on this Queens sewer line installation Balkans in-house paving crew installed a concrete roadway base. Balkan used a concrete mix which exceeded NYC DOT requirements. Balkan then had it permanently paved and tar sealed the very next day. Likewise Balkans in-house cement crew professionally repaired all cement areas disturbed during the installation. There are many reasons why more New Yorkers trust Balkan to repair and replace their water and  sewer lines than any other contractor.