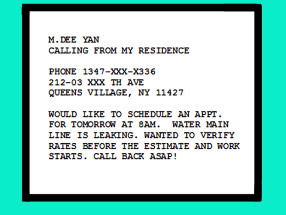 Recently water started bubbling out of a roadway in Queens Village right near Hillside Avenue. When the NYC DEP was called to the scene they quickly determined that is was a home owners water service line leak and issued them a violation called a Three Day Notice. While there is no fine associated with this notification it still must be attended to promptly. Since this was a Thursday night, Friday would be the last work day before the start of the weekend. The home owner was simply hoping to get an estimate Friday morning for their Queens Village water main problem. But exceeding expectations in an emergency is what Balkan Sewer And Water Main is noted for.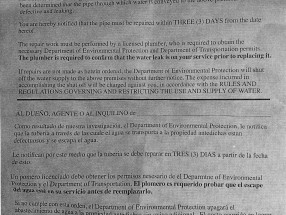 In the case of this Queens Village water main leak Balkan contacted the owner and arranged to be at the house at 6:30 AM, before the owner had even expected service to be available. That was followed up with a fair and agreeable quote that the home owner agreed to. This allowed for a water main installation crew to be dispatched the very same day and on-site by 8 AM. Being able to provide sewer and water main service for Queens residents in a timely manner and at a fair price takes the stress out of a stressful situation. Peace of mind means that no matter the degree of emergency every Queens resident will receive a uniform quote for water main and sewer work.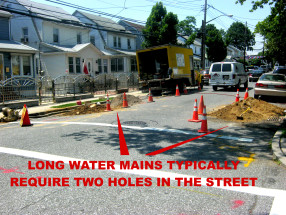 Prompt service also means that when the DEP issues a notice with a time limitation all the work will be completed well before the expiration of the notice. Hand-in-hand with exceeding a clients expectations is restoring all disturbed surfaces the very next work day. Joseph L. Balkan Inc. has in-house paving and cement crews that typically restore all disturbed areas within 24 hours. This water main replacement proved to be no exception. The 'long' water service line was completely installed and all excavations backfilled by Friday afternoon. All disturbed areas were permanently restored the very next work day.Joseph L. Balkan Inc. completes most Queens water main replacement and repair work within 24 hours. All disturbed areas are typically restored the very next work day. A uniform pricing policy is a home owners guarantee of a fair price each and every time.
What Is The Cost Of A Water Main In Queens Or Brooklyn?
Water main replacement cost in Brooklyn and Queens is determined by only a few basic factors. For a number of years now the medium price of a Queens water main replacement and Brooklyn water main replacement is between $2,200.00 and $3,500.00. The medium price is a rough average of all water main replacement work by all companies. Some jobs will cost less than that and some jobs more than that. But that is a safe price range to expect to pay. The basic issues that will make a water line replacement cost be higher or lower than that range are as follows:
What side of the street is the NYC water main on?
Typically there are fire hydrants located on each block and on only one side of the street in Queens and Brooklyn. The NYC water main is usually located 8′ out from the curb line on the side of the street where the hydrant is located.  If your house is on the same side of the street as the fire hydrant it is referred to as a 'short' water main. If your house is across the street from the hydrant it is referred to as a 'long' water main. A typical price difference for a 'short' or 'long' water main replacement is between $500.00 and $1,000.000. In some rare cases the NYC water main can be located under the public sidewalk, which makes the cost on the low end of the price range because the roadway does not have to be opened. [Read more about water line replacement cost]
What is the cost of Queens Village water main work?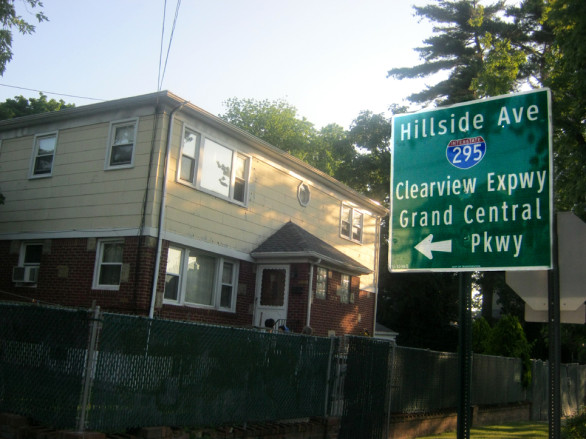 Queens Village in Queens, NY
Like most neighborhoods in New York City, Queens Village has its own unique characteristics. This applies to Queens Village water main work as well. Because Queens Village was previously serviced by the now defunct Jamaica Water Supply (JWS) Company most service lines are old and undersized. Most tap connections on the public main are undersized as well. That means that when Queens Village water main work is required the new line must be enlarged and a new tap connection is typically required as well. A new tap connection only costs around $300.00 and the cost of K copper does not comprise much of the total cost of a water line replacement.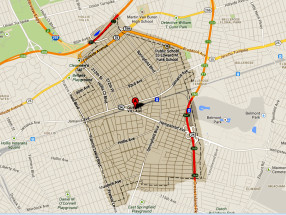 On the plus side for property owners in Queens Village is that the ground conditions are usually very good for hand excavation. Unlike some other areas in Queens the soil conditions are usually very sandy which makes water main work easier to complete. Because of the positive soil conditions the cost of Queens Village water main work will still fall in the expected price range, even including the larger sized copper and new tap connection. As an example most 'short water' main installations including a tap connection will cost around $3,000.00.
A little bit about Queens Village
courtesy of wikipedia
Queens Village is a mostly residential middle class neighborhood in the eastern part of the New York City borough of Queens. The Queens Village Post Office serves the ZIP codes of 11427 (Hollis Hills), 11428 (central Queens Village), and 11429 (Bellaire). The neighborhood is part of Queens Community Board 13.
Shopping in the community is located along Braddock Avenue, Hillside Avenue, Hempstead Avenue, and Jamaica Avenue, as well as on Springfield Boulevard. Located just east of Queens Village, in Nassau County, is the Belmont Park race track.
History of Queens Village
Queens Village was founded as Little Plains in the 1640s. Homage to this part of Queens Village history is found on the sign above the Long Island Railroad Station there. In 1824, Thomas Brush established a blacksmith shop in the area. He prospered and built several other shops and a factory, and the area soon became known as Brushville. On March 1, 1837, the railroad arrived. The first station in the area was called Flushing Avenue in 1837, Delancy Avenue by June 20, 1837, and Brushville by November 27, 1837, likely about a mile west of the present station. In 1856, residents voted to change the name from Brushville to Queens. The name "Inglewood" also was used for both the village and the train station in the 1860s and 1870s. The name Brushville was still used in an 1860 New York Times article, but both "Queens" and "Brushville" are used in an 1870 article. Maps from 1873 show portions of Queens Village (then called Inglewood and Queens) in the town of Hempstead, but 1891 maps show it entirely in the town of Jamaica.
After the Borough of Queens became incorporated as part of the City of Greater New York in 1898, and the new county of Nassau was created in 1899, the border between the city and Nassau County was set directly east of Queens Village. A 1901 article in the Brooklyn Eagle already uses the full name Queens Village, a name that had been used as late as the 1880s for Lloyd's Neck in present-day Suffolk County. In 1923, the Long Island Railroad added "Village" to its station's name to avoid confusion with the county of the same name, and thus the neighborhood became known as Queens Village.
Queens Village was part of an overall housing boom that was spreading east through Queens from New York as people from the city sought the bucolic life afforded by the less-crowded atmosphere of the area. Today, many of those charming and well-maintained Dutch Colonial and Tudor homes built in Queens Village during the 1920s and 1930s currently continue to attract an interestingly diverse population.