Recently a Queens water main break erupted and started flooding out a roadway in Far Rockaway on Beach 59th Street. This water main break was particularly devastating as it involved a 6″ ductile iron line completely blowing apart form being exposed to stray underground electrical current over a prolonged period of time. Apparently this was a known condition because most of the 6″ water main had been covered in PVC plastic to protect it, but a portion had been left exposed and unprotected.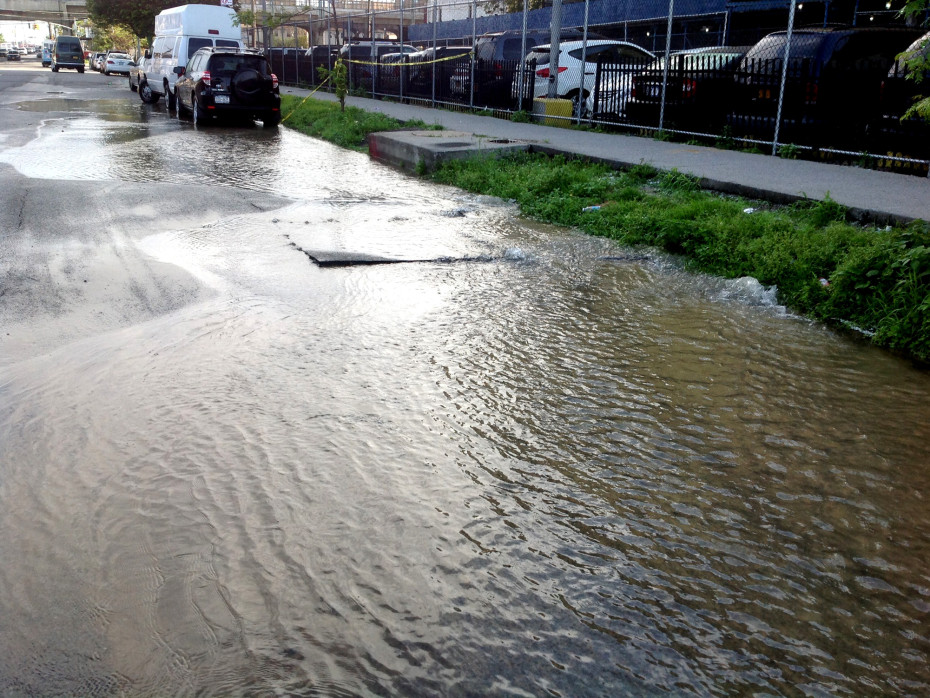 As Queens water main breaks go this particular break was extreme. Even though the call came in after hours it required same day service or a danger to the general public and interruption of service would result for the residents of the affected property. Water was flooding down the roadway and made the street impassable. Furthermore the sandy soil under the road was being washed out and the road undermined. Even though the damage at first was not visible, after excavating and closing the wet connection the road damage was extensive. When the undermined area of the roadway was removed it measured over 300 square feet – around 15′ by 20′ of the street was gone.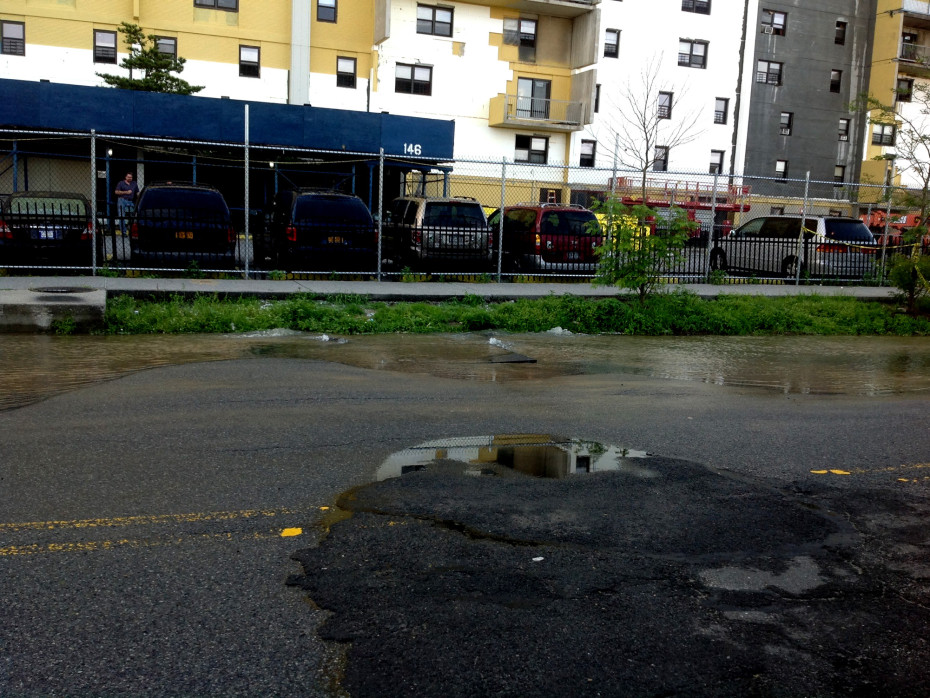 Balkan was the licensed plumber called to the scene and they responded within hours. Balkan is known to have a skilled labor force, specialty equipment, and a full spectrum of plumbing material in stocks. That meant that work was not just started the same day, but that the water main repair was completed the same day as well. 6″ Ductile iron pipe, specialty couplings, retainer glands, and even protective tape to prevent future electrolysis were in stock and delivered to the site. In addition a NYC DEP inspector was on site to inspect and sign off that proper repair work was performed meeting code requirements. To ensure a long lasting water main repair Balkan field forces used the specialty plastic insulating tape to cover all the new pipe and protect if from any electrolysis condition in the future.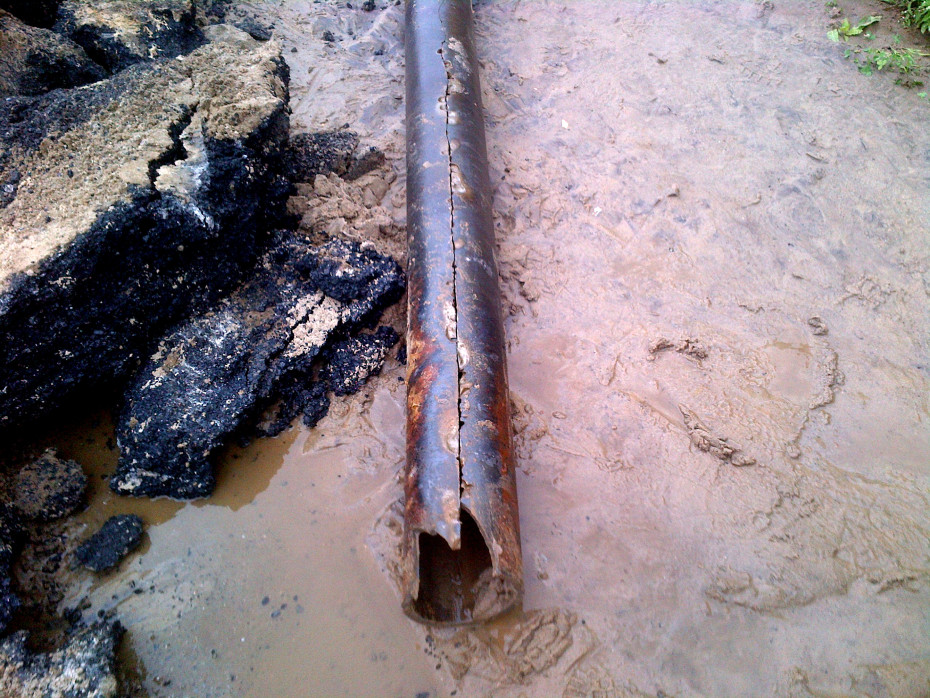 A NYC DEP sign-off and a written guarantee means peace of mind for a client who suffers through a stressful and emergency plumbing repair.
Of great importance to the general public is how a public roadway is backfilled, compacted, and restored. All too frequently proper care is not taken to make sure that future sinkage and pot holes do not appear. In this case, after the Queens water line break was taken care of clean and dry backfill material was trucked to the site. All excavated material and damaged areas of the roadway were carted away and properly disposed of at a licensed dump site.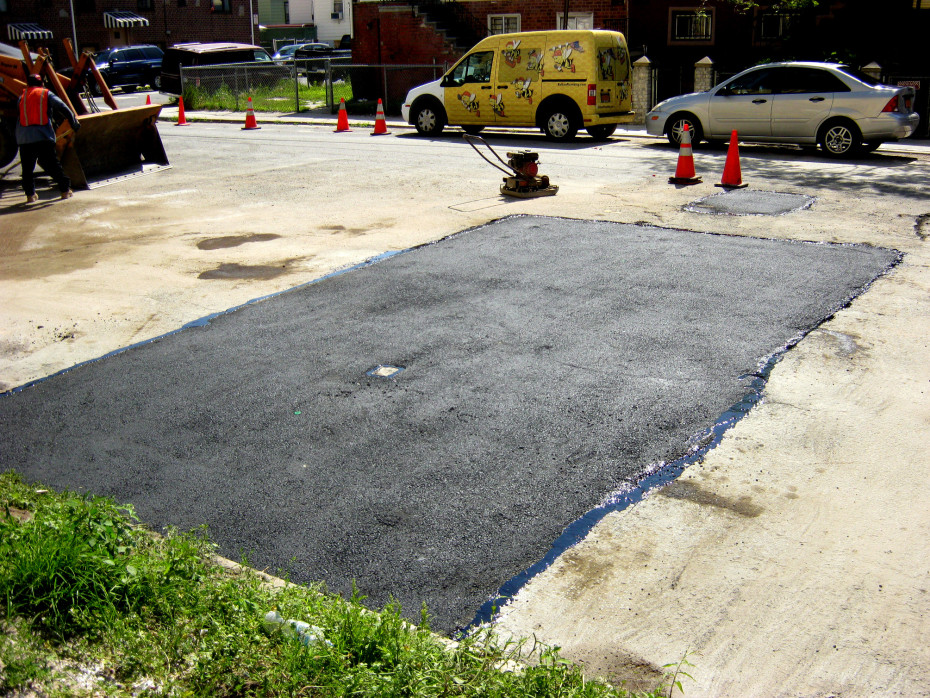 In less than 30 thirty hours the 6″ water line was repaired and over 300 square feet of city roadway permanently restored. Balkan Sewer And Water Main provides results and solutions – not excuses. After careful compaction a concrete road base was installed that exceeded the strength of the existing roadway and actually exceeded NYC DOT code requirements. Within 30 hours from the time work had started over 300 square feet of roadway had been repaved and open to traffic. Having in-house specialty crews allows Balkan to make the extraordinary – ordinary; and all at a price that was thousands of dollars less than another water main contractor.
What is pipe electrolysis?
Electrolysis and its negative impact on NYC water service lines is more widespread than one may think. Electrolysis is primarily caused by stray DC current (direct current), as opposed to AC current (alternating current).  DC electricity is typically used by the NYC train system and runs underground. AC current is used by residential and commercial buildings and does not pose the threat of pipe electrolysis. Electrolysis can also be caused by unlike metals coming into contact with each-other, such as galvanized pipe and brass pipe.
Why stray DC current is harmful to certain water lines
Different water main materials have different properties including how well they conduct electricity. As an example lead and ductile iron pipe are very poor conductors of electricity and are rarely affected by stray electric current. However copper and brass are very good at carrying electric current. That is why wiring is typically copper insulated with rubber or plastic. Unfortunately K copper water tubing, and brass to a lesser degree, is not meant to carry electricity. If stray electrical current travels through a copper water main it will usually rot out in a year.