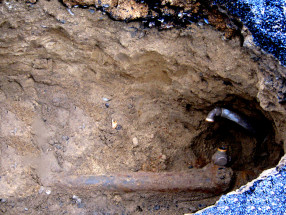 A Queens water main break recently resulted in the NYC DEP excavating and shutting off a tap connection. That left a Queens property owner with no water service for themselves and their tenants as well. Even though this call for service came in at the end of a workday Balkan Sewer And Water Main Service dispatched a Field Supervisor to the site to check on the water main break. As is stated Balkan policy the site visit was free and at no obligation. In addition Balkan has a uniform pricing policy. This uniform pricing policy is adhered to even when service is required after-hours and for an emergency water main situation.
Why was the tap connection shut by the NYC DEP?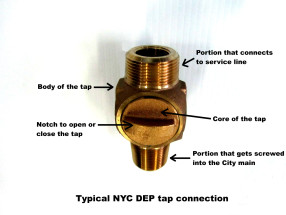 In many cases the NYC DEP will excavate to determine the source of a leak if other means of determining the water leak are inconclusive. Typically listening devices are used. In this case after the excavation was made by the DEP they determined that due to the severity of the water main break that leaving the leaking water service line on and excavation open would create a dangerous condition. The DEP had no choice but to close the wet tap connection and backfill the excavation.
How was this Queens water main break handled?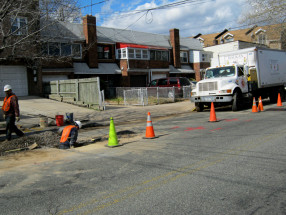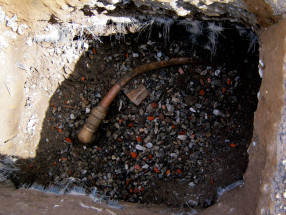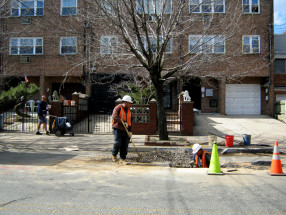 Balkan Sewer And Water Main Service uses a 'Uniform Pricing Policy'  enabling this Queens property owner in distress received the best price possible, regardless of the fact that they had an emergency situation.
A full water main crew arrived on site at 7:30 AM and had the water main repair complete, and water service restored before 12 Noon. Balkan uses approved brass fittings and domestic K copper – An assurance of a high quality and long-lasting repair.
All wet and unsuitable soil and debris was trucked away. Clean and dry backfill material was brought to the site and used to fill the hole and make sure it would never sink – Balkan has in-house quality assurance.
The roadway was permanently restored within 24 hours of completion of the water main repair by Balkan's in-house paving crew.
Why choose Balkan Sewer And Water Main Service?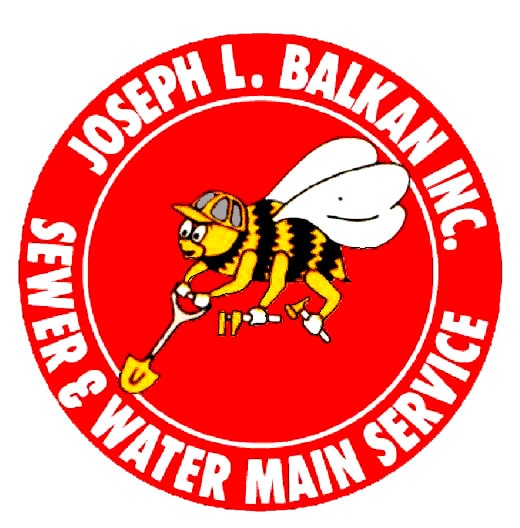 When you have a Queens water main problem, or a main water line or sewer problem in any borough of NYC, Balkan is your one-stop-shop.
A 48,000 square foot facility containing any material, tool, truck, or piece of equipment to handle any nature of sewer or water main repair problem.
The most competitive and uniform pricing in the NYC sewer and water main industry.
An unparallelled level of service from the most experienced team of professionals in NYC.
From 1952 to 2012 – Over 60 years of continuous operation under the same family name.