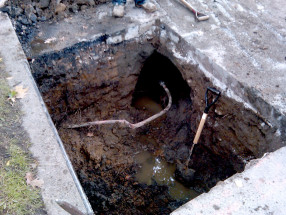 Sometimes even the best of contractors can hit a water service line unexpectedly and need emergency service for a water main break. Just such a case happened when a reputable paving contractor broke a Queens water main recently in Forest Hills. Responding in minutes not hours to an emergency is a Balkan trademark. Knowing that an owner of the company is always on hand is nice to know and having an experienced representative on the site in minutes just adds to the level of service when a water main break occurs.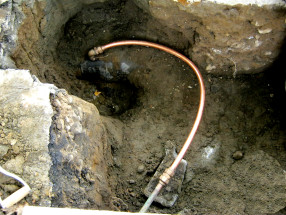 As it turned out a simple water line repair could not be done because the wet tap connection on the NYC water main was damaged. Specialty fittings were needed to correct the damage to the tap connection and then replace a section of the existing copper water service line. Having specialty fittings in stock and a warehouse full of copper means that any type of water main break gets attended to in a timely manner. In addition because Balkan uses a 'Uniform Pricing Policy' this contractor received top-notch emergency service but at the same fair price that Joseph L. Balkan Inc. has built its reputation on.
It just so happened that the homeowner affected by this water main break had their water  service line replaced by Balkan only two years earlier. By using Balkan to perform the water main repair the paving contractor on the site ensured that the homeowners unconditional 10 year guarantee remained intact and no future disputes would ever arise.
What is a tap connection?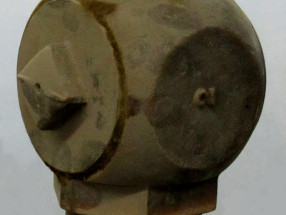 A tap connection refers to the connection made into a NYC or public water main for a water service line for an individual property. In New York City before the advent of cast iron water main pipes a city water mains were actually made out of wood. The widely used term 'fire plug' refers to a time before fire hydrants. When a fire erupted the firemen of the day would actually cut a hole into the wooden NYC water main in order to have access to water and attempt to put the fire out. This actually was a step up from a 'bucket brigade'. At the conclusion of the fire, and the need for water, the opening made for fire department use would be plugged – Hence why it is called a 'fire plug'. A wet tap connection for a main water line would be installed in like manner. Click to learn more about wet tap connections.
About Joseph L. Balkan, Inc.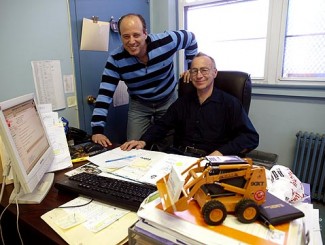 Balkan Sewer And Water Main is the largest sewer & water main replacement company in NYC. We are licensed, bonded, and insured. As a family run business in continuous operation for over 50 years. Our 10 year unconditional guarantee on replacements means that we continue to stand by our work, long after the job is done. We are expertly equipped, from our 48,000 square foot facility to dozens of trucks, heavy moving equipment, backhoes and pneumatics. Choose Balkan Sewer And Water Main for your next sewer repair, water line installation, emergency water main break, water line leak, NYC DEP violations, sewer replacement, water line replacement, sewer trap, backwater valve, hydrants, manholes, specialty water main work, area drain, and trench drains. Contact Balkan Sewer And Water Main today for a free site visit and expert advice.