Galvanized pipe is probably the poorest of water main materials. Unfortunately for one building owner, a recent Queens water main break in South Richmond Hill helped prove why. Galvanized pipe interacts with water and both corrodes and rusts. The South Richmond Hill area was served by the Jamaica Water Supply until the early 1990's. That is an important point because Jamaica Water Supply used well water for their clients, and well water is hard water. Once the former JWS service area was taken over by the NYC DEP the water supply became soft water. That was because the new source for water was the NYC reservoir system, not ground wells. Soft water from a reservoir interacts with galvanized pipe at a much faster rate and accelerates process of corrosion and rust.
Another issue with Galvanized pipe is that when it breaks it usually results in a rupture and an emergency situation. That was the case in this Queens water main break.
About this Richmond Hill Queens water main break
When a Queens water main break occurs at night an owner may be unsure of the type of response they may receive. When Balkan Sewer And Water Main received this owners night time call an experienced Field Supervisor was on the site within minutes. Balkan provides free and no-obligation site visits any day of the week and at all hours of the day.
The owner received a price from Balkan that was actually below the typical price for a Queens water main replacement. This was because the city main favored his side of the roadway. So even though this was an emergency water main break on Liberty Avenue the total price was only $3,350.00 for a complete replacement. Like all Balkan sewer and water main replacements it came with a ten year guarantee. The ten year guarantee is backed by domestic brass fittings, a high quality valve, and K copper manufactured in the U.S.A.
No matter the time of day or the degree of emergency Balkan Sewer And Water Main utilizes a uniform price policy to ensure fair prices at all times. That is why Joseph L. Balkan Inc. gets counted on to respond to more Queens water main breaks than any other NYC plumbing contractor.
As is customary with Balkan a crew was on site first thing in the morning and the water leak was stopped shortly afterwards. The new water line installation was completed by early afternoon, including re-cementing the disturbed sidewalk area.
Water service lines in the old Jamaica Water territory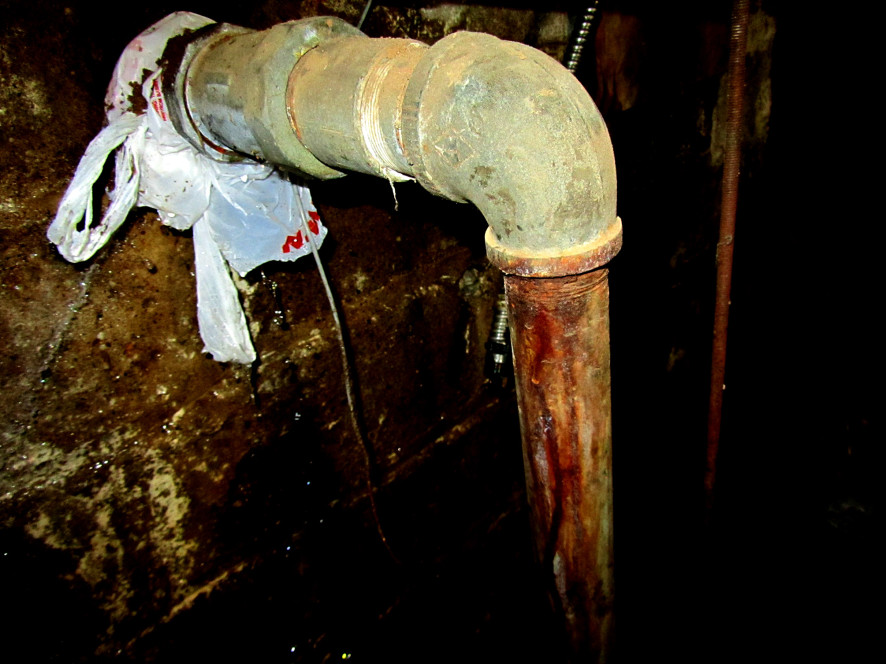 The existing water service line for this building is indicative of the type of issues the customers of the old Jamaica Water territory still have to deal with. The existing water service line was a hodgepodge of different types and sizes of pipes and material. In the roadway the service line was 1 1/2″ lead, then under the sidewalk it was 2″ galvanized pipe. After the line entered the building it reduced down to 1 1/2″ galvanized pipe and had an 1 1/2″ main control valve. To top things off there was a galvanized dresser coupling holding the pipe together just inside the foundation wall. The dresser fitting is a compression fitting that has never been legal, and that is where this Queens water main break occurred.
[button link="/contact-balkan-plumbing/" bg_color="#EA6E24″ window="yes" size="xl"]Get a FREE no-obligation site visit today![/button]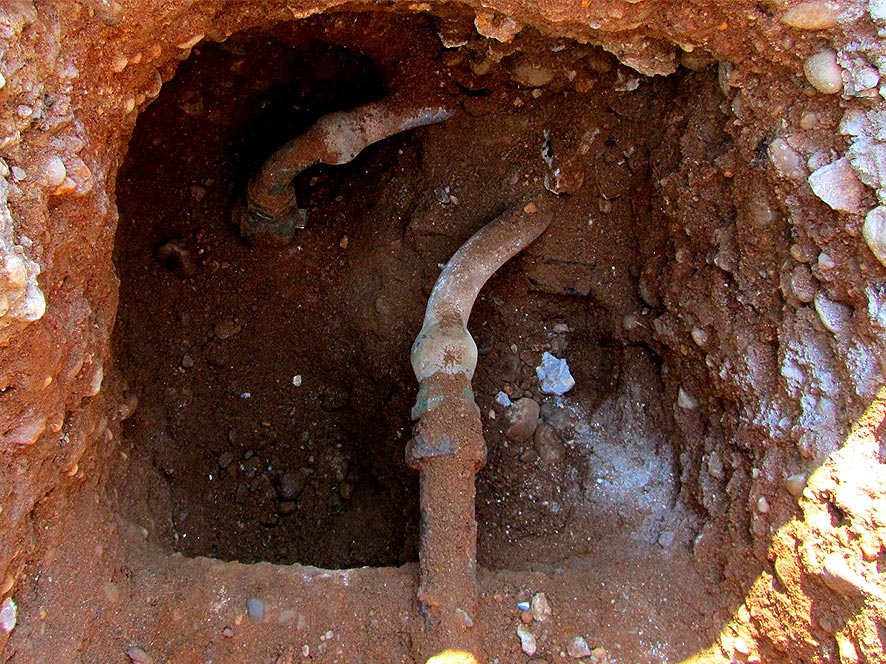 Using different sizes of material on a water service line is not permitted by code for any domestic line up to 2″ in diameter. And then only in very specific instances referenced by code. Also not legal is reducing the size of a line or using a valve size smaller than the size of the water service line. So all-in-all even before this Queens water main break happened, the water service line was deficient in a number of ways.
Unfortunately for the residents of South Richmond Hill and for Southeast Queens in general the old Jamaica Water service supply system is undersized. In addition it was badly maintained and had many improper repairs done over the years. Fortunately since the NYC DEP takeover the system is being updated and brought to code. A superior quality of drinking water is now being supplied to the residents as well. A NYC DEP approved sizing table is used to calculate the proper size for a water service line in NYC. In this case the correct size would have been 1 1/4″, which could mean that the usage of the building had changed over the years.
A little bit about South Richmond Hill
South Richmond Hill is located between Atlantic Avenue and Rockaway Boulevard. North of Atlantic Avenue is considered Richmond Hill. It is located West of the Van Wyck Expressway, and runs West until it meets Ozone Park. There are actually four main commercial strips located in South Richmond Hill. They are on Liberty Avenue, Atlantic Avenue, Lefferts Boulevard, and Linden Boulevard. Shopping of all sorts is close by and frequently within walking distance.
Richmond Hill and South Richmond Hill have the largest Sikh population in New York City. This is a neighborhood that greatly contributes to New York City's incredible ethnic diversity. The neighborhood's housing consists primarily of one and two family frame homes on quiet residential streets. Public transportation is readily available by either multiple bus or train lines. In addition the Air Train and the LIRR are right nearby.
[button link="/contact-balkan-plumbing/" bg_color="#EA6E24″ window="yes" size="xl"]Get a FREE no-obligation site visit today![/button]
[credit]