When Queens water main repair and sewer replacement work is needed by property owners, they trust one company more than any other. That company is Balkan Sewer And Water Main Service. Balkan is a New York City licensed plumbing firm that is family owned and operated. Being centrally located in Queens, and in business for over 65 years is another plus. When a 65 year old company such as Balkan offers 10 year unconditional guarantees on sewer and water main replacement work, it really means something.
When Queens sewer and water main work is needed by a homeowner calling Balkan results in free same day on-site visits. Work orders are commenced promptly and typically fully completed the very next day. All work is carefully coordinated in-house without any subcontracting. This keeps costs down and raises the level of quality, service, and direct oversight.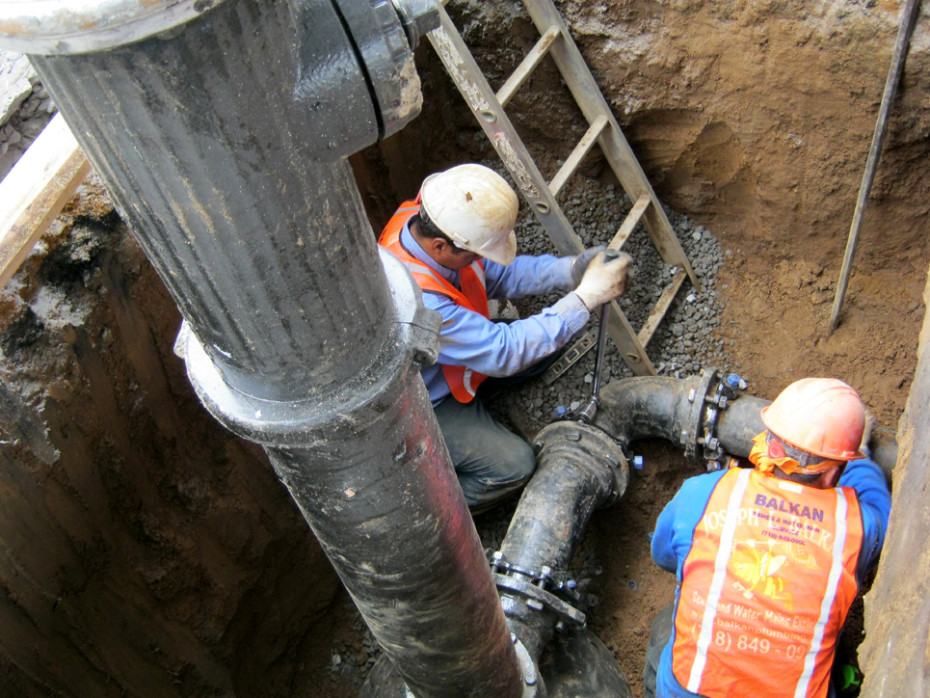 Trust Balkan for Queens Water Main Repair and Sewer Work
Balkan is the largest sewer and water main service company in NYC. We have obtained and maintained that position by being backed by the most dedicated and experienced staff and installers in the industry. Paul R. Balkan and David Balkan who are 2nd generation owners have 80  years of combined experience in the industry. We work out of a 48,000 square foot facility, and have a fully stocked fleet of vehicles. That is your assurance of prompt and professional Queens water main repair and sewer repair services.
Customer Reviews, Testimonials & More
Rarely does a contractor have a full company-wide commitment to complete customer satisfaction. The Balkan Team urges you to check our reputation before making a hiring decision for house drain or water line repair work. Our service is award winning, and recognized as such by Yelp, Angie's List, and other reputable organizations.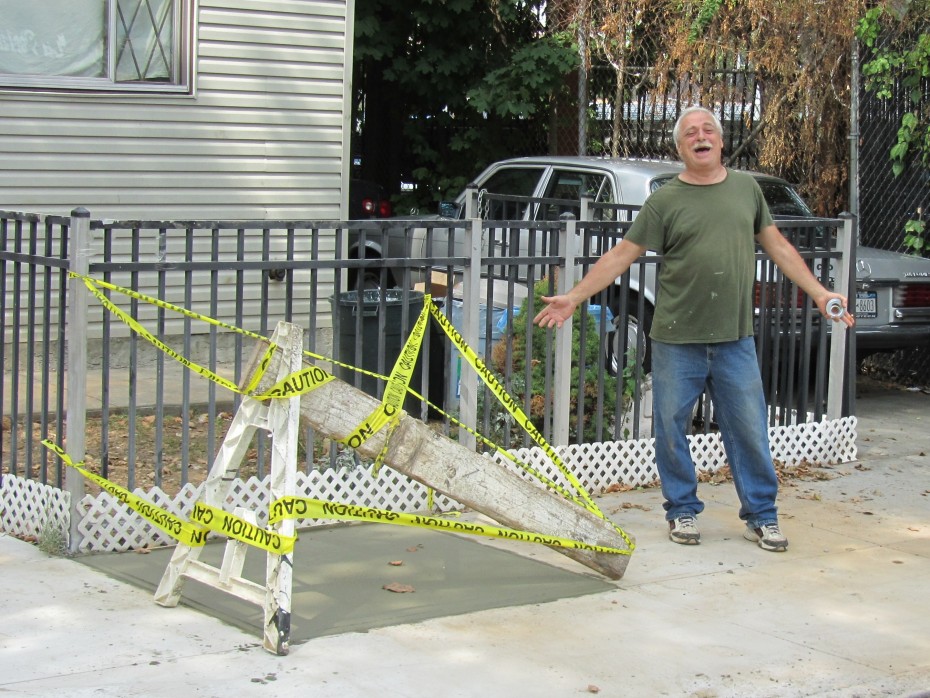 In the Words of our Valued Customers
Here are some snippets of praise fr0m our past Customers. Full reviews can be seen further below. We urge you to take the time to check out our online reputation.
The guys handled the entire job with calm and confidence"

They beat another quote by $1,400.00 (yes!)"

What drove me to hire Balkan was their commitment to customer satisfaction"

My son didn't even notice that they had dug a hole in the grass. I definitely recommend Balkan Sewer And Water Main."

Every company said it has a license but only Joseph L. Balkan Inc. can show me the license."

I have never seen teams of workers labor so 'in-tune' with one another."

Congratulations on pleasing the 'very hard to please' – me. You guys are good!!!!!!!"
Excellence is not by accident
No sub-contracting.
Free site visits.
Free and no obligation estimates.
Domestic extra heavy cast iron pipe used exclusively.
Domestic K copper used exclusively.
Fittings that meet or exceed code requirements.
In-house paving crews.
Licensed, bonded, and insured to the fullest Agency requirements.
Calls responded to Day and Night.
Long term unconditional guarantees are standard.
A documented commitment to integrity and service
The Balkan brothers are active in industry affairs and stay up-to-date on any and all changes in policies and NYC code requirements. This commitment to service, professionalism, and integrity has been acknowledged by various organizations and agencies – Not to mention our clients.
Registered with the Business Integrity Commission.
Better Business Bureau Accredited and rated A+.
Member and Vic President of the Subsurface Plumbers Association.
Member of the Master Plumbers Council.
Angies List Super Service Award Winner.
Since 1952 providing Quality, Experience, and Service
Clients describe their Queens Water Main Repair & Sewer Work
"They were respectful of my property"
"It's a scary thing to come home and see water pouring out of the street in front of your home. After it was determined it was my pipe, I had to find a licensed water main and sewer plumber. I asked friends and others for recommendations, and heard Balkan Inc more than once. I received a call from Dave the owner before 6 am and he explained the whole process and allayed my fears. The crew showed up at 7:30 am and went to work. They were respectful of my property and took great pride in their work. The job was done and everything was clean by 3:00 in the afternoon. Using this particular sewer and water main company made the situation much less stressful. The price I was quoted was less then I expected. The work was outstanding. I highly recommend them to anyone who may have the need to use them."
"The whole experience was very pleasant"
"The job was replacing a leaking lead water main. The whole experience was very pleasant. I felt in good hands with Balkan from beginning to end. From the very responsive office staff, to my demands and concerns to the engineer who took the pain to check the DEP records before finalizing the contract, to the crew that was just amazingly clean, fast, courteous, diligent. The price was right but over all I was glad to have hired them when the job became more complicated than expected due to a car parked on critical spot, the depth of the dig, and a manhole to work around. The guys handled the entire job with calm and confidence; and none of it generated extra costs on the bill either. They beat another quote by $1400 (yes!) and delivered a way better customer service than other companies at the same price. So many contractors are just plain rude or barely competent that it makes home improvement a dreadful enterprise. They should take a cue from Balkan, the entire industry would benefit from it highly recommended."
" I would refer them to friends and family in the future"
"I had a overall good experience with Balkan regarding a water main replacement. It would be my pleasure to refer them to friends and family in the future. For my total experience please see below: I live in Queens, NY and I had 3-day notice regarding a broke/damaged water main to my house. Got the usual response by DEP that is my responsibility. Ok, great so I start calling around a few large contractors and got pretty much the same price. What drove me to hire Balkan was their commitment to customer satisfaction. It definitely showed because we had a small problem with a damaged electrical conduit, that they repaired as well. The guys came back the second day to do the concrete work. So far it looks pretty good. I am hoping that the concrete will last a long time."
"They were professional and even put back the grass"
"I have to say that Barry, Mervin, Sal and Edwin from Balkan Sewer And Water Main did an excellent job removing and replacing the lead water main pipe from my home after I received a 3 day notice. They were professional and even put back the grass. They didn't have to break any of my sidewalk cement – My son didn't even notice that they had dug a hole in the grass. I definitely recommend Balkan Sewer And Water Main"
"Balkan takes care of everything and leaves me hassle free"
"I had called 311 and reported a cave-in on the street at front of my driveway. DEP came to inspect and I was told that because my sewer was broken it had caused the cave-in. It is the homeowner's responsibility to repair the sewer and the street in this case. DEP also found my water main was leaking and I got 3 day notice. I called around and had 6 companies give estimates. Every company said it has a license but only Joseph L. Balkan Inc. can show me the license #. I went to NYC DOB website and found out that Balkan Inc does have the Master plumbing license and 3 insurance policies to cover everything that could go wrong while they are working. I also googled them and found the good reviews. Called the representative Frank at the third day after receiving 3 day notice.

The next day morning 8 am the workers show on time and I signed the contract. They spend 3 days to replace my sewer and water main. They complete the job with as less damage as possible. For example, another company needs to dig 3 holes on my driveway to replace the water main, but Joseph L. Balkan Inc only dig 1 hole on my driveway and had the job done. DEP came first day to sign off the water main and 2nd day to sign-off the sewer. Other companies requested me to secure the nearby 4 parking spots on the street. It was headache that is the public street not my back yard. But Balkan takes care everything and leaves me hassle free. They have the right equipment and friendly professional workers. They did a great job and clean up everything after complete the job. Thanks Balkan."
"The Company had the best price"
"The company was the best price we could find to remove our lead pipe from our house. They were in and out in one day and the men who dug and installed the new copper tube were professional and friendly. I would recommend this service to anyone wanting to replace their lead pipe water service line."
"I had 3 other estimates to replace my sewer pipe which had been clogging every 4 months for 15 yrs ( the pipe was bent up – waiting this long to fix it is another story). Anyway, Balkan was the lowest cost by $300. They came on time, dug up & repair the pipe, restore the area like before they it dug up. These people are AMAZING & VERY PROFESSIONAL & FAST – (somehow they make you feel safe & comfy). What's incredible is that they can start the job the next day you contract them. I recommend this company to anyone without reservation."
"They have a Better Business  Bureau rating of A+"
"Great Job! My main sewer line kept on backing up due to tree roots invading the line. It got to the point where I needed it rotor rooter it out every 3 months. I had a camera inserted into the line and was told the terra cotta pipe had shifted and I would need to replace the whole line. Using the internet I came across Balkan's web site. Being a family business for over 60 years and having a Better Business Bureau rating of "A+" indicated to me that they were the company for me. I called to make an appointment for a price and was surprised they could come the same day. Frank arrived at my house, inspected the situation and gave me a good price for the job. When I asked him when they could start (thinking at least a week), Frank said they could start in 2 days!

Two days later when I came home from work, the crew already had half the job done. When I asked questions, all the men were friendly, responsive, and gave clear and direct answers. They assured me the job would be completed on time (Frank said 2 day to complete), and they would restore my lawn to the way it was before. At the end of the second day the crew lived up to their promise – the job was complete, the lawn was restored as before and they repaired my sprinkler system which had to be cut to get to the pipe. I can't say enough about how well my experience with Balkan was! I would definitely recommend them to others without hesitation. Thank you Balkan for making a harrowing experience easy and problem free!"
"Another 5 Star job completed"
"JOB 2 On May 23, 2011 my main water line broke I called Balkan to do the job. Vinny came to inspect, quote me a price and said the job could start tomorrow. I signed the contact and my Queens water main repair work began the next day. The men were courteous and professional. The job was done the same day! Another 5 star job completed!"
"Satisfied with the company from beginning to end"
"Satisfied with the company from beginning to end. The estimate was the best of the bunch and I did not feel pressured or left in the dark. The job went off without a problem and I was happy to do business with Balkan. The workers were capable and cleaned up after the job was complete. I would gladly recommend this company."
"Congratulations on pleasing the 'very hard to please' – me"
"I have never seen teams of workers labor so 'in-tune' with one another. The first crew dug the holes, and replaced my sewer professionally. Next business day, another crew was in front fixing the sidewalk concrete back to prior condition (new), and a few hours after that, the next crew arrived and patched and repaved the street. Did I mention they put my grass back!!!! Great price and courteous people get a big THUMBS-UP!! Congratulations on pleasing the 'very hard to please' – me. You guys are good!!!"