When water main replacement work is needed in Queens there is always the chance of unexpected conditions or situations. Recently a water main replacement in Laurelton Queens had two very unusual conditions. What first appeared as a typical water main leak that required a copper water line replacement proved to be not so typical.
A raised roadway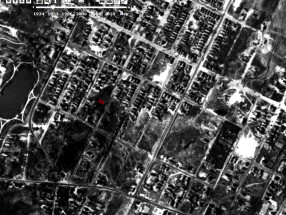 In the past much of Queens was farmland, was undeveloped, and did not even have paved roadways. In other areas of Queens roadways have dips and hills that may still exist or have been leveled out over the years. This job location on 222nd Street in Laurelton only had a few houses present in the early 1950's and many of the roadways were unpaved. In addition 222nd Street had a major dip in it that was about 8′ below the surrounding roadways.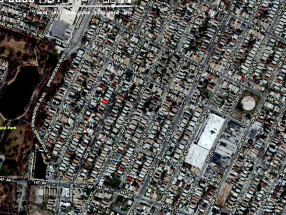 Sometime later the roadway was raised about 8′ to make it level with the surrounding roadways and it was paved with asphalt. Unfortunately the utility lines under the roadway were left where they were – the public water main remained 12′ below the finished grade of the new roadway. Because this was the old Jamaica Water territory no accurate records exist and the depth of the water main was unknown until work started. This became the first of two complications at this water main replacement job site in Queens.
Ground water from a local pond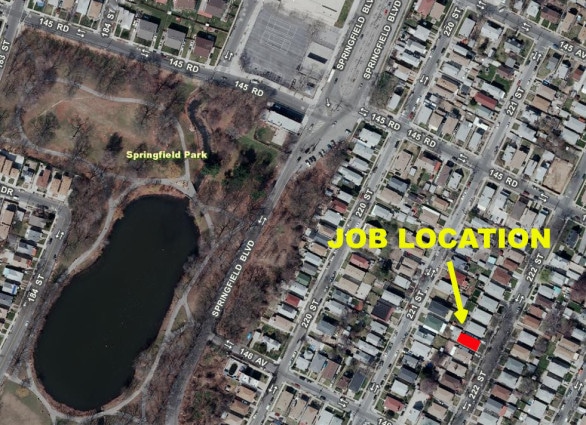 Southeast Queens has numerous streams and ponds. Many of the streams are underground and are not even visible. The second job site condition was that ground water was entering into the excavation from a nearby pond. Because the public water main was never raised to the typical depth of 4′ deep it remained under the water table. Besides having to excavate and shore up a hole over 12′ deep, de-watering a ground water condition was also now required.
This Queens water main replacement received an unconditional 10 year guarantee and was installed with materials that meet or exceed code requirements. All aspects of the job were performed by in-house personnel and equipment. For over 60 years the homeowners of Queens have trusted Balkan for all of their sewer line and water main needs.
Balkan handles any job site condition
Balkan Sewer And water Main Service is expert at handling any sewer or water main job site condition. From protecting against pipe electrolysis, to properly insulating water mains, pumping water, properly sheeting up excavations, or any subsurface condition – you can count on Balkan.
In this case a backhoe was brought to the location and wood sheeting was used to properly protect the excavation. Balkan always provides a safe work environment for their field forces. Our vast array of pumps provides de-watering for any situation. In this case Balkan easily removed the ground water which allowed for NYC DEP field forces to install a brand new tap connection into the city water main.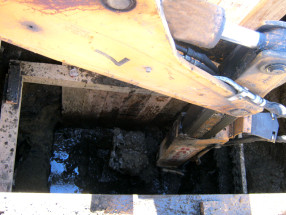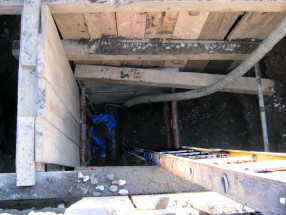 Because all the excavated material was wet and muddy from the ground water condition Balkan trucked in clean and dry crushed stone. All of the excavated material was trucked away and legally disposed of at a licensed recycling plant. By providing clean backfill material Balkan ensured that all of the excavations it made would not sink in the future and the roadway would remain level. When the unexpected happens Queens homeowners need a water main contractor that will rise to occasion and provide a high level of expertise and service – Balkan provides answers not excuses.
Why a new tap connection was required
Like many areas of the old Jamaica Water Supply territory in Southeast Queens, this home was being serviced by an undersized tap. Many wet tap connections on the old Jamaica Water Supply mains are only 1/2″ or are an irregular thread size. The minimum size tap allowed to service a property in NYC is 5/8″. New wet connections are installed into the public water mains of NYC by DEP tapping crews. New tap connections are a minimum of 3/4″ of an inch and frequently much larger.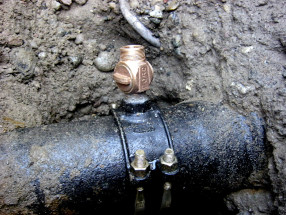 A wet connection is one of many different types of water valves which are used in NYC. Water main valves are made with different purposes in mind. They come in different styles and a variety of sizes. Installing the incorrect style or size water valve can be a code violation, pose a fire hazard, or result in a decrease in water supply to a building. The following tutorial explains each type of valve clearly and it's primary purpose. Trust an experienced NYC water main contractor to use high quality water valves for their correct application that meet or exceed code requirements. [Read more about water valves]