When the DEP shuts off a NYC water main service line it can cause a lot of distress any time of the year. But imagine if it's Christmas time and the line shut is a Queens water main servicing a Church. When a very bad leak exists even a Church during the Holidays can have their service line shut and be issued a NYC DEP Ten Day Notice.
When this call came in on Christmas day Balkan responded immediately and worked with the Church's inside plumber to provide a temporary connection from another service line nearby. Water was restored by Balkan in a couple of hours even though the Church had not yet decided to hire Balkan. No matter the time of day or time of year Balkan is a NYC sewer and water main contractor that can be counted on.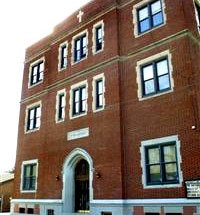 When the St. Gerard Majella Parish and school in Hollis did make their hiring decision their licensed inside plumber contacted Balkan and work was commenced and finished the very next day. This included all required permits and a new tap connection into the NYC water main. With the New Years Holiday soon to follow final restoration of all disturbed surfaces was performed within 24 hours of the completion of the water line replacement. Providing this type of service for a Queens main water line is routine for an experienced company like Balkan – it is what their client shave come to expect throughout Queens, Brooklyn, Manhattan, and the Bronx.
What is a temporary water connection?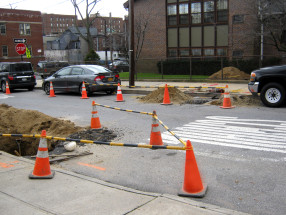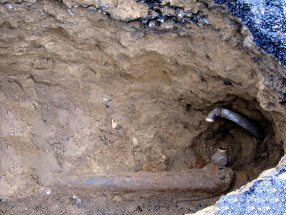 There are occasions when a main water line is shut in the roadway due to a leak or for other reasons. Frequently a temporary connection can be made to restore service to the entire affected building's plumbing system. If done properly heat and hot water will be restored from this connection as well.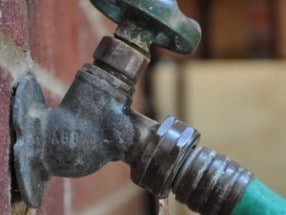 A water line connection for temporary service can frequently be provided using a garden hose and a coupling to connect between two houses outside hose cock connections. The entire process takes about 20 minutes – but it is important to close the main control valve for the property with the broken water main or the water will leak back out. In the Winter time it is important to keep the water running a bit to prevent the temporary line from freezing.
In other cases such as the Parish school above there may be more than one main water line. Typically this is when there is a dedicated main water line for fire protection and another main water line for domestic use. Frequently there are Tees or outlets that can be inter-connected inside the building to restore service to a property. Again it is very important to close the main control valve for the broken water main or the water will leak back out through the break in the line.
In many cases Balkan Sewer And Water Main Service will provide temporary connections to property owners in distress as a courtesy and free of charge. Exceptions would be when excessive labor is required, then a nominal charge would be applied – but never with an obligation to hire. Helping out a property owner in distress is a courtesy Balkan frequently provides as a 'good will' gesture.
For more information read this informative post: NYC Water Main Break.