Some Queens water main replacement and upgrade work requires more expertise and a greater level of client care than others. When a client of Balkan Sewer And Water Main Service bought the landmarked Richmond Hill Republican Club they indeed needed direction and expert advice in order to proceed with their project quickly and safely.
The first unusual issue at this project was that the facade of the building had been designated as landmarked and deemed historical. It could not be altered or disrupted in any way, however the owner of the building needed additional room and had decided to build out the basement to approximately 20′ past the present front of the building. That meant demolishing the present foundation wall supporting the facade and building structural support for the facade. It also meant deactivating two live water service lines to avoid damage to the water lines and water damage to the landmarked building.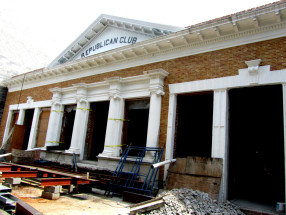 Balkan responded to this condition by excavating in the roadway to close and disconnect two different water service lines. There had been a lead domestic water line and a 4″ cast iron fire sprinkler main that were both in extremely poor condition; simply turning them off would still pose a danger of flooding. As it turned out the 4″ water line had no valve on the city main to turn it off. Balkan had to arrange for the NYC DEP to close the actual city main on Lefferts Boulevard in order to cap off the 4″ main. That meant that if this water line would have been disrupted during construction an extreme amount of damage to a landmarked building would have occurred involving potential structural damage. Working properly and professionally with the client saved a potential calamity.
The second phase of this Queens water main upgrade involved the approval process for a new 4″ fire sprinkler main and 2″ K copper domestic water service. Because this location in Queens was previously service by Jamaica Water Supply the DEP records were incomplete. Balkan provided their expertise to the client and the clients Engineer to guide them through a cumbersome plan approval process. Balkan supplied first hand information to explain the existing service lines and other needed details for the two proposed new water service lines. When time is of the essence for the opening of a new business an experienced plumbers help is invaluable – Balkan assisted in every way possible to expedite the project until its completion.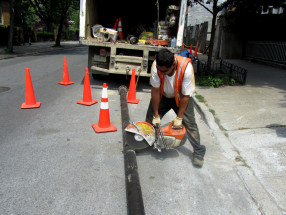 Of course a professional installation meeting DEP inspection requirements is vital for any water main upgrade. Balkan has over 60 years of experience in the NYC water main and sewer industry and is highly familiar with all aspects of DEP code. As an example, on this installation an offset had to be installed that required insulation and steel plating to protect the new fire main. Balkan supplied and installed the plating and insulation having all required materials in stock and on site as needed. The installation was fully completed and signed off the very next day that the NYC DEP installed the new tap and wet connection.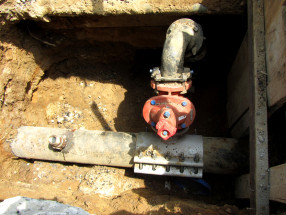 Final restoration of the roadway was completed within 24 hours with roadway paving that actually exceeds NYC DOT code requirements. As is Balkan custom the job site was left broom clean and fully open to both vehicular and pedestrian traffic. On a busy thoroughfare like Lefferts Boulevard in Queens job site safety is a vital consideration, as is not disturbing neighboring businesses and residents. Balkan is a NYC sewer and water main company that attends to all aspects of a job. Before, during, and after a sewer or water line installation Balkan will exceed your expectations.
Richmond Hill Republican Club Gains Landmark Status
RICHMOND HILL REPUBLICAN CLUB, 86-15 Lefferts Blvd., Queens.
Built 1908 – Henry E. Haugaard, architect.
excepts courtesy of Landmarks Preservation Commission –
read the full report: http://www.nyc.gov/html/lpc/downloads/pdf/reports/rhill.pdf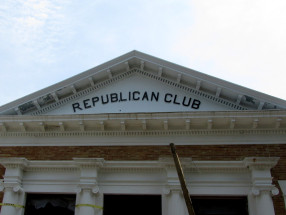 On October 29, 2002, the Landmarks Preservation Commission held a public hearing on the proposed designation as a Landmark of the Richmond Hill Republican Club and the proposed designation of the related Landmark Site (Item No.1). The hearing had been duly advertised in accordance with the provisions of the law. Twenty witnesses spoke in favor of designation including Council member Melinda R. Katz; Council member Dennis Gallagher; representatives from the Historic Districts Council, the New York City Landmarks Conservancy, the Queens Borough President's Office, Assemblyman Brian Mclaughlin's Office, and the Richmond Hill Historical Society; and residents of Richmond Hill. There were no speakers or letters in opposition to designation.

Summary
An integral part of downtown Richmond Hill, the Richmond Hill Republican Club served as an important political club and a cornerstone of the Richmond Hill neighborhood where parades, public lectures, picnics, dances, and dinners were held. Built in 1908 to the designs of Henry E. Haugaard, a prolific local architect and builder, the building was constructed of Roman brick and wood in the Colonial Revival style. Original stylistic features of the building include an elaborate entryway with classical pediment, a denticulated and bracketed cornice, and a roof-line balustrade. The building was constructed as a political club and post office. However during World War I, it took on a larger community function when it became a social gathering place for local citizens and an entertainment center and retreat for the armed forces. As late as 1980, a presidential candidate delivered a campaign speech there. Vacant since the mid 1980s, the Richmond Hill Republican Club is an intact example of a clubhouse designed to serve the social, political and recreational needs of a local community and an excellent prototype of small-scale Colonial Revival style civic architecture.
The Republican Club in New York City
In 1854, the Republican Party became a national organization and opened a New York State chapter in New York City. While the party initially embraced anti-Catholic rhetoric and a 25 year residency requirement for membership, by the end of the nineteenth century, the party had became known for its policies of social reform and began to influence local politics. Attacking Tammany Hall as corrupt, the Republican Party gained power and effected change in city government. In 1894, a reformist Republican, William L. Strong, was elected mayor of the City of New York and was followed by another Republican, Seth Low, elected mayor in 1901. Low left the city with major reforms in place, such as improved public transportation and water supply and increased funding for public education. The Republican influence on city politics was, however, short-lived. By 1903, a Democrat was again in power and in succeeding decades the Republican Party became increasingly weak. The Republican Party's support of prohibition and the popularity of Democrat Franklin Roosevelt in the 1920s again put Republicans on the sidelines. During this period, the Republican Party evolved into an organization that was socially progressive and fiscally conservative. In 1934, Fiorello H. La Guardia, with strong ties to the Roosevelt New Deal and to nonpartisan government
but a Republican in name, was elected mayor. His term lasted until 1945 and it was not until twenty years later with the election of Mayor John Lindsay that the Republican Party again had influence in city government. Because New York City was largely dominated by the Democratic Party prior to the 1930s, Republican clubs were important but many had a more social rather than political bent.
FINDINGS AND DESIGNATION
On the basis of a careful consideration of the history, the architecture, and other features of this building, the Landmarks Preservation Commission finds that the Richmond Hill Republican Club has a special character and special historical and aesthetic interest and value as part of the development, heritage, and cultural characteristics of New York City. The Commission further finds that, among its important qualities, the one-story Richmond Hill Republican Club is an integral part of the historic downtown of Richmond Hill and that along with the 1904 Carnegie Library, forms a small but important ensemble of civic architecture; that the Richmond Hill Republican Club was designed by Henry E. Haugaard, a prolific local builder and architect who was instrumental in shaping the urban fabric of the downtown residential and commercial neighborhood of Richmond Hill; that the building is an excellent, intact example of Colonial Revival style architecture with its dentilated and bracketed cornice, its accentuated front doorway with pediment, and its roof-line balustrade; that it served as a political club whose visitors included Theodore Roosevelt, Harry Truman, Gerald Ford, Richard Nixon, and Ronald Reagan and as a cornerstone of community activities including parades, public lectures, dinners, picnics, rallies and dances; that it was of particular importance as a haven for the Armed Forces during both World War I and World War II; that it is largely intact and remains a notable example of small-scale civic architecture and a vital historic resource for the neighborhood of Richmond Hill.
Accordingly, pursuant to the provisions of Chapter 74, Section 3020 of the Charter of the City of New York and Chapter 3 of Title 25 of the Administrative Code of the City of New York, the Landmarks Preservation Commission designates as a Landmark the Richmond Hill Republican Club, 86-15 Lefferts Boulevard, Queens.