Residential sewer line repair work is always technically challenging, requiring specialized tools and equipment. Backhoe excavators, heavy air compressors and jackhammers are only some of the typical items on site for residential home sewer line repair work. Many factors can affect the difficulty in performing sewer work. One of the chief factors affecting cost and difficulty is the depth of the excavations required to perform sewer line work.
A Bronx owner recently required residential sewer line repair on their home. The unique condition that made this job most difficult was that the city had raised both the sidewalk and roadway 10′ higher. While a typical home sewer line exits the house around 7′ deep, this sewer line exited the house 21′ deep. Additionally while most city sewers are around 12′ deep, this city sewer was now 27′ deep because the road was raised 10′.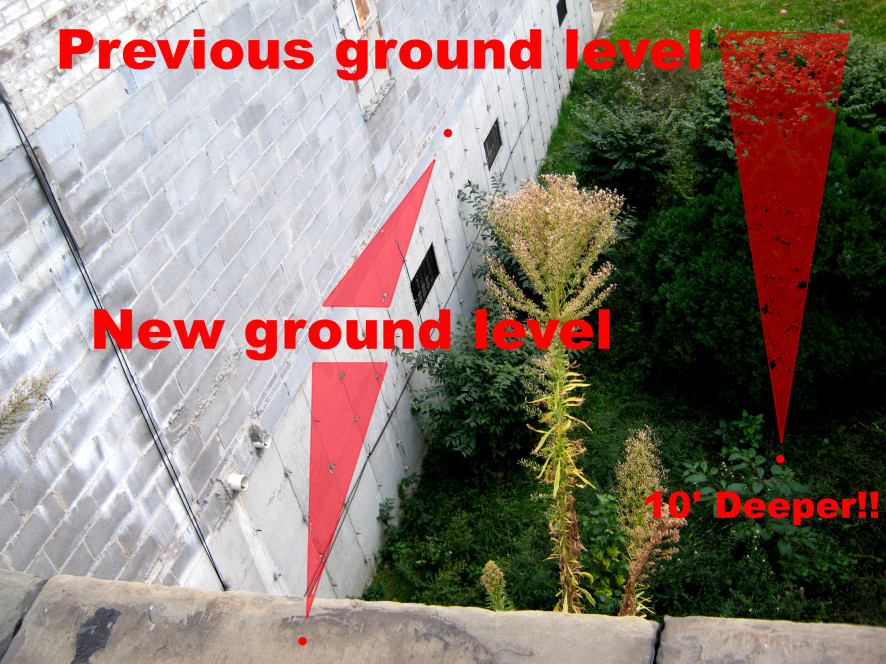 What would have already been a deep sewer installation because the house is on a hill, was now extremely challenging. Careful shoring procedures had to be enforced using heavier and a higher grade of lumber. Even the bracing for the shoring had to be a heavier grade of lumber and more closely placed than is typical.
Residential sewer line repair work
Most home sewer line repair work ranges in price from around $4,000.00 to $5,000.00. While most sewer line replacements range in price from $8,000.00 to $12,000.00. Various factors affect the cost of sewer line work. These price ranges are based upon the usual depth of a home sewer line.
Typically a house sewer in NYC is installed under the floor of the basement. Since most basements are about 6′ below grade the drain line enters the home about 7′ below grade. Most city sewer lines are between 10′ deep and 12′ deep. When city sewers are much deeper than that a riser connection is installed for each house. A sewer riser connection is a vertical pipe installed directly on top of the city sewer to an elevation of about 12′ deep. Excavating any deeper than 12′ or 13′ deep for a sewer connection adds to the cost of the job.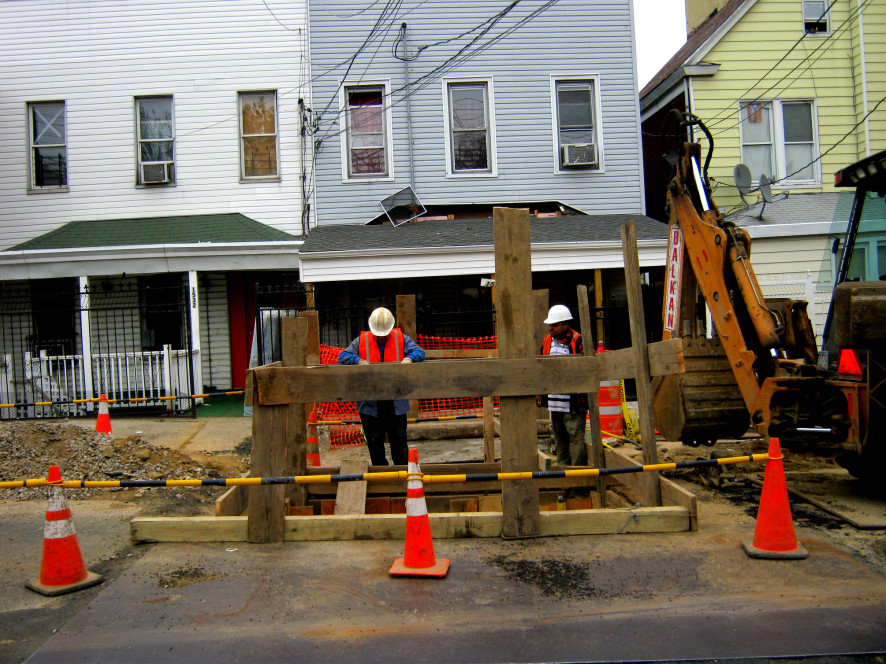 An unusual sewer line replacement
Any excavation deeper than around 13′ requires a great deal of expertise. In addition proper sheeting for the excavation must provided and utilized safely. Deeper excavations may require a heavier grade of lumber and a more extensive use of braces.
In the case of this Bronx sewer replacement another interesting condition occurred. The roadway and sidewalk were in fact raised 10′ higher – but the old sidewalk and roadway were never removed. That meant that once excavations were made about 10′ deep the old sidewalk and roadway were still present. That meant that two sidewalks and two roadways had to be cut through. It also meant that two separate sets of sheeting had to be installed to excavate through both surfaces.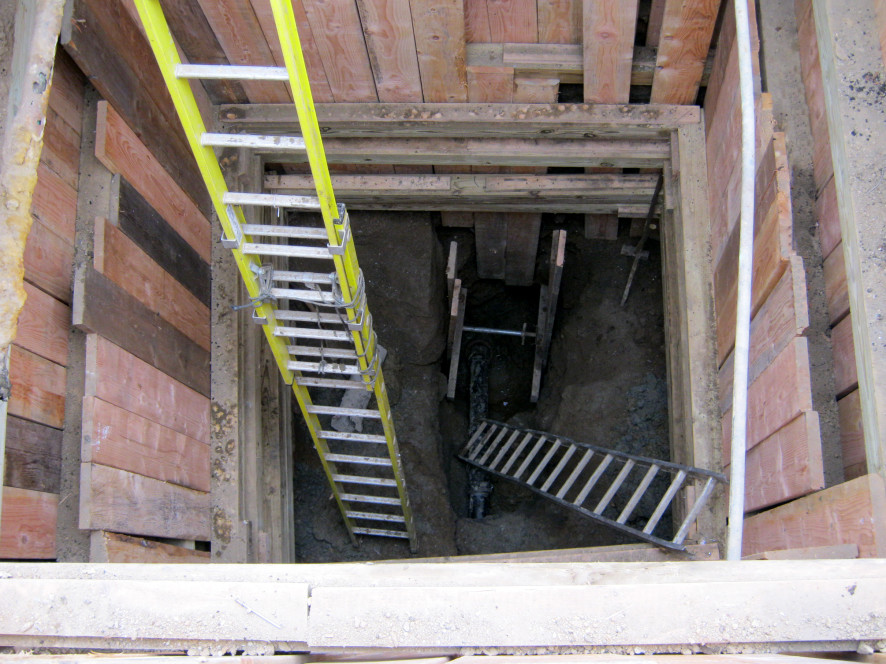 Another interesting obstacle was that the contractor who raised the sidewalk built a retaining wall at the property line to protect the homeowners property. This was no ordinary retaining wall – it grew progressively wider as it got closer to its base. Thus made passing the new sewer pipe underneath it quite a challenge.
Since the house was built before the road and sidewalk were raised, the first floor of the original house was now a basement. The original basement for the house was now a sub-basement. There were actually two outside staircases leading down to the sub-basement. That meant that the new sewer pipes inside the house had to be lowered about 19′ into the sub-basement.
Because the sewer trap had been damaged from numerous cleanings the trap was also replaced. All of these factors meant that the cost of this residential sewer line repair were 2x the amount of a typical job.
[button link="/contact-balkan-plumbing/" bg_color="#EA6E24″ window="yes" size="xl"]Get a FREE no-obligation site visit today![/button]
A positive solution to a sewer problem
Through all of the above challenges Balkan Sewer And Water Main was up to the task. The residential sewer installation was completed on-time and safely. An unconditional ten year guarantee ensured this Bronx homeowner of a long-lasting drain system, and an end to years of poor sewer drain service.
[credit]