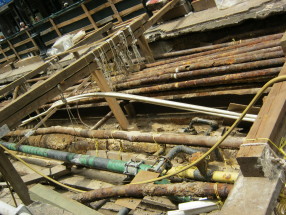 Sewer contractors more than ever must take all possible precautions to avoid damage to underground utility lines. In a city like New York most utility lines are buried and some are very large main distribution lines. These include fiber optic cable lines that can contain hundreds of lines, or specially coated distribution lines who's surface cannot be scratched. In addition the use of PVC tubing in lieu of metal piping is becoming more and more widespread – PVC is more easily damaged. Breaking or disturbing just one of these specialty underground utilities can wipe out a sewer contractors profit for a year or more.  While an insurance carrier may pay the immediate bill, the contractor will feel the repercussions for years to come in the form of increased rates or possible cancellation of insurance coverage. The risk of damaging a utility line far outweighs the benefit of trying to rush along a sewer installation.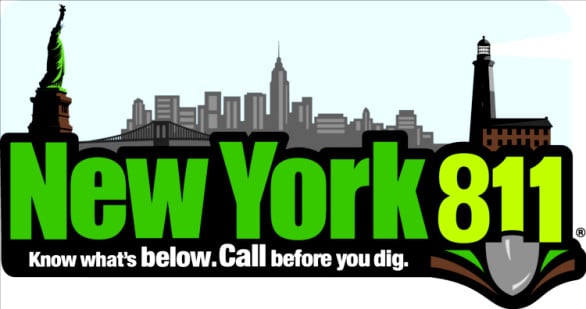 The first step to prevent damaging an underground facility is to call the NYC 811 center and give the call center all the required information prior to commencing any excavation work. NYC 811 then makes sure that all underground mains and service lines are marked out. Each different type of service line is designated with a different color paint. For instance red is for electric lines and yellow is for gas. Calling before a dig is not just a good safety procedure for sewer contractors, it is required by law. Violators of the 'One Call' system can be fined and brought up on criminal charges. Notifying utility companies prior to excavating is the law.
Even when utility lines are carefully marked out with their designated color paints sewer contractors can never know what to expect. Frequently multiple lines may be present in the same excavation. In other cases large distribution lines or an actual wall of buried main lines may block the proposed location of a house sewer or water service line. In cases like these the true expertise of a subsurface plumber is put to the test and costly delays and budget overruns can be avoided.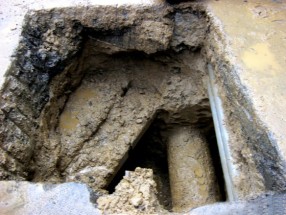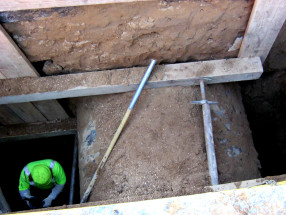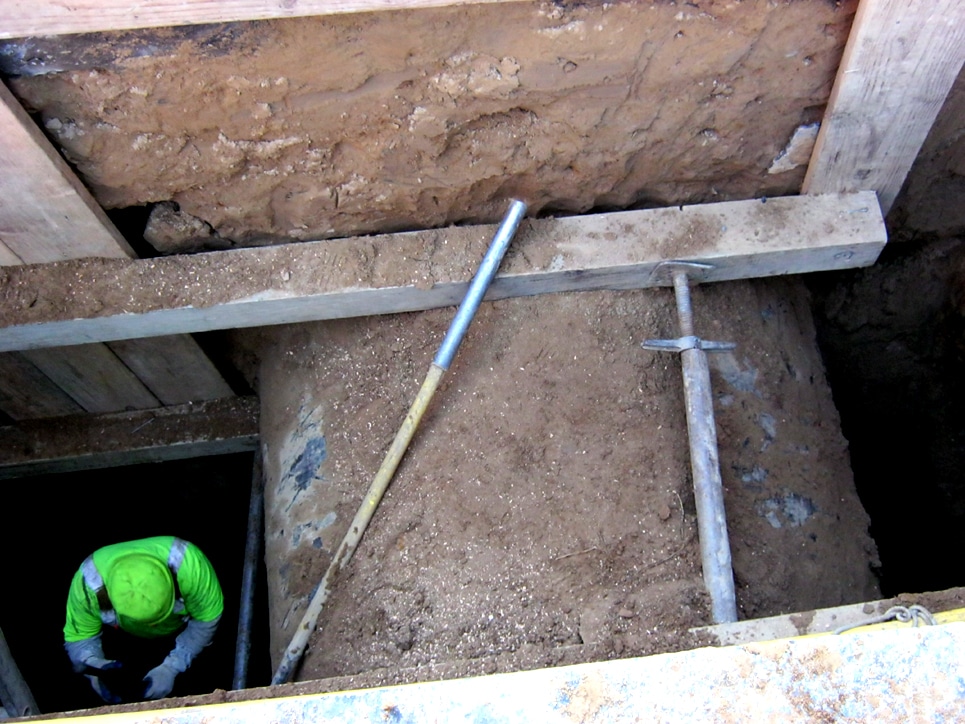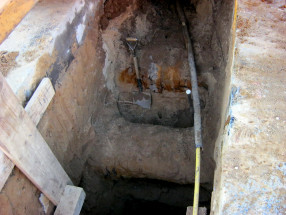 Water main and sewer contractors with a high degree of expertise will carefully excavate by hand until all obstructions are uncovered – never risking damage to another companies facilities. One wrong move can literally knock out a vital service such as telecommunication lines or electricity for thousands of people or businesses. In almost all cases a sensible solution can be reached to still be able to complete a sewer or water main installation to code and with little delay. Only in extreme cases does the utility company have to re-locate their facility. When a public utility must be re-located the cost is absorbed by the property owner requiring the move. This not only causes unforeseen added expenses but a great delay in the completion of the job.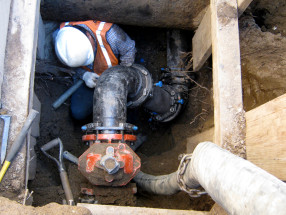 Thankfully by carefully reviewing job-site conditions with the DEP inspection division and by using approved fittings, offsets can usually be used to go around utility obstructions. In some cases a sewer may have to be installed at a higher elevation than planned or at a different point of entry. But that is a small expense to incur compared to moving a public utility line and the long wait that is usually entailed in that process.
Balkan Sewer And Water Main Service is known amongst NYC sewer contractors as having the expertise and knowledge to deal with virtually any underground condition. In addition extreme care is always taken to avoid disruption or damage to other facilities located underground.
A little bit about New York 811
courtesy of newyork-811.com
Established in 1990, New York 811 (Formerly Dignet of NYC & LI Inc. ) is a nonprofit organization that acts as a communications link between utility companies and individuals planning any digging activity in the five boroughs of New York City and Nassau and Suffolk Counties on Long Island. By relaying these requests, New York 811 helps protect one of the most vast, congested and complicated underground infrastructures in the nation.
Though New York 811 does not physically mark utility lines or underground facilities, we do relay digging and excavation requests to our member network. This network includes companies that own or operate underground utility lines in our region, including cable television, natural gas, electric, water, sewer and telecommunications companies.
We also devote significant time and resources to promoting safe digging through presentations, special events, partnerships, and public education and outreach.
For general information about New York 811, call 1-800-524-7603.